Florence and Her Fantastic Family Tree (Hardcover)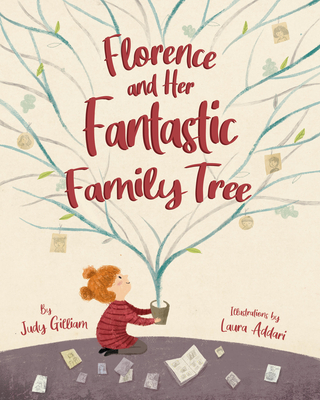 $17.99
Email or call for price/availability
Description
---
Everyone has a family tree, no matter how big or small. But what happens when mine has more than just the roots, trunk, and branches? I've got six parents (yes, six—you can count with me and see) and enough siblings to take up almost all of my fingers. Will this piece of paper, with the stems, branches, leaves, trunk, berries, and nuts of the great, big, loud, colorful, fun, crazy family I call mine, even fit on Ms. Collin's wall at school?
Florence and Her Fantastic Family Tree​ explores the idea of what it means to have a big, messy, complicated, and remarkable blended family as a young girl tries to complete her family tree assignment for school. With adorable drawings and the succinct words of a child, you can't help but love your own family tree, no matter how large or small, simple or chaotic, traditional or unique.
About the Author
---
Judy Gilliam is an educator who has served as a teacher, principal, superintendent and college professor. Her greatest points of pride are her children and grandchildren, who inspired her debut book Florence and Her Fantastic Family Tree.
Praise For…
---
"There is no normal when it comes to families, and most collections would benefit from having this on hand."
—School Library Journal

"Author Judy Gilliam has tapped into the blended family that many youngsters can relate to and may feel shy or uncomfortable talking about. This book will help them realize most people have messy families and will help them become more comfortable with their own situations. Laura Addari's sweet illustrations in gentle colors with lots of fun details complete the story. This book belongs in classrooms and homes everywhere."
-Seattle Book Review

"A simple, yet complex story about a blended family, Florence and Her Fantastic Family Tree highlights a very real dilemma faced by many of our young people. The author's use of humor and descriptive language takes you into the heart of Florence, whose worry is how she will fit in. Ultimately embracing the uniqueness of her family, Florence realizes how lucky she is! Florence and Her Fantastic Family Tree elicits a beautiful message of acceptance and will be a wonderful addition to any library."
—Robin Lattazori, assistant superintendent, Cobb County Schools
 
"One of the most critical responsibilities we have as adults is to show our children how to embrace and love their families by instilling confidence in who they are and the dynamics of their families. No longer should children believe that families have only one dynamic of a single mother and father. Florence and Her Fantastic Family Tree provides a perfect entrée to engage children about the complexities of their families and their families' history. The narratives and pictures bring home the importance of all families in a way that is safe and understandable. A must-read for every family!"
—Philip D. Lanoue, PhD, educational advocate and the 2015 AASA National Superintendent of the Year
 
"A brilliantly written story from the perspective of a child struggling with a classroom assignment of drawing her very complicated blended family tree. With wonderful humor, this book portrays the sensitivity of a child's being different and the ramifications which emerge in that child's mind. Psychologically, this is a book that promotes acceptance of family as well as feeling different. A must-read for children and families dealing with these issues."
—Mary Evelyn Brown, PhD, clinical psychologist

"A delightful children's book that beautifully describes with humor the complexities of today's families without any biases or criticisms. This book will help all children and their families learn that there is no one perfect kind of family and that people come and go, but they are still part of us. I so hope this book will be the beginning of a series of children's books!"
—Vicki Denmark, PhD, chief architect, Innovation Lab at Cognia™ and former assistant superintendent, Fulton County Schools