The Shelter and the Fence: When 982 Holocaust Refugees Found Safe Haven in America (Hardcover)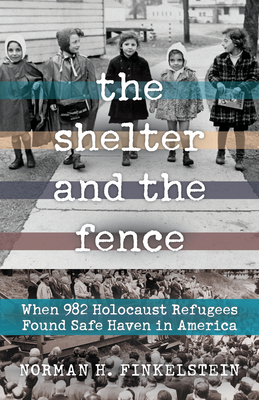 $17.99

Usually Ships in 1-5 Days
Staff Reviews
---
The Shelter and the Fence is a must read of 2021! Finkelstein expertly details the circumstances that unfolded to allow 982 refugees from Europe seek asylum in Oswego, New York. Described inside these pages are the brave people who did whatever it took to survive the Holocaust, the individuals who made their voyage possible, and a community that eagerly welcomed the new faces. Even though they were now safe from the Nazis, they were still fenced in in Oswego, and permanent residence in the US was a long shot. Open your shelf and your heart to these 982 souls that survived against the odds at every turn.
-Clare
— From
Clare's Recs
Description
---
"This chapter in World War II history is a well-kept secret. Make this title a first choice." —School Library Journal STARRED review 
The story of Holocaust refugees who found shelter in the United States—with unique parallels to today's stories of asylum seekers. 
 In 1944, at the height of World War II, 982 European refugees found a temporary haven at Fort Ontario in Oswego, New York. They were men, women, and children who had spent frightening years one step ahead of Nazi pursuers and death.  
They spoke nineteen different languages, and, while most of the refugees were Jewish, a number were Catholic, Greek Orthodox, and Protestant Christians. From the time they arrived at the Fort Ontario Emergency Refugee Shelter on August 5 they began re-creating their lives and embarked on the road to becoming American citizens.  
In the history of World War II and the Holocaust, this "token" save by President Franklin D. Roosevelt and the War Refugee Board was too little and too late for millions. But for those few who reached Oswego it was life changing.  
The Shelter and the Fence tells their stories. 
About the Author
---
Norman H. Finkelstein is a retired public-school librarian and a longtime teacher of history at Boston's Hebrew College. He is the author of twenty well-reviewed nonfiction books and the winner of two National Jewish Book Awards and the Golden Kite Honor Book Award for Nonfiction. His latest books are The Capture of Black Bart: Gentleman Bandit of the Old West and Union Made: Labor Leader Samuel Gompers and His Fight for Workers' Rights. He lives in Framingham, Massachusetts.
Praise For…
---
"Norman Finkelstein brings the Fort Ontario Emergency Refugee Shelter to life for readers in his approachable and fascinating history of a complicated story. The Shelter and the Fence reminds us that the refugees were people, with their own often tragic personal histories, opinions, hopes, and dreams. Readers will be proud that the United States gave shelter to these refugees, and devastated that we brought so few of them. A crucial read for all young (and older!) history lovers." —Dr. Rebecca Erbelding, author of Rescue Board: The Untold Story of America's Efforts to Save the Jews of Europe
 

"The Shelter and the Fence is a well-written, well-researched story of Holocaust rescues. It's a tribute to Norman Finkelstein that he makes it clear that despite the saving of almost 1,000 refugees the United States did much too little to save victims of Nazi terror." —David A. Adler, author of The Number on My Grandfather's Arm  

"This accessible book examines a 'small but important link in the larger history of the Holocaust'." — Booklist