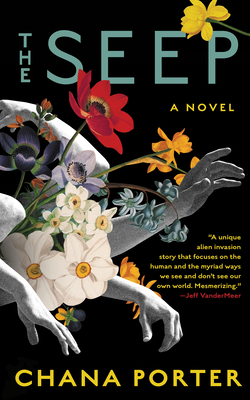 Staff Reviews
---
The Seep is unlike any apocalyptic alien invasion you've ever heard of. Earth has become a strange utopian fever dream - one where you can have a cat's tongue if you really want it and where you can be born again as a child if you just ask. This is the unfortunate truth for Trina, a 50-year old trans woman with a notoriously traditional outlook, when her wife decides she would like to be re-birthed. Alone and ever-more scrupulous of the new world, Trina meets a boy from a commune where The Seep has been admonished. Determined to rescue him (from what she's not entirely sure) she embarks upon a journey that may change her in ways she cannot even imagine.
-Tianna
— From
Tianna's Recs
February 2020 Indie Next List
---
"The Seep describes a sort of utopia set in a near future devoid of capitalism, violence, and the general evils of the world. Here, everyone and everything (humans! trees! buildings!) is connected through an alien entity called The Seep, and pain of any kind is easily mended. This is an entirely surreal reading experience that explores identity — queer and racial, self and inherited — in an organic and necessary manner. A must-read for everyone."
— Avery Peregrine, Third Place Books, Lake Forest Park, WA
Description
---
 "A unique alien invasion story that focuses on the human and the myriad ways we see and don't see our own world. Mesmerizing." 
—Jeff VanderMeer

A blend of searing social commentary and speculative fiction, Chana Porter's fresh, pointed debut explores a strange new world in the wake of a benign alien invasion.
 
Trina FastHorse Goldberg-Oneka is a fifty-year-old trans woman whose life is irreversibly altered in the wake of a gentle—but nonetheless world-changing—invasion by an alien entity called The Seep. Through The Seep, everything is connected. Capitalism falls, hierarchies and barriers are broken down; if something can be imagined, it is possible.

Trina and her wife, Deeba, live blissfully under The Seep's utopian influence—until Deeba begins to imagine what it might be like to be reborn as a baby, which will give her the chance at an even better life. Using Seeptech to make this dream a reality, Deeba moves on to a new existence, leaving Trina devastated.

Heartbroken and deep into an alcoholic binge, Trina follows a lost boy she encounters, embarking on an unexpected quest. In her attempt to save him from The Seep, she will confront not only one of its most avid devotees, but the terrifying void that Deeba has left behind. A strange new elegy of love and loss, The Seep explores grief, alienation, and the ache of moving on.
About the Author
---
Chana Porter is a playwright, teacher, MacDowell Colony fellow, and co-founder of the Octavia Project, a STEM and fiction-writing program for girls and gender non-conforming youth from underserved communities. She lives in Brooklyn, New York, and is currently at work on her next novel.
Praise For…
---
An ABA Indie Next Pick for February 2020

Praise for The Seep

"A unique alien invasion story that focuses on the human and the myriad ways we see and don't see our own world. Mesmerizing."
—Jeff VanderMeer, award–winning author of Dead Astronauts and the Southern Reach trilogy

"The standard canard is that utopian settings are boring, monolithic, didactic, and make for bad fiction. How lucky we are to have Chana Porter to blow such nonsense out of the water with this moving and beautiful book."
—China Miéville

"The psychedelics are coming! The psychedelics are coming! What if becoming one with the universe was as easy as drinking punch at a party? It turns out that after enlightenment, we still squabble with our partners, worry about fashion choices, and drink too much booze. A great speculative work combining first contact tropes, techno-utopian fantasy, gender theory, and ayahuasca fan fiction, Chana Porter's The Seep imagines a brave newer world by rewriting the question of the ancients: If all things return to the one, where does the one return to? Porter's dazzling trick answer updates Zhaozhou's: the bar."
—Eugene Lim, author of Dear Cyborgs

"With its wonderfully fraught utopia, the likes of which you have never seen before, The Seep defies not only the recent glut of dystopias, but the long-accepted categories of fiction. An entire universe gets packed into a slim page-turner, in which the search for meaning carries on even after our greatest desires are met."
—Robert Repino, author of the War with No Name novels

"In a time of dreary dystopias, Chana Porter's The Seep is that rarest of books: a genuine utopian hope of salvation. While the novel accomplishes this through an alien intervention, its message is not simply one of blind optimism, but a complex portrait of people struggling with change, fear, and ultimately hope. Porter shows us that the end of the world is easy. The beginning of the world is the real challenge."
—Rachel Pollack, award-winning author of Godmother Night

"Unlike anything you've ever read."
—Bustle

"Speculative fiction rarely depicts alien invasions as benevolent, but Chana Porter's delicious first novel does just that . . . The Seep is a glorious interrogation of human feelings and relationships and how they shape who we are."
—Amy Brady, Literary Hub

"Absorbing."
—Ms. Magazine

"One that you need to add to your TBR . . . A reflection on grief and moving on, what it's like to be alien, and what it's like to be alienated . . . An interesting meditation on othering, love, loss, and grief."
—Book Riot

"A novel that's rapturously moving and as haunting a tale of love, loss and grief as you'll read this year . . . If you're like me and looking for some sort of escape this quarantine, this is as perfect a book as you could imagine." 
—CriterionCast Book Club

"Porter's gripping, subtly hopeful work of literary speculative fiction is shaped by remarkable world-building elements and acute observation of human frailties and impetus."
—Booklist, Starred Review

 "In Porter's surreal, introspective debut, a benevolent alien invasion leads humanity into a utopia, exploring themes of grief and discontentment within a seemingly perfect world . . . Readers will delight in the eerie disquietude and optimism of this well-calibrated what-if."
—Publishers Weekly, Starred Review

"An intoxicating takeover narrative, its promises as appealing on their surfaces as they are frightening in their implications . . . The Seep is a daring paean to human vulnerability and a bold speculative inquest into what makes life worth living." 
—Foreword Reviews, Starred Review

"This surreal debut takes on themes of utopia, identity, love, and loss, while readers are pulled into a full experience through Porter's fluid prose. This unusual story will linger long past the last page."
—Library Journal, Starred Review

"Porter's surreal novel puts a new spin on alien invasion."
—Kirkus Reviews

"Reminiscent of Sheri S. Tepper and Ursula K. Le Guin, especially with the themes of female empowerment, LGBT+ identity, and explorations of what it really means to be human as explored from the lens of an entity that is not . . . What could have been dark is lightened by some humor and a surrealistic, fantasy-like environment that swirls around you like a Dali painting."
—Readasaurus Reviews

"This is an entirely surreal reading experience that explores identity—queer and racial, self and inherited—in an organic and necessary manner. A must-read for everyone."
—Avery Peregrine, Third Place Books (Lake Forest Park, WA)

"I honestly don't know how to review this book. Any attempts I would make to describe it, and the post-existential questions it poses, would not do it any justice. If you like political science fiction, or just weird stories, pick up this book. It reads incredibly quickly, and keeps a hold of your thoughts long after you put it down."
—Left Bank Books (St. Louis, MO)

"A unique take on an alien invasion. The Seep makes everything better, but does it? The Seep helps you see the inner-connectivity of all life, but at what cost? What happens to your individuality and free will in a world where there is no conflict? A great book about how we define ourselves and our humanity."
—James Wilson, Octavia Books (New Orleans, LA)

"What I love most about The Seep is that it's two parts questions to one part answers. It does a great job of clearing up certain gray areas, and it actually gives some answers to the hard questions it asks—but it also leaves area for speculation and thought. The Seep will leave you begging for more, and I can't wait to see what Chana Porter whips up next."
—Lizy Coale, Copperfish Books (Punta Gorda, FL)
Upcoming Events
No upcoming events available