Rabbits for Food (Hardcover)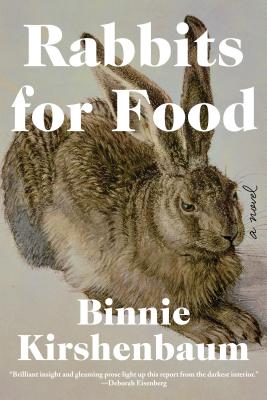 Staff Reviews
---
Free of mitigation, Rabbits for Food is a visceral narrative about the reality of mental illness and the beige monotony of institutionalization. Following a public outburst, Bunny- a naturally sardonic author- is committed to a psych ward where she struggles with the backwards nature of psychological rehabilitation and the unstable state of her depressive mind. As humorous as it is austere, Bunny's story unapologetically demystifies the harsh realities of stigmatization and the taboo subject of mental health.
- Tianna
— From
Tianna's Recs
Description
---
Master of razor-edged literary humor Binnie Kirshenbaum returns with her first novel in a decade, a devastating, laugh-out-loud funny story of a writer's slide into depression and institutionalization.
 
It's New Year's Eve, the holiday of forced fellowship, mandatory fun, and paper hats. While dining out with her husband and their friends, Kirshenbaum's protagonist—an acerbic, mordantly witty, and clinically depressed writer—fully unravels. Her breakdown lands her in the psych ward of a prestigious New York hospital, where she refuses all modes of recommended treatment. Instead, she passes the time chronicling the lives of her fellow "lunatics" and writing a novel about what brought her there. Her story is a brilliant and brutally funny dive into the disordered mind of a woman who sees the world all too clearly.
 
Propelled by razor-sharp comic timing and rife with pinpoint insights, Kirshenbaum examines what it means to be unloved and loved, to succeed and fail, to be at once impervious and raw. Rabbits for Food shows how art can lead us out of—or into—the depths of disconsolate loneliness and piercing grief. A bravura literary performance from one of our most indispensable writers.
About the Author
---
Binnie Kirshenbaum is the author of the story collection History on a Personal Note and six novels, including On Mermaid Avenue, Hester Among the Ruins, An Almost Perfect Moment, and The Scenic Route. Her novels have been chosen as Notable Books of the Year by The Chicago Tribune, NPR, TIME, the San Francisco Chronicle, and The Washington Post. Her work has been translated into seven languages.
Praise For…
---
A New York Times Editors' Choice
A New York Times Notable Book of 2019
An NPR Favorite Book of 2019
An Amazon Best Book of the Month for May 2019
A LitHub Most Anticipated Book of 2019
A Kirkus Reviews Best Fiction Book of 2019
A Publishers Weekly Best Book (Staff Pick) of 2019

Praise for Rabbits for Food

"A bitingly funny, and occasionally heartbreaking, look at mental illness, love and relationships, with Kirshenbaum's familiar black humor."
—The New York Times

"A simple plot description—depressed woman checks herself into a psych ward, refuses to take the prescribed meds and starts writing about her fellow inmates—doesn't do justice to this marvelous novel, because it leaves out everything that makes it so special. The writing is splendid; against all odds it's frequently explosively funny, and it offers readers a memorable picture of an often wittily acerbic woman trying to find herself in the gray fog of sadness. Oh, and there's a cat named Jeffrey and a therapy dog who never shows up, as well."
—Nancy Pearl, NPR

"Binnie Kirshenbaum has hit her considerable stride in Rabbits for Food. This novel is compulsive reading; it's wonderfully paced, explosively funny and witty, and very, very wise about many grave things—but mostly about merely being human."
—Richard Ford

"Psychiatric dayroom dark and just as funny, Rabbits for Food breaks down the mental breakdown into disquieting bite-sized pieces. It's fast-paced and turbulent, but beautifully complex, and the details are stunning. So chew slowly—this is one you'll want to savor."
—Paul Beatty, author of The Sellout

"Brilliant insight and gleaming prose light up this report from the darkest interior, where Binnie Kirshenbaum's acerbic, grieving, all-too clear-sighted protagonist has become imprisoned by despair. Enduring love is no match here for irremediable loss, but Kirshenbaum conducts us on the journey with steady authorial nerves, high-wire insouciance, quicksilver wit, and limitless compassion."
—Deborah Eisenberg, author of Your Duck Is My Duck

"Kirshenbaum's portrait of intractable depression is acerbic, heartbreaking, and improbably hilarious."
—People 

"Laughter may not be the best medicine, but it's a routine defence against tragedy, and there's plenty of both in this sparky novel . . . the undertow of sadness keeps it anchored, with fine dramatic timing."
—The Times (UK)

"Razor-sharp, astutely observed and acerbically funny."
—The Observer (UK)

"This book sweeps you along because of its whip-smart, laser-focused observations–comic insights mined from the darkest depths. In the midst of despair, the efforts of Bunnie and Albie, a zoologist at the Natural History Museum, to cling on to their marriage are touching and candid. The relationships she forms with the other 'loons'—all of them sitting around, waiting in their different ways for the pain to subside—are just as poignant." 
—Irish News

"This book achieves absolute genius . . . [Bunny] is willing to look clearly at the darkness, even if she doesn't ever anticipate light, and that bravery, and her raw humor, makes her magnificent." 
—The Boston Globe

"Heartbreaking and groundbreaking, a harrowing yet darkly funny chronicle of clinical depression . . . Told in witty, propulsive prose."
—Kimberly King Parsons, BOMB Magazine

"Our anti-heroine's acerbic tongue, as she observes the goings-on in the hospital, and its inhabitants, is worth the price of admission alone."
—Omnivoracious, The Amazon Book Review 

"Astounding . . . Readers will quickly commit to this extraordinary novel. Laser-sharp prose, compelling observations, and an engaging, sympathetic central figure conspire to make it a page-turner. Rabbits for Food is an impressive achievement. It should be read as soon as possible."
—Los Angeles Review of Books

"The female narrator I've been waiting for. Wickedly funny as well as seriously depressed, she waits while in the psychiatric hospital for the therapy dog that never shows up. Trying to read her face is 'like trying to figure out what a napkin is thinking.' Her mania flies 'like a bat at night.' A birthday card from her best friend Stella reads: 'You Put the Fun in Dysfunctional.' Binnie Kirshenbaum, the great novelist of female neurosis, has given us, in Rabbits for Food, the only story that really matters—a troubled soul deciding if life is worth living or not."
—Darcey Steinke, author of Flash Count Diary 

"Every now and then you're lucky enough to read a book that declares its own authority in a straightforward and unapologetic way. Rabbits for Food is that kind of book—haunted, astringent, and grimly funny, it explores without a grain of sentimentality or exaggeration the sort of crisis that any of us might fall prey to. In her 'unlikeable' protagonist, Binnie Kirshenbaum has created a hero for our time: articulate but misunderstood, loved but lonely, unsuccessful but not a failure, sophisticated to the point of jadedness, and on the verge of a devastating breakdown. Prepare to recognize yourself in both the petty details of her life and the profound distortions of her thinking."
—Christopher Sorrentino, author of The Fugitives

"Rabbits for Food is startling and fascinating. Binnie Kirshenbaum's complex and insightful novel looks seriously, and ironically, at the life of a clinically depressed woman, and her  commitment in a 'psycho ward.' Kirshenbaum might have written this with a blade, her wit is that sharp and deep. Cutting to the bone, Kirshenbaum allows no sentimentality in this  bracing novel. Rabbits for Food is stark in its descriptions, beautifully written, weirdly funny, and engrossing. I was riveted."
—Lynne Tillman, author of Men and Apparitions

"Binnie Kirshenbaum is an unflinching teller of truths. She's also sublimely funny. Rabbits for Food shows this immensely gifted writer at the height of her powers. It's a pitch perfect account of what it means to descend into madness and belongs on the same shelf as Fitzgerald's The Crack-Up."
—Jenny Offill

"A joy-giving and hilarious letter from the realm of despair. Also, somehow, a gentle love story.  Marvelous and beautiful."
—Rivka Galchen

"Funny, tender and heartbreaking, often in the same line, Rabbits for Food is a remarkable examination of the fault lines that run through us all. Wit and anger jostle for space with constant intelligence and subversiveness."
—Tash Aw

"An intensive character study of a woman on the verge of a breakdown—written with distinctive relentlessness and the compassion that Kirshenbaum has cultivated for all her characters across six previous novels."
—Guernica

"A burst of energy . . . our narrator examines her surroundings—the eccentric patients and doctors, the absurd daily activities, the Kafkaesque system—with a blunt and biting wit."
—BuzzFeed Books

"If you loved A Year of Rest And Relaxation and/or Standard Deviation, you'll find lots to love about Rabbits For Food . . . In this darkly funny, but heart-breaking and painful novel, Bunny portrays what it's like to live and suffer with mental illness, both her own and her fellow patients. A challenging read, but worth it."
—Red Magazine (UK)

"A read that you can't quite put down."
—The Skinny (UK)

"Binnie Kirshenbaum is the real thing, a comic writer with chops, a stylist with something to say."
—Bay Area Reporter

"Who knew a mental breakdown could be this funny?" 
—Columbia Magazine

"Funny and heartbreaking all at once . . . an emotionally powerful book."
—The Windham Eagle 

"Being put inside Bunny's mind is a gift for the reader . . . Rabbits for Food shows us what the opposite of convention looks like, what a woman who would be so commonly disregarded as valid looks like." 
—Little Village Magazine

"Not a word wasted . . . razor-sharp comic timing illuminates mental illness, love and relationships in the best possible way."
—Nine to Noon, Radio New Zealand

"A remarkable achievement that expertly blends pathos and humor . . . comparisons to One Flew over the Cuckoo's Nest are obvious and warranted, but Kirshenbaum's dazzling novel stands on its own as a crushing work of immense heart."
—Publishers Weekly, Starred Review 

"Kirshenbaum has excelled at capturing one woman's disturbing mental illness and the daily struggles to cope with survival even in a setting that supposedly offers support and rehabilitation."
—Library Journal

"Kirshenbaum is a remarkable writer of fiercely observed fiction and a bleak, stark wit; her latest novel is as moving as it is funny, and that—truly—is saying something."
—Kirkus Reviews, Starred Review 

"In her first novel in a decade, Kirshenbaum reclaims her scepter as a shrewdly lacerating comedic writer, joining Sylvia Plath, Ken Kesey, Will Self, Ned Vizzini, Siri Hustvedt, and others in writing darkly funny and incisive fiction about life in a psychiatric hospital ward."
—Booklist

"Wonderfully sardonic and entertaining."
—Book Riot

"Urban, caustic and intelligent . . . Kirshenbaum has created a great character in Bunny—one who will get under readers' skin."
—The Reporter

"Warning: do not start this book if you don't have several hours to devote to finishing it. This compelling story is both heartbreaking and hilarious . . . This book will make you laugh at what seems to be unlaughable and will make you question why someone who is labeled as crazy keeps making so much sense."
—Chelsea Bauer, Union Ave. Books 

"Kirshenbaum writes with precision and depth, sharp wit and tender empathy, and out of nowhere in particular and every moment emerges a colorful and tactile field of a story that is yours to experience . . . Layering emotional, relational, and sensorial explosions with the expended effort that is the daily maintenance of life, Kirshenbaum gives us this excellent novel, one that should not be missed."
—Rachel, Odyssey Bookshop (South Hadley, MA)

"Witty and caustic, revelatory and tragic . . . Kirshenbaum writes with candor, insight and empathy about the everyday and what's locked in the mind of someone with a mental illness. Bunny reads like a fictional Carrie Fisher - keenly aware of the darkness that looms large in her mind, with an acid tongue but full of heart and undeniably brilliant."
—Michelle Malonzo, Changing Hands Bookstore (Tempe, AZ)

"It's been ten years since we've been treated to a novel by the hilarious Kirshenbaum, and this new one is worthy of a celebration."
—Shelf Talk, Seattle Public Library 

Praise for Binnie Kirshenbaum

"Champagne—the driest, with giddy pinpoint bubbles—to accompany death row's last meal."
—The New York Times

"Kirshenbaum's barrage of wit in both expository prose and dialogue has the reader in a titter while contemplating issues of recrimination and forgiveness."
—Philadelphia Inquirer

"[Her characters are] deeply, even ludicrously flawed, but they're not figures of fun because they all carry the existential burden of loneliness . . . funny and compassionate."
—Washington Post

"A refreshingly gimlet-eyed examination of memory, one that cuts through the gauzy layers imposed by time."
—Time Out New York

"A reality check, sobering truths about family, regret, loss, history . . . Just about the only thing she doesn't serve up is a happy ending."
—Daily Beast

"The cinematic, effortlessly beautiful descriptions will spark the reader's imagination."
—Chicago Tribune

"Lyrical and prosaic, laced with sardonic wit, often hilarious, yet filled with an overwhelming sadness."
—The Review of Contemporary Fiction

"Kirshenbaum refuses to corral what is funny or sad into separate camps, but allows one to flip over into the other, creating unexpectedly poignant effects . . . A litany of longing, at once unsettling and deeply moving."
—San Francisco Review of Books

"Binnie Kirshenbaum is a rare and remarkable writer."
—Michael Cunningham, Pulitzer Prize–winning author of The Hours

"Binnie Kirshenbaum is a fearlessly unsentimental storyteller, a gifted comic writer and a thoughtful archaeologist of family life."
—Gary Shteyngart, New York Times bestselling author of Super Sad True Love Story

"Bitter truths [are] rendered palatable by the delicious sauciness of Kirshenbaum's prose."
—San Francisco Chronicle

"Writing swift, pointed chapters . . . Kirshenbaum offers hilarious and sage advice in the battle of the sexes. Readers anxious for an entertaining female character to emulate, if only in their fantasies, will find themselves in good company."
—People

"Kirshenbaum has an original voice and, even better, an original sensibility."
—Los Angeles Times
Upcoming Events
Event date:

Tue, 03/31/2020 - 10:30am