An Elderly Lady Is Up to No Good (Hardcover)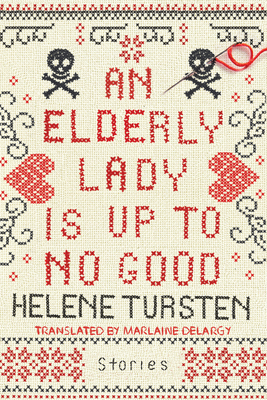 Staff Reviews
---
Eighty-eight-year-old Maud is fed up with people. Her coping mechanism? Keep an orderly and solitary life by murdering whoever she finds particularly obnoxious. Pesky neighbors, ex-lovers, and local celebrities looking to sabotage the small home she has built will now face this unassuming and bold lady. Will Maud's modest façade keep her from suspicion, or will the Detective Inspector find the dead body in her apartment a bit too suspicious? Told in a collection of five stories centering around Maud's antics, this hilarious novel will be the perfect stocking stuffer for anyone who enjoys a quiet cup of tea… and a little murder.
- Kiera
— From
Kiera's Recs
Description
---
Maud is an irascible 88-year-old Swedish woman with no family, no friends, and... no qualms about a little murder. This funny, irreverent story collection by Helene Tursten, author of the Irene Huss investigations, features two-never-before translated stories that will keep you laughing all the way to the retirement home.

Ever since her darling father's untimely death when she was only eighteen, Maud has lived in the family's spacious apartment in downtown Gothenburg rent-free, thanks to a minor clause in a hastily negotiated contract. That was how Maud learned that good things can come from tragedy. Now in her late eighties, Maud contents herself with traveling the world and surfing the net from the comfort of her father's ancient armchair. It's a solitary existence, and she likes it that way.

Over the course of her adventures—or misadventures—this little bold lady will handle a crisis with a local celebrity who has her eyes on Maud's apartment, foil the engagement of her long-ago lover, and dispose of some pesky neighbors. But when the local authorities are called to investigate a dead body found in Maud's apartment, will Maud finally become a suspect?
About the Author
---
Helene Tursten was a nurse and a dentist before she turned to writing. She is the author of the Irene Huss mysteries and the Embla Nyström mysteries, including Hunting Game and Winter Grave. Her books have been translated into 21 languages and made into a television series. She was born in Gothenburg, Sweden, where she now lives with her husband.
Praise For…
---
An ABA IndieNext Selection for November 2018 
A Loan Stars Top 10 Pick November 2018

Praise for An Elderly Lady Is Up to No Good

"[A] deliciously noir short story collection . . . Tursten takes readers deep inside Maud's head as she plots the demise of anyone who crosses her . . . Here's hoping Tursten brings back the flinty homicidal octogenarian for more adventures."
—Tina Jordan, The New York Times

"Witty . . . All pay the ultimate price for outraging this dangerous octogenarian. Will the police ever realize that sweet, frail, confused old Maud is in fact sharp as a tack and just as ruthless?"
—The Wall Street Journal

"Eighty-eight-year-old Maud, a Swedish cult favorite, freely dispatches greedy neighbors, selfish lovers, and potential thieves in four linked stories that push elderly empowerment to grimly funny heights in this Swedish cult favorite."
—The Boston Globe

"This elderly lady stops at nothing in her desire for a peaceful existence. I ought to feel guilty for enjoying her crimes, but I don't. The stories are written with such persuasive logic and delicious irony that I want the killing to continue indefinitely."
—Peter Lovesey, Mystery Writers of America Grand Master

"Darkly engaging . . . The murders Maud pulls off are meticulously plotted and executed, and one of the pleasures of the stories lies in watching Maud in action."
—The Toronto Star

"The juxtaposition of the way Maud presents in the world, as elderly, somewhat frail, and what she is capable of doing when she is thwarted makes for a really intriguing read that is often laugh out loud funny."
—Lily Bartel, WAMC's The Roundtable 

"A petite, deliciously dry set of short stories . . . grab this one as a stocking-stuffer for the mystery lover on your list."
—The News & Observer 

"Deliciously dark . . . Imagine a ticked-off Miss Marple with the conscience of Patricia Highsmith's Ripley and the cold-blooded pragmatism of Jack Reacher."
—Mystery Scene 

"Relying on the invisibility of age, using her walkers as a weapon, and seeming dementia as a defense, Maud systematically eliminates all annoyances . . . delightful."
—Deadly Pleasures

"Delightfully grim and howlingly funny . . . Maud's no apple-cheeked little Granny."
—Quad City Times

"A series of darkly comic stories."
—Petoskey News-Review

"For a twist on the genre, read this delightful anthology of five short stories revolving around an octogenarian protagonist named Maud. The plots will leave you enthralled and keep you entertained, and the translation from the Swedish original reads flawlessly . . . Enjoy the advantages of aging from a comfortable distance, knowing the blood is fake and the victims are figments of Tursten's lively imagination."
—The Beacon

"Helene Tursten's writing is a pleasure to read. Despite the dark nature of the stories, the book is full of humor, and highlights the way that many elderly people are ignored by society as being senile or incapable, something Maud fully uses to her advantage."
—The Times-News 

"A very interesting lead character . . . Would you suspect your grandmother of killing people? Just in case, you might be sure to stay on her good side. After all, you never know."
—The Sterling Journal-Advocate

"A wily, self-contained octogenarian . . . [an] enjoyable read."
—The Joplin Globe

"Tursten is best known for the hard-boiled Detective Inspector Irene Huss series of novels. However, the comic twists and turns she delivers in this compact collection are equally engrossing. Unassuming, murderous Maud—with her devious, pseudo-innocent charm—makes these concise stories wickedly funny and addictively readable."
—Shelf Awareness

"Maud is the petty, take-no-prisoners grandmother we all wish we had."
—K99 Radio

"A succinct treatise on how to get away with murder. This is a terrific little dollop of crime. Just beware of the little old lady who lives upstairs."
—Washington Independent Review of Books 

"The perfect size for stowing in your handbag with your hard candies and spare garrote wire."
—Literary Hub

"If you're into crime stories, dark humor, and want it centered around an octogenarian, run to this collection."
—Book Riot

"Dark, irreverent, and hilariously funny."
—Booklist, Starred Review 

"Exceptional . . . Readers will be amused by how sharp-as-a-tack Maud plays the forgetful, fuzzy-brained old lady to achieve her ends."
—Publishers Weekly, Starred Review 

"A juicy dose of senior justice. The book is pure fun."
—Kirkus Reviews

 "A wonderful discovery . . . Who knew the grim Swedish crime school included a writer this merry . . . and merciless?"
—The Shawangunk Journal 

"A satirical warning against the perils of ageism."
—Alfred Hitchcock Mystery Magazine

"Morbid, mysterious, and outrageously funny...this collection is a wonderful example of the more uproarious side of Scandinavian Noir, one that doesn't often reach our shores and should be savored when it does."
—CrimeReads

"A masterclass in concise and sharp characterization."
—Crime Review

"A light, fun read that proves something I've always known: never underestimate the elderly."
—Kittling Books

"Wildly entertaining."
—Reading Glasses Podcast

"Cleverly plotted . . . 88-year-old Maude is a combination of Charles Bronson's character in the movie Death Wish, Mrs. Wilberforce in the movie, The Ladykillers, and a small touch of John le Carré's low-key George Smiley. Tursten has created the perfect criminal, a senior citizen who has the cunning and vindictiveness of Bronson's character, the haplessness and sense of morality of Mrs. Wilberforce, and the deceptive appearance of George Smiley."
—Los Angeles Public Library Reads

"This tiny gem of a book—184 pages—is for anyone who has been underestimated and prevailed." 
—Silver Century Foundation

"Dark, funny, and oh so satisfying."
—Three Percent (University of Rochester)

"Top of the line . . . [Maud] has a take-no-prisoners penchant for survival and can go from zero to 90 whether practicing self-defense or administering rough justice. She does both and more in this collection of finely written and memorable stories."
—BookReporter 

"The elderly female antihero we never knew we needed . . . Suspenseful, funny, and certainly unique, this story is one you won't want to miss this holiday season."
—BookTrib

"These wicked, funny tales . . . could be the product of an illicit union between Arsenic and Old Lace and The Talented Mr. Ripley."
—Reviewing the Evidence

"Wickedly fun . . . if you've had your fill of gooey, saccharine sweet holiday books or movies, then this collection of vignettes featuring Maud, an eighty-eight year old serial killer, will cure your holiday sugar rush."
—The Book Review

"A completely different type of murderer than the regular mystery reader is used to."
—Pop Goes Fiction

"Maud is just too good when she is up to no good . . . [her] 'adventures' make for grisly fun, and a quick read if you're in the mood to dip into a bit of Scandinavian noir." 
—Reading Reality 

"A delicious acid-drop of a book."
—University Book Store (Seattle, WA)

"Full of fun (and a little bit of gore), this small book will leave you laughing."
-Odyssey Bookshop, (South Hadley, MA) 

"Never underestimate 88-year-old ladies—nearly deaf, living alone, and using wheeled walkers—when it comes to murder . . . You won't want to miss Tursten's clever stories."
—Karen Briggs, The Booknook (East Tawas, MI)

"Helene Tursten, the author of many popular Scandinavian crime thrillers, has shifted gears to offer up this lively and darkly funny tale . . . You will never take seniors for granted again!"
—Eagle Harbor Book Company (Bainbridge Island, WA)

"I thoroughly enjoyed all the wicked things this elderly lady got up to in this fun little read from the author of the Inspector Irene Huss Investigation series. A great gift for a mystery reader."
—Queen Anne Book Company (Seattle, WA)

Praise for Helene Tursten

"As good as Louise Welsh's similarly creepy tour of Glasgow."
—Gillian Flynn, Entertainment Weekly

"These days Scandinavian crime writers are thick on the ground. It's nice to see that the women can be just as bloodthirsty as the men."
—The New York Times Book Review

"[Tursten] imbues this novel with a cold chill of dread that can't be attributed only to the subfreezing temperatures of Göteborg in winter."
—Chicago Sun Times

"Truly satisfying."
—Philadelphia Inquirer

"An engaging mystery with a very likable heroine. With a writing style reminiscent of Camilla Läckberg or Henning Mankell, Helene Tursten offers a detective with a nuanced and compelling personal life, as well as a dark and intriguing mystery."
—Shelf Awareness
Upcoming Events
No upcoming events available