How to Say Goodbye (Hardcover)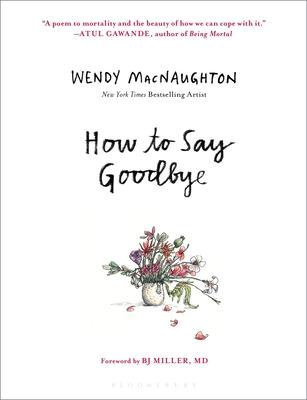 Description
---
A USA TODAY Bestseller
An NPR "Book We Love"

"A poem to mortality and the beauty of how we can cope with it."—Atul Gawande, author of Being Mortal

New York Times–bestselling artist Wendy MacNaughton shares wisdom from hospice caregivers: how to be, when to help, what to say—with full-color drawings throughout.

As artist-in-residence at the Zen Hospice Project Guest House in San Francisco, Wendy MacNaughton witnessed firsthand how difficult it is to know what to do when we're sharing final moments with a loved one. In this tenderly illustrated guide to saying goodbye, MacNaughton shows how to make sure those moments are meaningful. Using a framework of "the five things" taught to her by a professional caregiver, How to Say Goodbye provides a model for having conversations of love, respect, and closure: with the words "I forgive you," "Please forgive me," "Thank you," "I love you," and "Goodbye," each oriented toward finding mutual peace and understanding when it matters most.

With a foreword by renowned physician and author BJ Miller, and practical resources, How to Say Goodbye features MacNaughton's drawn-from-life artwork from both the Zen Hospice Project Guest House and her own aunt's bedside as she died, paired with gentle advice from hospice caregivers on creating a positive sensory experience, acknowledging what you can't control, and sharing memories and gratitude. A poignant guide to embracing the present and deepening relationships during great vulnerability, How to Say Goodbye shows that just as there is no one right way to live a good life, there is no one right way to say goodbye. Whether we're confused, scared, or uncertain, this book is a starting point.
About the Author
---
Wendy MacNaughton is a New York Times–bestselling artist, illustrator, and graphic journalist with a degree in social work who combines these practices to tell the stories of people who are often overlooked. She has illustrated and/or authored eleven books, including Salt Fat Acid Heat, The Gutsy Girl, and Meanwhile in San Francisco: The City in Its Own Words. Her visual storytelling series Meanwhile was the New York Times's first weekly drawn journalism column. The creator of DrawTogether and co-founder of Women Who Draw, she lives in the Bay Area with her wife, the author Caroline Paul.
Instagram/Twitter/YouTube @wendymac / wendymacnaughton.com
Praise For…
---
"Tenderly illustrated... [MacNaughton] distills hours of sitting, being there and waiting into a beautiful reminder that death is a part of living and that we can learn from it. "Follow their lead." "Just be there." "Cry. A lot." This "how-to" guide about dying reminds the living to embrace the present and deepen our relationships." —NPR, "Books We Love"

"Stunningly touching." —Steven Levitt, Freakonomics Radio

"Quietly powerful … Wendy MacNaughton's gentle drawings are followed by a deep well of resources for the dying and those who love and care for them." —Bookpage, starred review

"A tender illustrated field guide to being present … The book's beating heart is an invitation to grow comfortable with change, with uncertainty, with vulnerability." —Maria Popova, The Marginalian

"Words are spare, poignant, and practical: 'If you don't know what to say, start by saying that. That's very vulnerable.' An introduction from a hospice physician and a list of resources round this out as a perfect library book: one that everyone could use, one time or another." —Booklist

"There are many kinds of grace in this little book . . . [there is an] underlying kindness that runs throughout." —Rebecca Solnit, author of HOPE IN THE DARK

"Accessible, profound, moving, and beautiful. A unique and much-needed addition to the literature about death and dying." —Louise Aronson, MD, author of ELDERHOOD

"Like singing bowls whose sounds reverberate through us, MacNaughton's drawings resonate emotional tones of the tender moments she deftly portrays." —Ira Byock, MD, author of DYING WELL

"With keen eyes, a skillful hand, and a warm heart, MacNaughton has created a teaching manual on how to say goodbye . . . a gift to all of us as we face death in its many forms." —Mary Pipher, author of WOMEN ROWING NORTH

"This beautiful little book is luminous and dark, heavy and light, heartbreaking and glorious. It's a gift to see the world through Wendy MacNaughton's eyes." —Lucy Kalanithi, MD, Clinical Associate Professor, Stanford University School of Medicine

"A modern legend in the field of American illustration...[her] illustrations skitter across the page with delicate intensity, like fresh fuzzy roots meeting soil." —Saveur

"We've been enamored of artist-graphic journalist Wendy MacNaughton's breezy-yet-hyper-perceptive sketches, humanizing portraits, and urban tableaus for years now... the SF resident [is] something like our illustrator laureate." —San Francisco Bay Guardian

"[MacNaughton is] like a modern-day Margaret Mead armed with ink and watercolor, not a critic or commentator but an observer and amplifier of voice." —BrainPickings