Ghana's Economic Diplomacy - Past, Facts, And The Future (Hardcover)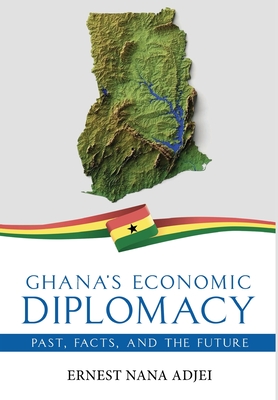 $21.00

Usually Ships in 1-5 Days
Description
---
Ghana has its eye firmly on the future. But to realise its enormous economic potential, the country's foreign relations must evolve to combine the political with the economic imperative. The Foreign Service has taken a leadership role for the entire gamut of Ghana's economic relations, including trade, investments, energy, climate change, and health diplomacy.
In Ghana's Economic Diplomacy: Past, Facts, and the Future (the first-ever book on the country's economic diplomacy), author Ernest Nana Adjei, a Foreign Service Officer of Ghana, presents a roadmap for the future. Expansive in scope, it offers suggestions to governments and policymakers on economic interventions needed at home and abroad to bolster the country's economic development agenda through the strategic pursuit of foreign policy and diplomacy.
"This book will enhance your knowledge of economic diplomacy...and offer suggestions to governments and policymakers on the economic interventions needed at home and abroad to advance the economic agenda."
- Amb Mercy Debrah-Karikari, the secretary to cabinet, the Republic of Ghana and former High Commissioner of Ghana to Australia and New Zealand
"...this topical and timely book will have a significant contribution in guiding decision makers of Ghana and other countries, especially developing ones, in reorienting or readjusting their foreign policies and the ensuing engagements."
- H. E. Dr. Manoj Nardeosingh, Secretary General of the African-Asian Rural Development Organisation
"This is the most comprehensive book I have read on the subject ... it is highly recommended for anyone interested in diplomacy, statecraft, and public policy."
- Amb Philbert I.K. Johnson, Ghana's Ambassador to Austria and the United Nations offices