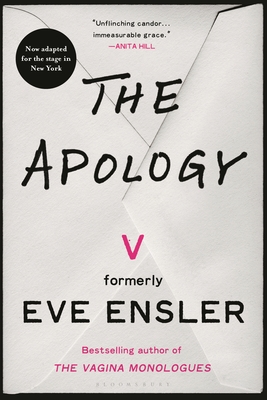 Description
---
From the bestselling author of The Vagina Monologues—a powerful, life-changing examination of abuse and atonement—now in paperback.

"A triumph of artistry and empathy." —Naomi Klein
"A crucial step forward . . . This is an urgently needed book right now." —Jane Fonda
"Courageous, transformative, and yes—healing." —Anne Lamott

Like millions of women, Eve Ensler has been waiting much of her lifetime for an apology. Sexually and physically abused by her father, Eve has struggled her whole life from this betrayal, longing for an honest reckoning from a man who is long dead. After years of work as an anti-violence activist, she decided she would wait no longer; an apology could be imagined, by her, for her, to her. The Apology, written by Eve from her father's point of view in the words she longed to hear, attempts to transform the abuse she suffered with unflinching truthfulness, compassion, and an expansive vision for the future.

Through The Apology Eve has set out to provide a new way for herself and a possible road for others, so that survivors of abuse may finally envision how to be free. She grapples with questions she has sought answers to since she first realized the impact of her father's abuse on her life: How do we offer a doorway rather than a locked cell? How do we move from humiliation to revelation, from curtailing behavior to changing it, from condemning perpetrators to calling them to reckoning? What will it take for abusers to genuinely apologize?

Remarkable and original, The Apology is an acutely transformational look at how, from the wounds of sexual abuse, we can begin to re-emerge and heal. It is revolutionary, asking everything of each of us: courage, honesty, and forgiveness.
About the Author
---
Eve Ensler is a Tony Award–winning playwright, author, performer, and activist. She is the author of The Vagina Monologues, which has been published in 48 languages and performed in more than 140 countries, the NYT bestseller I Am an Emotional Creature, and many more. She is the founder of V-Day, the global activist movement to end violence against women and girls, and One Billion Rising, the largest global mass action to end gender-based violence. She is a co-founder of the City of Joy, a revolutionary center for women survivors of violence in the Democratic Republic of the Congo. She is one of Newsweek's "150 Women Who Changed the World" and the Guardian's "100 Most Influential Women." She lives in New York.
Praise For…
---
"The Apology is more than a reckoning with a man long dead; it's a healing exploration of how survivors can recover from sexual abuse." —USA Today, "Five Must-Read Books"

"For those men--the famous and the unknown--The Apology is a blueprint of contrition." —Ron Charles, The Washington Post

"The horrifying specificity of the abuse Ensler suffered is on full display, but so, too, is a kind of searing analysis of patriarchy as a whole." —The Observer

"A remarkable book." —Brian Lehrer, WNYC

"A bold act of imaginative empathy . . . an incredibly brave attempt to make sense of what seems senseless." —Sunday Times

"Best-selling author Eve Ensler's new book The Apology is a powerful description of the apology that she needed to hear, but never did, from her father, who sexually abused her as a young child." —Psychology Today

"At every turn, this project is a lesson in how the real work of atonement happens in the churn of the reckoning. The Apology shows all of us how to take a body back by imagining its freedom. This book is a gift to our collective liberation." —BOMB magazine

"By reliving her own abuse through the eyes of her abuser, Ensler creates a powerfully cathartic work that sheds light on the toll that rape can take on one's life. 5/5." —BUST magazine

"Taut but heart-wrenching . . . The book is as much a powerful reckoning for [Ensler's] father as it is for certain endemic strains of patriarchy that have necessitated that such characters always exist." —San Francisco Chronicle

"Profound, imaginative and devastating . . . Horrifying and mesmerising in equal measure, both in its depth of inquiry and its detail . . . There is a moving power and poetry to the prose that rouses Arthur from his grave and holds him to account." —The Guardian

"One of the most shatteringly brilliant books I have read. As soon as I finished it, I read it again, and again, and again (really)." —The Times

"Ensler's transfixing, appalling, revelatory, and cathartic performance deepens her mission of transmuting her pain into clarion stories that engender understanding, openness, healing, and liberation . . . Daring and resounding." —Booklist, starred review

"This imagined voice of an abusive father from the limbo of the afterlife is as intimate as it is alarming, and in crafting a letter one survivor may yearn for, Ensler taps into a broader struggle, searching to hold perpetrators accountable . . . Those seeking a greater understanding of psychological manipulation will appreciate this potent examination." —Kirkus

"This bold, brutal, and ultimately healing narrative by playwright Ensler exposes the origin story of her ground-breaking play The Vagina Monologues through searing reflections on incest and abuse . . . A powerful and disturbing story that Ensler writes with grace and aplomb." —Publishers Weekly

"The scourge of sexual abuse is very much at the forefront of the cultural conversation right now. The Apology promises to be a potent and extraordinarily compassionate addition to it." —Omnivoracious

"Playwright Ensler's The Vagina Monologues debuted in 1996 and became an international phenomenon, with women recounting their stories about sexuality, genitalia, and body image. Now the celebrated dramatist turns to prose in her slender fever dream of a book to give herself something she couldn't get any other way. Assuming the voice of her late father, Ensler imagines his apology for raping, molesting, and abusing her throughout her childhood and conjures a reckoning with himself and what led him to these atrocities. Between the lines, readers can understand that she is coming to terms with her past and offering a blueprint for others who identify with her story." —National Book Review, 5 Hot Books

"A clear statement of accountability, self-reflective and wholly remorseful. It looks at misogyny and the perpetrator's roots, while describing the kind of personal transformation required to make sure he never offends again. It is, unfortunately, a fantasy but it is also a potent exercise in empowerment." —NOW Toronto "Best Books to Read this Summer"

"The geometry of toxic masculinity is contained within these pages. I read this book, and it blew me the f*** away . . . A devastating excavation of feelings, sadness, trauma . . . Powerful and bold." —Marc Maron, host of "WTF with Marc Maron"

"The Apology is profound and theatrical, literary and sometimes funny, as all of Eve Ensler's work is, and it goes without saying, it's courageous, transformative, and yes--healing." —Anne Lamott

"Wisdom and insight that will be passed around as long as there are human hearts beating on this broken planet." —Thandie Newton

"Accusation and punishment of the guilty is one critical step in reckoning with abuse. Eve Ensler offers another crucial step forward: the deep self-reckoning and accounting that a true apology requires. This is an urgently needed book right now." —Jane Fonda

"In this triumph of artistry and empathy, Eve Ensler leaves us with a transformative question: what if the words we most long to hear from another can be located within ourselves? Navigating the rocky rapids between intimacy and annihilation, contrition and forgiveness, autonomy and interdependence, this is a book like no other. Few will emerge unchanged." —Naomi Klein

"As only she can, Eve Ensler shares the story of her father's ultimate betrayal with both unflinching candor and immeasurable grace. Through sheer creative force, she takes us on her own journey to healing. Though Ensler's story is deeply personal, its lessons are universal." —Anita Hill

"The Apology is a brave step toward radical healing--not just for Eve Ensler, but for all those who accept her invitation to confront the trauma of sexual abuse and find the apology they might never hear. But Ensler's book can also be seen as an invitation to men and a roadmap for the apologies that need to be made." —Tony Porter, CEO, A Call to Men

"This is one of the most original and profound books of the decade. For anyone who has ever been hurt by somebody they love, it will be deeply transformative. Twenty-five years ago, Eve Ensler transformed how women think about their bodies. With this book, she will change how all of us think about our souls." —Johann Hari, author of CHASING THE SCREAM and LOST CONNECTIONS

"Eve Ensler's The Apology is both an excoriation and an act of startling forgiveness. Even as it depicts jaw-dropping cruelties, it probes the complexities and layers that underlie what could, in lesser hands, appear as the opaque surface of pure evil. Eve Ensler unflinchingly increases our understanding of the human experience even at its darkest, which is quite possibly a writer's, any writer's, most significant contribution." —Michael Cunningham

"Eve Ensler's book is for people like me who find apologies to be perfunctory and unsatisfying, even infuriating without a clear-eyed reckoning of why the hurt was done. Here is a guide for those who have not received the apology they deserve, and for those who know there is one they've yet to give." —Kimberlé Crenshaw

"Extraordinary . . . altogether magnificent." —Maria Popova

"Probably the most important piece of political theater of the last decade." —New York Times on THE VAGINA MONOLOGUES

"No recent hour of theater has had a greater impact worldwide." —The New York Times on THE VAGINA MONOLOGUES

"[An] extraordinary new memoir . . . a necessary book to read for its fierce, passionate commitment to making the world a safe place for women." —The Boston Globe on IN THE BODY OF THE WORLD

"A masterpiece. Ensler has accomplished the impossible: weaving together huge, bold, world-changing ideas with beautiful writing, amazing metaphors, and original structure. Truly one of the most courageous and original works of our time." —Naomi Klein on IN THE BODY OF THE WORLD