We Hereby Refuse: Japanese American Resistance to Wartime Incarceration (Paperback)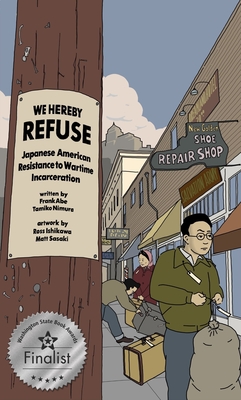 Description
---
"Deftly upends the compliant narrative with impeccably documented stories of resistance and rebellion ... Made urgent yet again, the trio's courageous refusals to accept the U.S.--their --government's heinous miscarriage of justice should irrefutably embolden new generations ... Their collective history will resonate with older teens. Also highly recommended for high-school and college classrooms." -- Terry Hong, Booklist
"It leaves you simultaneously furious, questioning ideas of loyalty and citizenship ... and deeply moved. May all of us learn, and share, these stories." -- Moira Macdonald, The Seattle Times
Three voices. Three acts of defiance. One mass injustice.
The story of camp as you've never seen it before. Japanese Americans complied when evicted from their homes in World War II -- but many refused to submit to imprisonment in American concentration camps without a fight.
In this groundbreaking graphic novel, meet JIM AKUTSU, the inspiration for John Okada's No-No Boy, who refuses to be drafted from the camp at Minidoka when classified as a non-citizen, an enemy alien; HIROSHI KASHIWAGI, who resists government pressure to sign a loyalty oath at Tule Lake, but yields to family pressure to renounce his U.S. citizenship; and MITSUYE ENDO, a reluctant recruit to a lawsuit contesting her imprisonment, who refuses a chance to leave the camp at Topaz so that her case could reach the U.S. Supreme Court.
Based upon painstaking research, We Hereby Refuse presents an original vision of America's past with disturbing links to the American present.
About the Author
---
FRANK ABE is writer/director of the film on the largest organized resistance to incarceration, Conscience and the Constitution (PBS), and co-editor of JOHN OKADA: The Life and Rediscovered Work of the Author of No-No Boy (University of Washington Press). He has gathered the stories of camp resistance ever since playing a JACL leader in the 1976 NBC-TV movie, Farewell to Manzanar. He blogs at resisters.com. TAMIKO NIMURA is a Sansei/Pinay freelance writer, editor, and public historian, contributing regularly to Discover Nikkei and the International Examiner. She is working on a children's book and a family memoir responding to her father's unpublished memoir of his wartime imprisonment at Tule Lake. She is also the niece of Hiroshi Kashiwagi, and can be found at kikugirl.net. ROSS ISHIKAWA is a cartoonist and animator living in Seattle. In addition to his work on We Hereby Refuse, he is working on a graphic novel about his parents and their coming of age during World War II. His work is online at rossishikawa.com. MATT SASAKI is the artist on the previous volume in this series, Fighting for America: Nisei Soldiers. He lives with his wife and an old dog north of Seattle. Samples of his other work are online at mattsasaki.com.