Scary Old Sex (Paperback)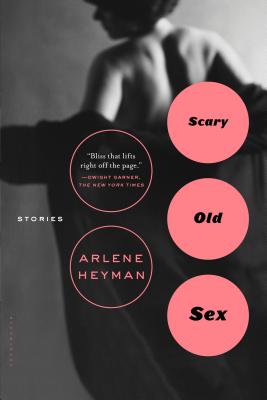 $16.00
Email or call for price/availability
Staff Reviews
---
It's no secret that aging is tough and each year presents its own new challenges; chief among them being relationships and intimacy. Heyman threads each short story together with themes of love, family, and perseverance. The characters are brimming with personality and the plots will suck you in. Scary Old Sex is a must read if there ever was one.
- Clare
— From
Clare's Recs
Description
---
The acclaimed debut collection of short stories by practicing psychiatrist Arlene Heyman--a work of "bliss that lifts right off the page." (Dwight Garner, NYT)

A woman goes about certain rituals of sex with her second husband, sharing the bed with the ghosts of her sexual past. A beautiful young art student embarks on an affair with a much older, married, famous artist. A middle-aged woman struggles with the decline of her mother, once glamorous and still commanding; their fraught relationship causes unexpected feelings, both shaming and brutal. A man finds that his father has died while in the midst of extra-marital sex and wonders what he should do with the body. And a boy sits in his Calculus class, fantasizing about a schoolmate's breasts and worrying about his father lying in hospital, as outside his classroom window the Twin Towers begin to fall.

In this stunning, taboo-breaking debut, Arlene Heyman, a practicing psychiatrist, gives us what really goes on in people's minds, relationships, and beds. Raw, tender, funny, truthful and often shocking, Scary Old Sex is a fierce exploration of the chaos and beauty of life.
About the Author
---
Arlene Heyman is the author of Scary Old Sex, and a recipient of Woodrow Wilson, Fulbright, Rockefeller, and Robert Wood Johnson fellowships. She has been published in the New American Review and other journals, won Epoch magazine's novella contest, and has been listed twice in the honor rolls of The Best American Short Stories. Heyman is a psychiatrist/psychoanalyst practicing in New York City. This is her first novel.
Praise For…
---
"In Arlene Heyman's first book, the short-story collection Scary Old Sex, she pays such sustained and stylish attention to late-life lovemaking . . . that you may feel you are reading about it for the first time . . . Rueful and funny and observant . . . Heyman is an enlightened observer across many aspects of life . . . One of the takeaways from "Scary Old Sex" is that old sex isn't so scary at all. These men and women are busily and blissfully humanizing themselves, the kind of bliss that lifts right off the page." - Dwight Garner, New York Times

"A terrific story collection . . . Ms. Heyman is frank in her descriptions, but never cruel or unfeeling . . . a tender, perceptive work." - Wall Street Journal

"[An] impressive collection . . . Heyman takes on the brutal intimacy of death and aging and provides new ways of seeing and experiencing these stages of life." - San Francisco Chronicle

"Witty, layered and often profound . . . Heyman's stories . . . are not only unforgettable but sophisticated, and edgy." - The Buffalo News

"[An] unflinchingly candid collection . . . [Their] flaws make these characters so real and dimensional, their stories so readable and resonant . . . Heyman has been described as [Bernard] Malamud's muse. Judging from these stories, he may have been hers as well. The stories in this keenly observed collection lay bare truths--some comforting, others uncomfortable--about love and sex, aging and acceptance." - starred review, Kirkus Reviews

"Honest, thought-provoking tales . . . Some are sad, some amusing, but all are poignant and all widen our view of what it means to be human." - Booklist

"Powerful . . . Engaging . . . Rich in canny eroticism, late-life regrets and intimations of mortality . . . 'One gets over nothing in this life,' Heyman writes--a psychoanalytic truism perhaps, but also an apt thematic summary of this lovely book." - Forward

"The seven stories in this collection are all raw, open-hearted and tender without ever going soft." - The Book Reader

"The graphic, funny, tender and shocking stories in New York psychiatrist Arlene Heyman's debut collection are aptly titled . . . Scary Old Sex has a lot more literary history and mystery going for it than most first-time collections. It's always an event when the silent muse speaks up for herself, and in Heyman's case, the muse's voice is lusty, tough and life-affirming." - The Guardian

"Arlene Heyman . . . who is in her seventies, is a practicing psychiatrist in New York City. The elderly men and women she writes about in Scary Old Sex with a sometimes disconcerting tenderness have never even considered celibacy as an option . . . The second story in the book is dedicated to the memory of Bernard Malamud . . . She still acknowledges her immense debt to him, which she repays with the kind of quiet, unexpected insights into human behavior of which he was such a master . . . A joyful, joyous debut." - Paul Bailey, Literary Review

"A taboo-breaking new book . . . These earthy, eye-opening and authentic tales tell uncomfortable truths about what really goes on in people's minds, and people's beds . . . Though her characters' flaws, fears and phobias feel all too real, Heyman's treatment of them is honest, human and kind--her themes drawing on nearly three quarters of a century of life lived to the full." - Daily Telegraph

"Both funny and eye-wateringly explicit." - Joan Bakewell, The Independent

"Arlene Heyman's debut volume of short stories, Scary Old Sex, hits the reader in the psyche, the gut and the groin with the force of a precision-aimed slingshot . . . Shocking, mesmerising and truthful . . . A couple of years ago, when I was compiling Erotic Stories for Everyman's Library, I was distressed by the lack of short fictions about older lovers and, even more so, the silence on married sex. These bracing, brilliant tales have just amended that injustice. *****" - Sunday Telegraph

"Told with warmth and honesty . . . The punning title of this debut collection of tales nicely sums up its themes: sex can be scary, when it involves emotional intimacy, and the thought of older people having sex often scares younger ones. American writer Arlene Heyman turns such worries into wryly comic affect . . . Delivers a shock of taboo desire that is lusciously sensual. All the stories overturn conventional notions around aging . . . Heyman's cautionary tales are wonderfully anti-prudish." - Michele Roberts, The Independent

"Her earthy dramas of sex, romance and ageing are full of beady-eyed truths." - Mail on Sunday

"This sensual and sometimes shocking collection understands and explores how people's lives are complicated by sex . . . [Heyman] writes with such intimacy and precision that she frequently makes you feel like a trespasser in the bedroom." - Daily Mail

"With a title that reflects her perspective and earthy stories, debuting author Arlene Heyman gives us sex, death and second chances with a refreshingly older cast of characters . . . Internal struggles are laid bare, irrespective of age and gender . . . The style is direct and often witty, with analysis's insight into human behaviour constant throughout." - Irish Times

"These brave and brilliant stories will take you deep into the lives of women, often older women, who have no fear of flying, who dare to explore the other side of the mountain, and who are well-acquainted with connection and loss, with sexual passion and romantic love. Arlene Heyman looks, and does not look away, at what we think, do, hate, regret, and wish for in our secret hearts and our most private moments. Gutsy and unsentimental, she introduces you to some unforgettable characters--and also, perhaps, to some unexplored parts of yourself." - Judith Viorst, author of NECESSARY LOSSES

"What an astonishing collection! I absolutely loved these stories, so stylish, earthy, and funny--and underneath them, thrumming away, a sense of our own mortality. They've been haunting me ever since I read them." - Deborah Moggach, author of THE BEST EXOTIC MARIGOLD HOTEL

"Raw, tender, funny, truthful and often shocking, Scary Old Sex is a fierce exploration of the chaos and beauty of life." - Jewish Chronicle

"A searing, provocative collection of stories that have had the rare chance to mature along with their author." - Jewniverse

"It might be premature to herald another renaissance of the American short story, but after books such as last year's Prodigals by Greg Jackson and Scary Old Sex by Arlene Heyman, and the appearance of these four collections in the first two months of 2017, one might be allowed to entertain the notion seriously." - Literary Review

"It's Heyman's sensitivity to the tragicomic potential of the situation which makes her prose so extraordinary . . . Her stories suggest someone who has lived a life other than writing, and learnt from it." - Spectator

"Scary Old Sex will be the raciest set of short stories from a female septuagenarian you'll read this year. There are shades of Philip Roth in psychiatrist Arlene Heyman's graphic scenes; she has an unapologetic, unflinching approach to sex and bodies, which somehow makes her stories, mainly focussing on relationships involving older and/or ill people, all the more life-affirming . . . Laugh-out-loud funny. Bold, frank and wise, this is a confident, memorable read." - The Big Issue