Growing Berries and Fruit Trees in the Pacific Northwest: How to Grow Abundant, Organic Fruit in Your Backyard (Hardcover)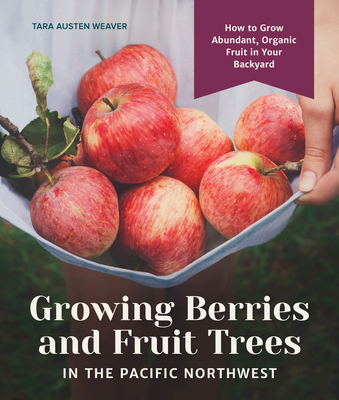 $19.95
Email or call for price/availability
Description
---
A beautiful guide to growing delicious fruit in Pacific Northwest climates, complete with selection, planting, and organic care for more than 75 cultivars of berries and fruit trees, as well as 10+ master recipes with variations for preserving your bountiful harvest.

This complete guide to backyard fruit growing covers recommended varieties and climate info for the Pacific Northwest both west and east of the Cascades, ideal climates for growing berries and fruit trees. Also includes sidebars showcasing historical orchards, fruit enthusiast societies, gleaning organizations, and more. Includes several recommended cultivars of each of the following types of fruit: 
-Berries: strawberries, raspberries, blueberries, blackberries, kiwi berries, plus less common berries such as lingonberries, elderberries, currants, gooseberries, jostaberries, and a section on wild berries. 
-Fruit trees: apples, pears, Asian pears, cherries, peaches, nectarines, apricots, plums, plus less common fruit trees such as figs, persimmons, and quince.
About the Author
---
TARA AUSTEN WEAVER is a freelance writer, editor, and author of The Butcher & The Vegetarian (Rodale, 2010) and Orchard House: How a Neglected Garden Taught One Family to Grow (Ballantine, 2015), a memoir that chronicles how she and her family attempted to revive a long neglected Seattle garden and orchard. Tara's food blog, Tea & Cookies, established in 2006, was selected as one of the top 50 food sites in the world by both the Times of London and The Independent (UK) and has been featured on The Food Network, Saveur, Oprah.com, Apartment Therapy, The Kitchn, Reddit, and Bonappetit.com. She is a trained Master Gardener, Permaculture Designer, and Master Composter/Soil Builder.
Praise For…
---
"Learn how and when to plant fruit trees in your home garden—and how to maintain them for the optimal yield."
—Sunset Magazine

"Food writer [Tara Austen] Weaver (Orchard House) combines a horticultural guide and culinary treasure chest between the covers of one instructive book. Focusing on fruits and berries—some common (strawberries, apples), other exotic (quince, lingonberries)—the text runs through how to prepare jams, curds, and sauces while starting from the ground up, literally. Highlighting soil maintenance and plant placement, Weaver discusses planting, cultivating, and harvesting, all with an eye to creating preserves [...] Farmers everywhere will learn and benefit from Weaver's wide scope of knowledge."
—Publishers Weekly

"[Tara Austen Weaver's] new book, Growing Berries and Fruit Trees in the Pacific Northwest, will lead you to sweet, sweet success."
—The Seattle Times' Pacific NW Magazine

"Tara Austen Weaver's 224-page guide [does] not disappoint."
—The Oregonian

"One look through Tara Austen Weaver's new book Growing Berries and Fruit Trees in the Pacific Northwest is all it takes to leave you dreaming about calling it quits on wherever you live now and hightailing it to greener pastures."
—Tasting Table

"Weaver's book...makes pre-eating stages of fruits and berries seem just as appealing thanks to her breezy, highly readable way with words and expertise as both a master gardener and creative cook...Whether discussing blueberries or pears, or more exotic efforts like kiwi berries and quinces, Weaver tackles plant maintenance, pest and disease prevention, harvesting and preserving...Which of course leads us to [the] delectable final section, where in addition to baked goods Weaver displays recipes for sauces, drinks and fruit leather as well. All of it is illustrated with stunning photographs, making this the kind of book you'll keep for a lifetime—for yourself or a special green thumb in your life."
—Inlander

"[A] lively guide."
—Times Colonist

"If raising your own fruit trees is the apex of happiness, then you must snag a copy of this guide by Tara Austen Weaver. Learn to cultivate a range of backyard fruit-bearers from strawberries to currants to Asian pears and figs. Once you have your own little agriculture oasis, make one of the 10-plus recipes to preserve your harvest."
—425 Magazine

"Growing Berries and Fruit Trees in the Pacific Northwest is well written, beautifully laid out and a great introduction to its topic. For many gardeners it could be the only book on the subject they will ever need."
—Eugene Weekly