Dead Feminists: Historic Heroines in Living Color (Hardcover)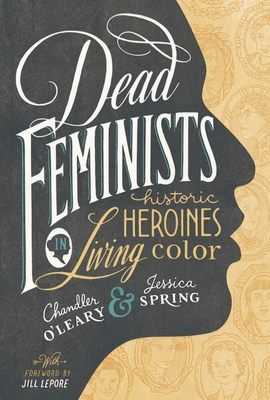 $24.95
Usually Ships in 1-5 Days
Staff Reviews
---
Stunning illustrations and punchy writing make this book a delight on every page! The authors, both graphic designers specializing in letterpress craft, highlight 27 disparate women who, in their own spheres, changed the world for the better. Based on the acclaimed Dead Feminist poster series, the authors explain how they chose their subjects and created each intricate design. You'll learn surprising new information about well-known women and discover new heroines to admire as well. History truly comes alive in this book to treasure and revisit.
- Cindy
— From
Cindy's Recs 2
Description
---
A national bestseller, this gorgeously illustrated letterpress-inspired book combines feminist history with a vision for a better future. Dead Feminists is a lushly illustrated and inclusive celebration of inspiring women who transformed the world and created social change.
 
Based on the beloved letterpress poster series of the same name, Dead Feminists interweaves intricate broadside art with archival photographs and ephemera. This book brings feminist history to life, profiling 27 unforgettable forebears of the modern women's movement such as Eleanor Roosevelt, Gwendolyn Brooks, Rachel Carson, and more. Across eras and industries, passions and geographies, this collection of diverse, progressive, and perseverant women faced what looked like insurmountable odds and yet, still, they persisted.
 
Dead Feminists, which features a foreword by Jill Lepore, author of The Secret History of Wonder Woman, is an illuminating and innovative reminder that women can be extraordinary agents of change. The future is female, but in many ways so is the past. Dead Feminists takes feminist inspiration to a new level of artistry and shows how ordinary and extraordinary women have made a difference throughout history (and how you can too).

Featured Feminists:
Adina De Zavala
Alice Paul
Annie Oakley
Babe Zaharias
Eleanor Roosevelt
Elizabeth Cady Stanton
Elizabeth Zimmerman
Emma Goldman
Fatima al-Fihri
Gwendolyn Brooks
Harriet Tubman
Imogen Cunningham
Jane Mecom
Marie Curie
Queen Lili'uokalani
Rachel Carson
Rywka Lipszyc
Sadako Sasaki
Sappho
Sarojini Naidu
Shirley Chisholm
Thea Foss
Virginia Woolf
Washington State Suffragists
About the Author
---
Chandler O'Leary received her BFA from the Rhode Island School of Design. She is the proprietor of an illustration and lettering business called Anagram Press.
 
Jessica Spring holds an MFA from the Center for Book and Paper Arts. She is a letterpress printer and teacher and the proprietor of Springtide Press.
Praise For…
---
2018 Pacific Northwest Book Award Winner

"A very warm welcome to Dead Feminists. The world wants it."
—Jill Lepore, New York Times bestselling author of Book of Ages and The Secret History of Wonder Woman

"Fierce, feminist, and forceful, the fascinating words and incredible historical images in Dead Feminists brings the stories of these women to life like never before."
—Sam Maggs, author of The Fangirl's Guide to the Galaxy and Wonder Women

"At once a tale of claiming the process and technology to tell our stories and a history of women, this book introduces us to remarkable women we never knew, and reintroduces us to those we only thought we knew. These dead feminists, so often kept in the shadows, glow with life."
—Kseniya Thomas & Jessica C. White, authors of Ladies of Letterpress

"Dead Feminists offers well-researched and meticulously illustrated insight into some of America's inspiring historic heroines—but it also goes way beyond that. This book is a profound and super-smart look at feminist craft, creation, and collaboration, and reminds us that what goes on behind the scenes can be just as powerful as the finished product. I am so grateful to Chandler and Jessica for allowing us into their radical world."
—Kate Schatz, author of the New York Times bestseller Rad American Women A-Z and Rad Women Worldwide

"This visual book combines feminist history, feminist future, and letterpress inspiration in 27 profiles of women who have changed the world."
—Autostraddle

"[Broadsides] featured in collections around the country and world."
—Move to Tacoma

"Feminism isn't dead — but its trailblazing women are back in full artistic color."
—The News Tribune

"Enjoy."
—Lambda Literary

"[Puts] feminist history into memorable, beautiful context."
—Flavorwire

"The latest in a series from Jessica Spring and Chandler O'Leary."
—Oregon ArtsWatch

"Motivating women and beautiful art."
—Bustle

"A gorgeous new book of feminist history."
—Our RISD

"Beautiful pieces…delightfully handmade."
—The Ladycast

"A gorgeous series of broadsides."
—Vanguard Seattle

"Basically your Nasty Women Bible Vol. 1."
—Strand Book Store

"Pioneering women and 21st-century illustration: now there's a cool combination… an illuminating look at 27 brilliant women… the words and deeds of each are examined, alongside archive photographs and gorgeous posters."
—The i Paper

"Chandler O'Leary and Jessica Spring give a new voice to twenty four "dead feminists" by commemorating these women via the artistry of the…broadside."
—Amelia Bloomer Project

"Righteous ladies, beautiful lettering and illustrations based on feminist quotes."
—Forever Young Adult

"[A] gorgeous new book….Our #Bitchreads book of the week."
—Bitch Media

"[A] gorgeous exploration of design, printing, history and feminism...it made me cry from its beauty."
—GeekGirlCon

"A damn gorgeous book."
—Reading Rambo

"Art with the power to incite—and unite—women of every age and stage."
—BookPage

"Be inspired." 
—Project Calm Magazine

"A new and illuminating look at 27 women who changed the world."  
—Your Tango

"The pages of this book will leave you feeling hopeful and ready for progress." 
—Lenny Letter

"Each poster is gorgeously rendered to showcase the woman's accomplishment, her words, and the time period."
—Forever Young Adult

"A splendid, colorful, not-putdownable feminist history of 27 women who made a difference."
—Northshire Bookstore

"Highlights the accomplishments of 27 women."
—The Olympian

"Stunning."
—Seattle Magazine

"Inspire and illuminate."
—The Seattle Times

"Celebrating ground-breaking women."
—NW Book Lovers

"For the bookish girls in capes."
—Girls in Capes  

"Women who changed the world."
—The News Tribune

"[A] treasure trove."
—Tallahassee Democrat

"Poster art combined with tidbits of feminist history…empower[s] girls and women to create change in their own communities."
—The Suburban Times

"Remarkable."
—National Museum of Women in the Arts

"A gorgeously visual collection that you can spend hours and hours pouring over."
—Urbana Free Library

"Pivotal feminists."
—Shelf Talk

"Learn about feminist history and letterpress."
—The Stranger

"Great for everyone's library!"
— Bella Magazine

"Each feminist is chosen with such care—and each woman's story connects to current events. The articles are brief and the art is stunning."
— Redeveloping History

"The book...enhances the broadsides with added art, expanding the profiles of 27 "women who changed the world."
— The Register-Guard

"Bolster those bookshelves with some quality reading material." 
— ModCloth

"From the moment you turn back the cover, you are immersed with the images of women designed in what you will come to know as O'Leary and Spring's artistic styling."
— Under the Parrot Umbrella

"If you want a good coffee table book that also happens to be a great read, definitely check Dead Feminists out."
— The Cotton Candy Unicorn

"Chandler O'Leary & Jessica Spring have chosen [these] remarkable women to honor… I am so pleased and proud."
 — Schoolhouse Press

"A gorgeous new book of feminist history." 
 — XYZ RISD

"This richly illustrated letterpress-inspired book combines feminist history with a vision for a better future… takes feminist inspiration to a new level of artistry and shows how ordinary and extraordinary women have made a difference throughout history (and how you can too)."
 — National History Club News

"O'Leary and Spring… dig deep to feature lesser-known and under-lauded women. Wonderful for budding activists and designers."
 — NW Book Lovers

"Dead Feminists is a collection of women and their words that aspires to be collaborative, intersectional, and attentive to form. What Dead Feminists adds is a broad and expansive horizon of historical perspective — there's even a two-page timeline spanning from 630 BCE to 2015 — that sees women's role today not as a single cresting wave of creativity or crisis but as part of a long ebb and flow of political struggle and purposeful work."
—Los Angeles Review of Books

"It's hard to know what's more awesome about the Dead Feminists series: the fact that the project enshrines the wisdom of feminists from bygone eras, or the fact that the resulting hand-drawn letterpress prints are so gosh-darn splendid to look at."
—Frankie

"This beautifully-illustrated letterpress hardcover weaves drawing, photographs, artifacts, and text to tell the story of 27 pioneers of the women's movement from Sappho to Eleanor Roosevelt to Shirley Chisholm." 
—InStyle

"This book began as a series of hand-drawn letterpress broadsides featuring quotes from, well, dead feminists. Those images are collected in this beautiful book that also features biographies and artifacts from the lives of trailblazers."
—Bitch Magazine

"It had us at letterpress."
—Yahoo!

"Will allow you to catch up on all of the amazing women that deserved to be in history books, but often weren't given their due."
—Hello Giggles 

"A wonderful source of women's history."
—Women Of History (Instagram)

"Shedding light on some excellent women throughout history... whose accomplishments have been snatched from them."
—The Show Me Librarian (blog)

"Includes stunning visuals placing an artistic spotlight on inspiring women through the ages and their struggles and victories."
—South Sound Talk

" A glimpse into the history of feminism, from the words of members of the early feminist movement themselves."
—Bustle

"An exhilarating excursion up and down the timeline of what, since the 1970s, is sometimes called herstory."
—Coast Weekend

"It's hard to know what's more awesome about the Dead Feminists series: the fact that the project enshrines the wisdom of feminists from bygone eras, or the fact that the resulting hand-drawn letterpress prints are so gosh-darn splendid to look at." 
—Frankie Magazine 

"Standout title."
—Publishers Weekly

"An inspiring and informative project."
—Uppercase Magazine 

"[The] lively visuals bring history to life."
—Seattle's Child

"Perfect in every way! I just love the way that they've done this, and I haven't seen a book quite like this before. This would make a fantastic gift—it needs to be shared because it's just so great."
—Heather Dunn Design
Upcoming Events
No upcoming events available