Temporary People (Paperback)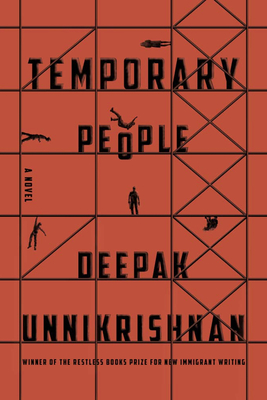 $17.99
Usually Ships in 1-5 Days
Staff Reviews
---
Temporary People is a tour de force of language and allegory. This collection of stories about euphemistically named "guest workers" in the United Arab Emirates shines a light on a largely invisible group. Foreign workers in the Gulf comprise over 80% of the population, yet have no rights as citizens. They toil in harsh conditions for decades at which point they are "retired" and immediately deported to a home country they may barely remember. Unnikrishnan himself is the child of Indian workers in the Gulf and writes from an understanding born of experience. His characters persevere in these surreal, heartbreaking, and sometimes humorous stories with anonymity and an understanding of their disposability. Temporary People is the inaugural winner of the Restless Books Prize for New Immigrant Writing, founded to "discover urgent, culture-straddling writing from first-time, first-generation writers". In Unnikrishnan they have found an exhilarating new voice.
- Cindy
— From
Cindy's Recs 2
Description
---
"Guest workers of the United Arab Emirates embody multiple worlds and identities and long for home in a fantastical debut work of fiction, winner of the inaugural Restless Books Prize for New Immigrant Writing.… The author's crisp, imaginative prose packs a punch, and his whimsical depiction of characters who oscillate between two lands on either side of the Arabian Sea unspools the kind of immigrant narratives that are rarely told. An enchanting, unparalleled anthem of displacement and repatriation." —Kirkus Reviews

In the United Arab Emirates, foreign nationals constitute over 80 percent of the population. Brought in to construct the towering monuments to wealth that punctuate the skylines of Abu Dhabi and Dubai, this labor force works without the rights of citizenship, endures miserable living conditions, and is ultimately forced to leave the country. Until now, the humanitarian crisis of the so-called "guest workers" of the Gulf has barely been addressed in fiction. With his stunning, mind-altering debut novel Temporary People, Deepak Unnikrishnan delves into their histories, myths, struggles, and triumphs.

Combining the irrepressible linguistic invention of Salman Rushdie and the satirical vision of George Saunders, Unnikrishnan presents twenty-eight linked stories that careen from construction workers who shapeshift into luggage and escape a labor camp, to a woman who stitches back together the bodies of those who've fallen from buildings in progress, to a man who grows ideal workers designed to live twelve years and then perish—until they don't, and found a rebel community in the desert. With this polyphony, Unnikrishnan brilliantly maps a new, unruly global English. Giving substance and identity to the anonymous workers of the Gulf, he highlights the disturbing ways in which "progress" on a global scale is bound up with dehumanization.
About the Author
---
Deepak Unnikrishnan is a writer from Abu Dhabi and a resident of the States, who has lived in Teaneck, New Jersey, Brooklyn, New York and Chicago, Illinois. He has studied and taught at the Art Institute of Chicago and presently teaches at New York University Abu Dhabi. Temporary People, his first book, was the inaugural winner of the Restless Books Prize for New Immigrant Writing.
Praise For…
---
"Deepak Unnikrishnan's novel-in-stories narrates a series of metamorphoses…. a mosaic of the frenetic, fantastical and fragmented lives of the South Asian diaspora in the United Arab Emirates, one that recalls the cry of its closest forebear, Salman Rushdie's Midnight's Children: 'Please believe that I am falling apart.' What separates Unnikrishnan from Rushdie, and the vast literature of exile that precedes them, are his subjects. Temporary People explores the lives of arguably the least privileged class of nomads in the twenty-first century: guest workers. Joining the South Indian writer Benyamin's Goat Days, a novel of modern-day enslavement in Saudi Arabia, and the British-Emirati director Ali Mostafa's City of Life, a film that weaves together a cross-section of lives in Dubai, Temporary People is a robust… entry into the nascent portrayal of migrant labor in the Gulf.… Mingling English, Malayalam and Arabic in a series of Kafkaesque parables, Unnikrishnan's book features a lot of action and even some humor.… Temporary People pairs well with an older cousin in nonfiction, John Berger's A Seventh Man. In that stirring cri de coeur about migrant labor in Europe, Berger reminds us of a point that is embedded within Unnikrishnan's stories: Countries that send migrant laborers to global metropolitan centers are often forced to do so…. Unnikrishnan's collection poses its questions obliquely, but demands explicit answers. What causes a society to look like this?"

—Shaj Mathew, The New York Times Book Review

"Temporary People has won the inaugural Restless Books prize for writing by a first-generation immigrant to America. Its patchwork of chapters elicits the vertigo of Joseph Heller and the disoriented human hopelessness of Milan Kundera.… Mr. Unnikrishnan's world could be written off as dystopian, were it not rooted so firmly in current reality.… Taken together this discordant polyphony of stories is the full-throated roar of an entire people.… His language is now solid, alive and dangerous.… This is not an easy book; in fact it is eviscerating. But in Temporary People the Restless Books prize has rewarded an urgent voice worth attending to, even if it is hard to hear."

— The Economist

"Combining surreal symbolism and linear narrative, wordplay and lists, family history and mythic retellings, Unnikrishnan uses fiction to '[illuminate] how temporary status affects psyches, families, memories, fables, and language(s)…. With this unsettling, dazzling, astute collection, Unnikrishnan won the inaugural Restless Books Prize for New Immigrant Writing, which awards $10,000 and publication to a first-time, first-generation American author. 'In giving substance and identity to the voiceless and faceless masses of guest workers in the United Arab Emirates, he not only calls attention to this very particular injustice, but also highlights the disturbing ways in which "progress" on a global scale is bound up with dehumanization,' reads the Judges' Citation. 'Temporary People is a brave, stylistically inventive book that presents a frightening, surreal world that's all too true to life.' Its publication couldn't be more timely given the current outcries for and against immigrants, bans, raids, and mass deportations. As an antidote to border politics, Unnikrishnan's stories serve as both testimony and oracle to be read with grave urgency."

—Terry Hong, The Christian Science Monitor

"Inventive, vigorously empathetic, and brimming with a sparkling, mordant humor, Deepak Unnikrishnan has written a book of Ovidian metamorphoses for our precarious time. These absurdist fables, fluent in the language of exile, immigration, and bureaucracy, will remind you of the raw pleasure of storytelling and the unsettling nearness of the future."

—Alexandra Kleeman, author of You Too Can Have a Body Like Mine

"Deepak Unnikrishnan's new novel is made even more moving by the author's statement about writing it: 'Temporary People is a work of fiction set in the UAE, where I was raised and where foreign nationals constitute over 80 percent of the population. It is a nation built by people who are eventually required to leave.' It is hard to grapple with the idea of a country where so few people hold citizenship while so many others toil to make it work, which is partially what Unnikrishnan's book deals with. The elements of this novel, which won the Restless Books Prize for New Immigrant Writing, range in form from short-short stories to poems to one particularly memorable piece that is simply a list of dozens of occupations that become slowly more political, until the painful end… Pieces such as this are all about the language play, while others focus more on voice, like the incredibly disturbing 'Mushtibushi,' in which an apartment-dweller is responsible for collecting the reports of child molestation and kidnapping in his building…. There is nothing comfortable about Unnikrishnan's Temporary People, but it is challenging, thought-provoking and timely."

—Ilana Masa, The Washington Post

"Western chatter about the U.A.E. was somehow reproducing, however unconsciously, the same dehumanization that it appeared to criticize. There was money-drunk decadence at the top, raw immiseration at the bottom, and little else….. No real life…. Temporary People [is] a kaleidoscopic collection of loosely linked short stories set mostly in Abu Dhabi and focussed on residents of the city who are, like Unnikrishnan, citizens of India. It's exactly the book I was looking for. For its characters, the U.A.E. is not a backdrop or a metaphor; it's where they live… Unnikrishnan refuses to occupy a single style or register, as if to inoculate the reader against settling on any one idea of what the U.A.E. is, or of what it means. A few stories are in a familiar mode of straightforward realism. Others are surreal fables brimming with bizarre imagery…. [It] works wonders, jolting the readerly brain away from abstraction and directing it toward the fine grain of life. Unnikrishnan isn't papering over the frequent harshness of noncitizen life, or denying how degrading it can be. But he is insisting that there is more to the story—that the people in the place have rich interior lives shot through with memories, desires, and confusions."

—Peter C. Baker, The New Yorker

"Guest workers of the United Arab Emirates embody multiple worlds and identities and long for home in a fantastical debut work of fiction, winner of the inaugural Restless Books Prize for New Immigrant Writing . . . The author's crisp, imaginative prose packs a punch, and his whimsical depiction of characters who oscillate between two lands on either side of the Arabian Sea unspools the kind of immigrant narratives that are rarely told. An enchanting, unparalleled anthem of displacement and repatriation."

—Kirkus Reviews, Starred Review

"Inaugural winner of the Restless Books Prize for New Immigrant Writing, this debut novel employs its own brand of magical realism to propel readers into an understanding and appreciation of foreign workers in the Arab Gulf States (and beyond). Through a series of almost 30 loosely linked sections, grouped into three parts, we are thrust into a narrative alternatinting between visceral realism and fantastic satire . . . The alternation between satirical fantasy, depicting such things as intelligent cockroaches and evil elevators, and poignant realism, with regards to necessarily illicit sexuality, forms a contrast that gives rise to a broad critique of the plight of those known euphemistically as "guest workers." VERDICT: This first novel challenges readers with a singular inventiveness expressed through a lyrical use of language and a laserlike focus that is at once charming and terrifying. Highly recommended."

—Henry Bankhead, Library Journal, Starred Review

"Unnikrishnan's debut novel shines a light on a little known world with compassion and keen insight. The Temporary People are invisible people—but Unnikrishnan brings them to us with compassion, intelligence, and heart. This is why novels matter."

—Susan Hans O'Connor, Penguin Bookshop (Sewickley, PA)

"Deepak Unnikrishnan uses linguistic pyrotechnics to tell the story of forced transience in the Arabian Peninsula, where citizenship can never be earned no matter the commitment of blood, sweat, years of life, or brains. The accoutrements of migration—languages, body parts, passports, losses, wounds, communities of strangers—are packed and carried along with ordinary luggage, blurring the real and the unreal with exquisite skill. Unnikrishnan sets before us a feast of absurdity that captures the cruel realities around the borders we cross either by choice or by force. In doing so he has found what most writers miss: the sweet spot between simmering rage at a set of circumstances, and the circumstances themselves."

—Ru Freeman, author of On Sal Mal Lane
Upcoming Events
No upcoming events available