The Deadline: Essays (Hardcover)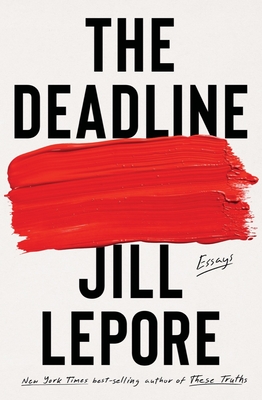 List Price: $45.00
Our Price: $40.50
(Save: $4.50 10%)
Description
---
"Jill Lepore is unquestionably one of America's best historians; it's fair to say she's one of its best writers too." —Jonathan Russell Clark, Los Angeles Times



Best Books of 2023: New Yorker, TIME



A book to be read and kept for posterity, The Deadline is the art of the essay at its best.
Few, if any, historians have brought such insight, wisdom, and empathy to public discourse as Jill Lepore. Arriving at The New Yorker in 2005, Lepore, with her panoptical range and razor-sharp style, brought a transporting freshness and a literary vivacity to everything from profiles of long-dead writers to urgent constitutional analysis to an unsparing scrutiny of the woeful affairs of the nation itself. The astonishing essays collected in The Deadline offer a prismatic portrait of Americans' techno-utopianism, frantic fractiousness, and unprecedented—but armed—aimlessness. From lockdowns and race commissions to Bratz dolls and bicycles, to the losses that haunt Lepore's life, these essays again and again cross what she calls the deadline, the "river of time that divides the quick from the dead." Echoing Gore Vidal's United States in its massive intellectual erudition, The Deadline, with its remarkable juxtaposition of the political and the personal, challenges the very nature of the essay—and of history—itself.
About the Author
---
Jill Lepore is the David Kemper '41 Professor of American History at Harvard University and a staff writer at The New Yorker. She's also the host of the podcasts The Last Archive and Elon Musk. A two-time Pulitzer Prize finalist, her many books include the international bestseller These Truths; If Then, longlisted for the National Book Award; and the audiobook Who Killed Truth?
Praise For…
---
Reading Lepore on the Second and 14th Amendments (any amendment, really) is elucidating. But it's her inclinations toward misfits and old narratives we have taken for granted that make The Deadline glow . . . the book emerges as a riveting survey of America, a vital reminder that 'history isn't a pledge, it's an argument.'

— Sloane Crosley - New York Times Book Review

Jill Lepore is unquestionably one of America's best historians; it's fair to say she's one of its best writers too . . . Taken in sequentially, Lepore's essays constitute a dizzying, entertaining and urgent survey course on contemporary American life. Although Lepore dives deep into the waters of bygone eras, she always writes from the present — the palpable surface of history's ever-rising tide.
— Jonathan Russell Clark - Los Angeles Times

Lepore focuses her cogent insight on the most pressing issues of the past decade in American society, seamlessly moving between the intensely personal (a friend's cancer diagnosis) to the fiercely political (the urgent gun-violence crisis and ongoing debate over gun control) with authority and acumen . . . [The Deadline] brings wit, clarity, and necessary perspective to the biggest issues of today.

— Cady Lang - TIME

Bright, crisp, inventive, surprising, and a constant delight.
— Joseph Barbato - New York Journal of Books

[A] bracing and deeply considered guide to the ground-shifting cultural and political events of the past 10 years.
— Carol Iaciofano Aucoin - WBUR

Those for whom history is an incomprehensible nightmare may find relief reading the works of Jill Lepore... [she] writes with a distinct perspective and sophistication, with wisdom... Lepore's 46 essays include thoughts on her relationships with her father and mother, the latter's life told in parallel with an account of Jane Franklin, Ben Franklin's sister; literature (Frankenstein as a slave narrative, and the life of Herman Melville); America's history and its present (the life of Eugene Debs, the history of the U.S. Supreme Court, and an account of the torture regime of the Bush administration); and her love of biking. Her curiosity's intensity is matched only by its scope; the sheer variety of topics will surprise and delight readers who revel in the perhaps dying art of a great generalist. The Deadline superbly chronicles the many crises and joys of our times--and their origins in times long past.

— Walker Minot, Shelf Awareness, starred review

Lepore is a sophisticated and original thinker and an ensnaring, witty, and provocative storyteller . . . Lepore's galvanized readers will acquire new perspectives and new knowledge as she addresses complex matters with vigor, wit, and clarity.
— Donna Seaman, Booklist, starred review

Dazzling . . . Lepore pursues both history and writing with great intelligence, boundless curiosity, a relentless pursuit of facts and concern about very important subjects. . . . Whether the subject is technology, law, culture, bicycling or children, her insights hold our attention... An outstanding collection, sure to be enjoyed by a wide range of readers.
— Roger Bishop, BookPage, starred review

Lepore brings her vibrant curiosity and wide-ranging erudition to a host of topics . . . 'All historians are coroners,' she remarks, explaining her deft dissection of past lives, but not all bring to their writing Lepore's grace, precision, and deep humanity. A noteworthy collection from an indispensable writer and thinker.
— Kirkus Reviews, starred review

Jill Lepore is America's greatest living essayist. No one else can sway so gracefully between the personal and the political, the micro and the macro, while remaining so firmly grounded in common human experience. She is a historian who can evoke the mystery of time, a memorist who uses recollection to open passages into the nation's psyche, a brilliant writer whose luminous prose can evoke at once the body and the body politic. These wonderful essays form a stunning mosaic of contemporary America and an alternative annal of our times.
— Fintan O'Toole, author of We Don't Know Ourselves