The Honey Farm: A Novel (Hardcover)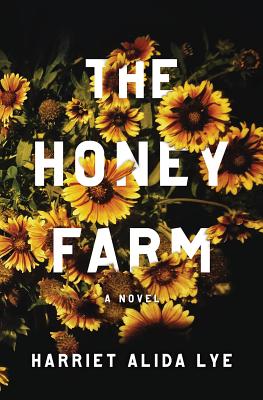 $25.95
Email or call for price/availability
Staff Reviews
---
Silvia has just graduated college and must decide what her next step will be. Ibrahim, an accomplished artist, thinks he's due for a change of scenery. They both apply and are accepted to live on a struggling bee farm for the summer; work space in exchange for helping on the farm. Cynthia, the owner, is a bit off kilter and farms as many secrets as she does crops. As the summer unfolds, love blossoms but soon lays way to ruin. The Honey Farm is enticing, sweet, and dangerous with a stinging end
- Clare
— From
Clare's Recs
Description
---
Lily King meets Patricia Highsmith in this slyly seductive debut set on an eerily beautiful farm teeming with secrets.
The drought has discontented the bees. Soil dries into sand; honeycomb stiffens into wax. But Cynthia knows how to breathe life back into her farm: offer it as an artists' colony with free room, board, and "life experience" in exchange for backbreaking labor. Silvia, a wide-eyed graduate and would-be poet, and Ibrahim, a painter distracted by constant inspiration, are drawn to Cynthia's offer, and soon, to each other.
But something lies beneath the surface. The Edenic farm is plagued by events that strike Silvia as ominous: taps run red, scalps itch with lice, frogs swarm the pond. One by one, the other residents leave. As summer tenses into autumn, Cynthia's shadowed past is revealed and Silvia becomes increasingly paralyzed by doubt. Building to a shocking conclusion, The Honey Farm announces the arrival of a bold new voice and offers a thrilling portrait of creation and possession in the natural world.
About the Author
---
Harriet Alida Lye is a writer from Toronto. Her essays have been published in VICE, Hazlitt, the Happy Reader, the National Post, and more, and she was a writer-in-residence at Shakespeare & Company in Paris. The Honey Farm is her first novel.
Praise For…
---
As the story beneath the surface begins to reveal itself... the novel builds to a twisted conclusion that you won't see coming. The Honey Farm is one of the most satisfying books you'll read all summer.

— Hello Giggles

Lye's debut is a lush psychological suspense, an intricately woven tale that balances vivid descriptions of the natural world with some complex character work. Told from the perspective of two young artists in residence at a beleaguered farm (alternating between perspectives), The Honey Farm adds layer upon layer of unsettling revelation, mounting tension as the farm's problems mount.... Something is wrong on the Honey Farm, and the more we learn about what that might be, the more disturbed we become. A strong debut from a writer with a great deal of promise.

— Dwyer Murphy, CrimeReads

With a strong command of tone and a haunting sense of atmosphere, Lye's first novel will transfix readers. At times lyrical, biblical, and otherworldly, The Honey Farm is a suspenseful and well-crafted story.

— Booklist

Lush, poetic. . . . Each lyrical line feels like a gift left at the reader's altar. A honey-mouthed debut ruminating on creation, possession, and faith.
— Kirkus Reviews

An aura of mystery, faintly tinged with menace, permeates Canadian author Lye's sensuous debut novel. . . . An achingly lyrical excursion into a lost Eden.
— Publishers Weekly

Mysterious, suspenseful, and unnerving, The Honey Farm offers a thrilling narrative that examines the distorted realities and conflicting perceptions that often exist in the quietest places.

— Iain Reid, bestselling author of I'm Thinking of Ending Things

The secret world of bees and the sensuous natural order in all its peril and glory come alive in this mesmerizing, suspenseful novel. Harriet Alida Lye is a writer of prodigious talent and The Honey Farm a thrilling, chills-inducing debut. Brava!
— Carol Bruneau, award-winning author of Glass Voices and These Good Hands

The Honey Farm delves into the intimate mysteries of art, madness, religion, and love through a story built with beautiful language and lush sensory detail. Gothic and subtly menacing, it's a book as rich as the sweet substance at its core.

— Grace O'Connell, author of Magnified World

I loved this book. The way Harriet Alida Lye captures and registers moments of encounter with gentleness and specificity, like bees bumping against flowers - there's magic afoot here.
— Lauren Elkin, author of Flaneuse: Women Walk the City in Paris, New York, Tokyo, Venice, and London

Harriet Alida Lye has created a modern-day Eden, shot through with innocence and foreboding. The landscape of this gripping debut is alive with tension and temptation, and I found myself seduced alongside Lye's unforgettable characters. Laying bare faith, identity, and love, this book presents a world where nothing is quite as it seems.
— Adrienne Celt, author of The Daughters

In this sensuous debut, the honey is golden and enchanting, with an unexpected taste. Relatable as they are, Lye's characters are true artists—it was impossible to fathom what they'd do next (and with whom!). Impetuous and passionate and utterly unpredictable, you'll want to spend your entire summer on The Honey Farm.

— Courtney Maum, author of Touch

Beguiled by the promise of a writers' retreat, Silvia leaves her staunchly Catholic family home for the uncertain territory of a honey farm in Northern Ontario. The Honey Farm offers readers an accomplished meditation on love, creativity and the wonder of the natural world, and a gripping exploration of a community that is perhaps not as it seems.

— Cathy Marie Buchanan, New York Times bestselling author of The Painted Girls