The Twenty Days of Turin: A Novel (Hardcover)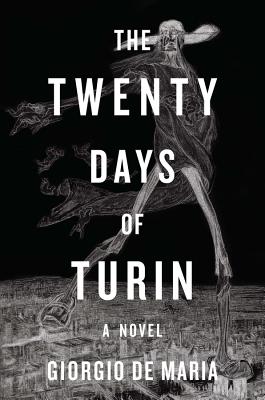 $24.95
Usually Ships in 1-5 Days
Staff Reviews
---
Decades ago a mysterious collective created a secret and ultimately dangerous library in Turin. This culminated in a terrifying 20 days when hundreds of people were randomly and horrifically murdered. After that, the library was supposedly destroyed--but was it? Ominous messages and suspicious activity seem to indicate that the same forces are regrouping. De Mario presciently describes a society where human connections are decreasing, where spilling personal information becomes addictive, and where "browsing the thoughts of others" brings voyeuristic pleasure as well as unknown risks. This is the dystopian foreshadowing of emotional and societal chaos when secrets become fetishes and personal interaction is discouraged. Readers will recognize the contemporary social media landscape portrayed in this cautionary, relevant novel.
- Cindy
— From
Cindy's Recs 2
Description
---
An NPR Best Book of the Year
Written during the height of the 1970s Italian domestic terror, a cult novel, with distinct echoes of Lovecraft and Borges, makes its English-language debut.
In the spare wing of a church-run sanatorium, some zealous youths create "the Library," a space where lonely citizens can read one another's personal diaries and connect with like-minded souls in "dialogues across the ether." But when their scribblings devolve into the ugliest confessions of the macabre, the Library's users learn too late that a malicious force has consumed their privacy and their sanity. As the city of Turin suffers a twenty-day "phenomenon of collective psychosis" culminating in nightly massacres that hundreds of witnesses cannot explain, the Library is shut down and erased from history. That is, until a lonely salaryman decides to investigate these mysterious events, which the citizenry of Turin fear to mention. Inevitably drawn into the city's occult netherworld, he unearths the stuff of modern nightmares: what's shared can never be unshared.
An allegory inspired by the grisly neo-fascist campaigns of its day, The Twenty Days of Turin has enjoyed a fervent cult following in Italy for forty years. Now, in a fretful new age of "lone-wolf" terrorism fueled by social media, we can find uncanny resonances in Giorgio De Maria's vision of mass fear: a mute, palpitating dread that seeps into every moment of daily existence. With its stunning anticipation of the Internet—and the apocalyptic repercussions of oversharing—this bleak, prescient story is more disturbingly pertinent than ever.
Brilliantly translated into English for the first time by Ramon Glazov, The Twenty Days of Turin establishes De Maria's place among the literary ranks of Italo Calvino and beside classic horror masters such as Edgar Allan Poe and H. P. Lovecraft. Hauntingly imaginative, with visceral prose that chills to the marrow, the novel is an eerily clairvoyant magnum opus, long overdue but ever timely.
About the Author
---
Giorgio de Maria (1924–2009) was a pianist, critic, playwright, and novelist. He wrote four novels, the best remembered of which is The Twenty Days of Turin.

Ramon Glazov has contributed to many US and Australian publications, including Jacobin and Tincture Journal. He splits his time between Perth and Turin.
Praise For…
---
Remarkably prescient. There was a disquieting commonality between its intended place and moment and the one we find ourselves in now… No Gibson, no Sterling, no cyberpunk or spec-fic scribbler of the '80s or '90s ever captured the poisoned zeitgeist of social media better than this… It was a book written for a different world. And the most disturbing thing about it is how appropriate it is for ours.
— Jason Sheehan

In The Twenty Days of Turin, De Maria predicted contemporary society's loneliness, cruelty, and voyeurism decades early and with unnerving accuracy—a haunting, eerily prescient novel.

— Carmen Machado, author of Her Body & Other Parties

An admirable translation… This is a book written in 1975 and featuring no technology more advanced than high-end analog audio recordings, yet it grasps the implications of social media in ways cyberpunk never did… It may be the novel that foreshadows our moment more accurately than any number of speculative fictions…A welcome and timely addition to the weird fiction of distinctly earthly terrors.
— Peter Berard

Giorgio De Maria's The Twenty Days of Turin is more than a book; it is a literary event…. This novel offers a perfect prediction of the internet era… Chilling and wonderfully weird. On one hand, the narrative is a smart allegory for the feelings of tension and terror that abounded in Italy in the 1970s and a predictive text that nails online (non)communication in ways that most cyberpunk novels failed to do. On the other hand, it is also a fun, fast-paced horror story in which the city is the main character, the past and present bleed into each other, and paranoia takes center stage. De Maria's style is enjoyable and timeless.

— Gabino Iglesias

The paranoia of The Twenty Days of Turin calls to mind a work of similar portent: Thomas Pynchon's sclerotic, satirical 1966 novel, The Crying of Lot 49… De Maria's novel is a good complement to Pynchon, and perhaps an even more relevant work for our era… De Maria's arresting vision of social media that commands attention.

— Nick Ripatrazone

The Twenty Days of Turin by Giorgio De Maria is a chilling novel that conjures up the creepy claustrophobia of The Tenant and the mind-bending epic horror of House of Leaves—except spread across an entire city. Odd libraries, uncanny monuments, horrific deaths, and terrifying puppet shows…even days later, I'm still flinching at shadows, unable to forget the riveting details of a newly unearthed uncanny classic.

— Jeff Vandermeer, New York Times best-selling author of the Southern Reach Trilogy

Almost forgotten to the ash heap of collective literary amnesia, Giorgio De Maria's masterpiece oozes with unsettling creepiness and despair as strange gods play out their violent fantasies in an Italy gone quietly insane. This one will slip its way into your darkest dreams.
— Christian Kiefer, author of The Animals

The Twenty Days of Turin is an unholy masterwork of the macabre, more than just a beautifully terrifying ghost story. A writer of uncanny, occult powers, De Maria has crafted an intensely relevant allegory that will take its rightful place alongside the darkest of Saramago and Poe.

— William Giraldi, author of Hold the Dark and The Hero's Body
Upcoming Events
No upcoming events available