The Square Root of Summer (Hardcover)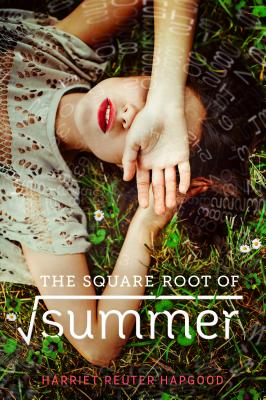 Staff Reviews
---
If I told you time travel is real you'd think I'm crazy, but for physics prodigy Gottie Oppenheimer, it is real. The emotional stress from the loss of her grandfather, rejection from her secret boyfriend when she needed him most, and the reemergence of her dorky-turned-dashing childhood best friend send her traveling through wormholes to critical moments in her past. With love, family, and friendships on the line Gottie has to tempt fate to uncover the meaning behind the wormholes. The Square Root of Summer is as entertaining as it is insightful, prompting me to finish it in just one night!
- Clare
— From
Clare's Recs
Description
---
A stunning debut novel the New York Times calls a "delectable romance"!

Gottie's heart has been broken three times. One, when her best friend moved away without saying goodbye. Two, when her beloved grandfather died. Three, when her first love wouldn't even hold her hand at the funeral.

As Gottie spirals deeper into grief, her past literally comes back to haunt her when she is inexplicably sent back in time to good memories and bad, revisiting afternoons of kisses and days she wanted to forget forever. This summer, Gottie's past, present, and future are about to collide—and she's the only one who can figure out why.

The Square Root of Summer is an exponentially enthralling story about love and loss, from debut YA voice, Harriet Reuter Hapgood.
About the Author
---
Harriet Reuter Hapgood is a freelance journalist who has worked with Marie Claire, ELLE, and InStyle in the U.K. Her debut novel, The Square Root of Summer, was inspired by her German mathematician grandfather and her lifelong obsession with YA romance, which includes an MA thesis on Dawson's Creek from London College of Fashion, and a dissertation on romantic comedies at Newcastle University. She lives in Brighton, England.
Praise For…
---
A Teen Vogue Best New Book of 2016
An Indies Introduce New Voices Selection

"[T]he delectable romance and the moment when past, present and future all come together and semi-solve the mysteries of Gottie's time travel make the journey worthwhile." —The New York Times

"Novelist Harriet Reuter Hapgood's electric YA debut, The Square Root of Summer, reminds us that time is a healer." —Buzzfeed

"While this book does deliver on the title's promise of teenage vacation hijinks, romance, and mathematical equations, it also presents a heartrending quandary: How to move forward with a life that has been defined by loss . . . It presents an earnest picture of the way loss ripples through a family and shapes the movements of everyone it touches." —NPR

"Harriet Reuter Hapgood delivers a clever and compelling story of love, loss and resilience . . . an exciting, shouldn't-miss debut with a fresh and enthralling time-travel twist." —USA Today, Happily Ever After

"Gottie might just be our next favorite YA heroine." —Hello Giggles

"The Square Root of Summer proves that time travel and young love go hand in hand." —Mashable

"An epic romance with twists that will leave you breathless." —Kami Garcia, #1 New York Times bestselling co-author of Beautiful Creatures and author of The Lovely Reckless

"Sophisticated and believable . . . An emotional roller-coaster ride worth taking." —School Library Journal, starred review

"A story of complex grief, love, and growth." —Kirkus Reviews

"Reuter Hapgood's novel will lodge in the hearts of readers." —Booklist

"A poignant portrait of a girl struggling with loss and love, this novel is equal parts heart and smarts, with a dash of friends-turned-more sweetness." —Bulletin of the Center for Children's Books

"Set to be one of the most talked-about YA debuts of 2016. Love, loss and heartbreak told in a wholly authentic teenage voice." —The Bookseller, one to watch

"An atmospheric, romantic, and beautifully-written puzzle of a book, starring a lovably unconventional cast of characters. You won't want to put this book down for even a second until you've pieced the whole thing together." —Leila Sales, author of This Song Will Save Your Life and Once Was a Time
Upcoming Events
Event date:

Thu, 09/30/2021 -

5:00pm

to

7:00pm