Empire of Deception: The Incredible Story of a Master Swindler Who Seduced a City and Captivated the Nation (CD-Audio)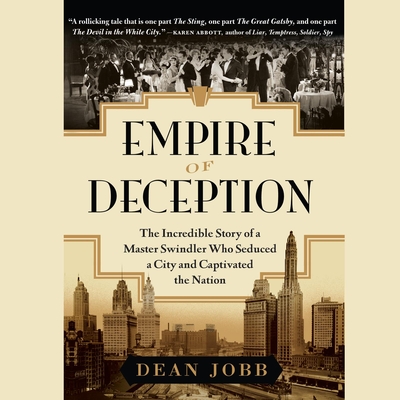 $29.99
Usually Ships in 1-5 Days
June 2015 Indie Next List
---
"It was P.T. Barnum who said that 'there's a sucker born every minute,' and there was never a better time to take advantage of that fact than during the Roaring 20s. This is the true story of the devious exploits of Leo Koretz, who forsook his Chicago law career to convince unsuspecting people to invest in a Panamanian oil field that he had concocted out of thin air, as well as an astute assessment of human nature. A fascinating tale of greed and gullibility."
— Alden Graves (E), Northshire Bookstore, Manchester Center, VT
Description
---
A rollicking story of greed, financial corruption, dirty politics, over-the-top and under-the-radar deceit, illicit sex, and a brilliant and wildly charming con man who kept a Ponzi scheme alive perhaps for longer than anyone else in history.
 
It was a time of unregulated madness. And nowhere was it madder than in Chicago at the dawn of the Roaring Twenties. Speakeasies thrived, gang war shootings announced Al Capone's rise to underworld domination, Chicago's corrupt political leaders fraternized with gangsters, and the frenzy of stock market gambling was rampant. Enter a slick, smooth-talking, charismatic lawyer named Leo Koretz, who enticed hundreds of people (who should have known better) to invest as much as $30 million—upwards of $400 million today—in phantom timberland and nonexistent oil wells in Panama. When Leo's scheme finally collapsed in 1923, he vanished, and the Chicago state's attorney, a man whose lust for power equaled Leo's own lust for money, began an international manhunt that lasted almost a year. When finally apprehended, Leo was living a life of luxury in Nova Scotia under the assumed identity of a book dealer and literary critic. His mysterious death in a Chicago prison topped anything in his almost-too-bizarre-to-believe life.


Empire of Deception is not only an incredibly rich and detailed account of a man and an era; it's a fascinating look at the methods of swindlers throughout history. Leo Koretz was the Bernie Madoff of his day, and Dean Jobb shows us that the dream of easy wealth is a timeless commodity.
 


About the Author
---
Dean Jobb is an award-winning writer and journalist and an associate professor of journalism at the University of King's College in Halifax, Nova Scotia. He has been hailed as "one of the country's best crime writers," with a "keen sense of storytelling," and his six previous books have garnered such praise as "investigative journalism as it should be," "enthrallingly written," and "the best book on the subject we may ever see." Jobb has written for major American and Canadian newspapers and magazines, including the Chicago Tribune, American Journalism Review, the Globe and Mail, and National Post. His work as an investigative reporter has made him a three-time winner of Atlantic Canada's top journalism award. A frequent contributor to Canada's History magazine, he also writes a newspaper column on politics and current affairs. At King's College, his expertise is in investigative reporting, media law, and the history of journalism--all of which make him the ideal writer for his latest book, Empire of Deception, which tells the incredible true story of master swindler Leo Koretz, who dazzled the elite of 1920s Chicago and then ran away with their fortunes. Visit him at www.deanjobb.com.
Praise For…
---
"A captivating tale of high-flying financial chicanery in 1920s Chicago. Dean Jobb tells the story of Leo Koretz, a legendary con artist of Madoffian audacity, with terrific energy and narrative brio. A thoroughly enjoyable read." —Gary Krist, New York Times bestselling author of City of Scoundrels

"This highly readable account of a major swindle in the Roaring Twenties in Chicago will convince any sensible reader that when it comes to investing in crackpot schemes, nobody ever learns anything by experience. Leo Koretz did exactly what Bernie Madoff did, and came to the same end, as did his investors. A dramatic read, and a useful lesson!" —Michael Korda, author of Charmed Lives

"Empire of Deception is a sure thing--a book guaranteed to entertain and make you rich (in knowledge, that is). Dean Jobb has found a fascinating yet little-known jazz-age tale and told it with style and smarts. Get in on the action." —Jonathan Eig, New York Times bestselling author of Get Capone

"Begin with a Bernie Madoff, wolf-in-sheep's-clothing con man, pursued by a power-hungry prig of a public prosecutor; add the great hog-trough feeding frenzy of 1920s Chicago; stir with great writing and enterprising research; and there you have it: A wonderfully entertaining read!" —Michael Lesy, author of Wisconsin Death Trip and Murder City

"The unique features of Dean Jobb's book about Leo Koretz are his lively description of the people involved and the slippery slope that grew with each fraudulent step. The book makes the people come alive, presenting a 'movie in words.' Empire of Deception demonstrates the dangers of unverified promises of great wealth and is an invaluable lesson on how investors can protect themselves." —Professor Tamar Frankel, author of The Ponzi Scheme Puzzle

"Except to those being swindled, swindlers make wonderful, swaggering copy, and Dean Jobb has made splendid use of the material in this juicy retelling. His story of conman Leo (or Lou, or Al, or whatever name he chose to use) and his pathetically gullible and mostly rich victims perfectly captures the flavors of Chicago (and New York! and Nova Scotia!) in the Roaring Twenties. What a great caper movie this would make!" —Marq de Villiers, author of Our Way Out: Principles for a Post-Apocalyptic World

"A guilty-pleasure reminder that the most audacious bad guys have always been the most entertaining. In Dean Jobb's hands, the free-for-all 1920s, a sweet spot in the history of greed and corruption, reads like a Gatsby-Ponzi mash-up. What makes Koretz's unscrupulousness outshine Charles Ponzi's and even Bernie Madoff's is how, after he's cornered, he hits the road and brazenly crafts a deluxe new life for himself in remote Canada, which launches a massive manhunt led by an obsessive Chicago lawman. Kudos to Jobb for unearthing this overlooked story and bringing to life a charming, witty, naughty, iconic American crook." —Neal Thompson, author of A Curious Man: The Strange and Brilliant Life of Robert "Believe It or Not!" Ripley