Salvaging Buddhism to Save Confucianism in Choson Korea (1392-1910) (Hardcover)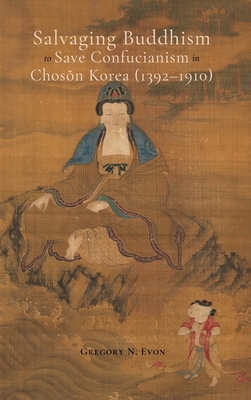 $109.99

Usually Ships in 1-5 Days
(This book cannot be returned.)
Description
---
Buddhism shaped the development of Korea after its introduction in the fourth century. It influenced culture, politics, and intellectual life, and it was seen as a complement to Confucianism and a support for the state. The result was a close alliance between secular rulers and the Buddhist institution. But with the founding of the Choson dynasty (1392-1910), Buddhism came under sustained attack as a threat to Confucian civilization.
Using a variety of primary sources, this book examines Choson (1392-1910) Korea's anti-Buddhist movement as well as its failure. It shows how early anti-Buddhist policies that aimed to safeguard Confucian civilization led to conflict and increasingly harsh measures that culminated in the removal of legal recognition for Buddhism in 1566. The efforts to eradicate Buddhism failed in practical terms, but they succeeded in shaping the male elite to see Buddhism as incompatible with Confucian civilization. This idea became fundamental to the dominant ethos of educated men and their view of the Choson dynasty's uniqueness in relation to China, Japan, and earlier Korean states.
Most studies of Korean Buddhism have focused on earlier eras and major figures in the formation of Buddhist thought. Sustained research into Choson Buddhism developed late and has emphasized the Buddhist resurgence that occurred over the second half of the dynasty. Little attention has been given to the severity of the anti-Buddhist program, the logic and policies that guided it, and its failure. This book examines the attempts to eradicate Buddhism and Confucian arguments that insisted Buddhist influence threatened the state and well-being of its people. The book shows how the Confucian ascendancy collapsed into dysfunction at the court of King Sukchong (r. 1674-1720), prompting Kim Manjung (1637-1692) to challenge the anti-Buddhist views that predominated among men of his class. Shortly before his death, he wrote a novel Lady Sa's Journey to the South (Sassi namjong-gi). Drawing on the events at court and a collection Qing (1644-1912) Chinese Buddhist writings salvaged after a shipwreck, he argued that Buddhist faith was necessary to support Confucian moral values. No other book offers this kind of analysis of Choson Korea's anti-Buddhist movement and its failure.
Salvaging Buddhism to Save Confucianism in Choson Korea (1392-1910) is a valuable resource for academic researchers, students, and general readers interested in Korean and East Asian Buddhism, history, and literature.
This book is in the Cambria Sinophone World Series, headed by Victor H. Mair (University of Pennsylvania).