Boycotts, Strikes, and Marches: Protests of the Civil Rights Era (Hardcover)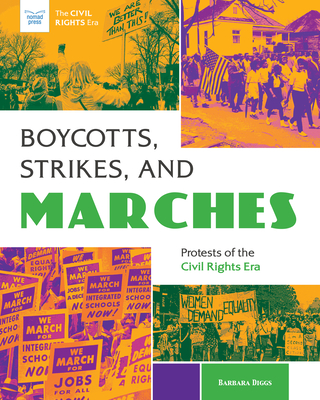 $22.95
Email or call for price/availability
Description
---
An in-depth exploration of five different marches, protests, and boycotts of the Civil Rights Era--actions that made it impossible for the people in power to ignore the social injustices rampant in the United States. Part of a new series on the civil rights era for ages 12 to 15 from Nomad Press.
Thousands of protests, marches, and demonstrations of the Civil Rights Era gave a strong voice to people and groups who were traditionally ignored. These protests led to important legal and social changes that continue to impact our nation today. In
Boycotts, Strikes, and Marches: Protests of the Civil Rights Era
, readers 12 through 15 explore five ground-breaking events that took place during the 1950s, 1960s, and early 1970s. Become immersed in the excitement, challenges, and spirit of the Montgomery Bus Boycott, the Draft Card Burning Protests of the Vietnam War, the Delano Grape Strike and Boycott, the first Gay Pride March, and the Women's Strike for Equality. Kids learn about the conditions that prompted these demonstrations and how protest organizers used critical and creative thinking to surmount the challenges they faced to initiate meaningful change. When these protests began, American society looked vastly different than it does today. African Americans were denied the same rights as whites in many parts of the country. Women couldn't pursue the same jobs as men. The LGBTQ community was forced to live in secrecy. Farm workers were forbidden to join unions to advocate for fair wages and working conditions. Protests were a tool the people used to express their discontent and start to make essential change in the fabric of both society and politics. And today, we're seeing that the job is still unfinished, as protestors take to the streets and make their voices heard in a call for anti-racism through the Black Lives Matter movement. In this book, hands-on projects and research activities alongside essential questions, links to online resources, and text-to-world connections all help further explain a complicated era and offer opportunities for social-emotional learning.
Meets multiple standards for the National Curriculum Standards for Social Studies.
Readers will learn the different issues involved in coordinating a successful protest as well as the various repercussions that protests can have on society. The book uses an inquiry-based approach that encourages readers to think critically about the value of protests, the different forms of protest, and ways in which they might bring attention to issues important to them. This particular title is unique in that it examines five separate protests, each conducted to bring attention to very different issues and carried out through diverse means. Most books on the market only cover protests designed to bring attention to one particular issue (e.g., civil rights for African-Americans, or women, or LGBTQ, etc.). Readers therefore learn about the history and the actions that helped change multiple social issues, most of which are still relevant today. Uses an inquiry-based approach to encourage readers to explore the present status of civil rights in the United States.
Aligns with Common Core State Standards.
Projects include Drawing up a boycott plan, Analyzing the power of slogans or chants, and Research the biography of a protester. Additional materials include a glossary, a list of media for further learning, a selected bibliography, and index. About the Civil Rights Movement series and Nomad Press
Boycotts, Strikes, and Marches: Protests of the Civil Rights Era
is part of a new series from Nomad Press,
The Civil Rights Era
, that captures the passion and conviction of the 1950s, '60s, and '70s. Other titles in this set include
Changing Laws: Politics of the Civil Rights Era
;
Sitting In, Standing Up: Leaders of the Civil Rights Era
;
and
Singing for Equality: Musicians of the Civil Rights Era
. Nomad Press books in
The Civil Rights Era
series integrate content with participation. Combining engaging narrative with inquiry-based projects stimulates learning and makes it active and alive. Nomad's unique approach simultaneously grounds kids in factual knowledge while allowing them the space to be curious, creative, and critical thinkers. All books are leveled for Guided Reading level and Lexile and align with Common Core State Standards and Next Generation Science Standards. All titles are available in paperback, hardcover, and ebook formats.
About the Author
---
Barbara Diggs is the author of Race Relations: The Struggle for Equality in America and The Vietnam War, both from nomad Press. She has also penned a range educational articles for children for Living Through History magazine, including "The Dred Scott Decision: The Case that Sparked the Civil War" and "The Mercury 13: Women of the Space Race." A graduate of Stanford Law School, Barbara practiced law in New York for several years before becoming a professional writer. She splits her time between France and the east coast of the United States.