No Saints in Kansas (Hardcover)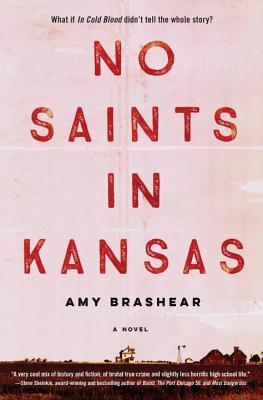 Staff Reviews
---
Everybody loves a good book, but what if one of the most notorious true crime novels in literary history didn't tell the whole story? In Amy Brashear's reimagining of Truman Capote's 1966 non-fiction novel detailing the murder of the Herb Clutter family (In Cold Blood) we are privy to a whole new perspective. Carly Fleming, a city girl who is misplaced in a small Kansas farming community, struggles with the death of her secret friend, Nancy Clutter. Not only is she presented with the difficult task of being an outsider who is trying to deal with her grief in a close-knit community, she also is driven to prove the innocence of Nancy's boyfriend, Bobby. However, the trouble she gets into with the local authorities and the turmoil she causes within her own family has nothing on the fury of the Holcomb, Kansas community when they learn that her father will be defending the real murderer in court. No Saints in Kansas is an imaginative spin on a classic and is a must-read for anyone who appreciates a little fiction with their true-crime history.
- Tianna
— From
Tianna's Recs
Winter 2018 Reading Group Indie Next List
---
"What if Truman Capote's In Cold Blood didn't tell the whole story? No Saints in Kansas follows the familiar journey of a young woman fitting into a small town after spending her entire life in the city. More importantly, this reimagining tells the story of a girl who learns to become more comfortable in her skin, taking matters into her own hands as she uncovers the truth about the Clutter family's tragic murder. Brashear's writing keeps even readers of the original text in anticipation as she weaves in elements from multiple genres. There's something for everyone in this captivating mystery based off a classic work."
— Hannah Paxton, Where the Sidewalk Ends, Chatham, MA
Description
---
A young adult, fictional reimagining of Truman Capote's In Cold Blood and the brutal murders that inspired it. Gripping and fast-paced, this meticulously researched historical fiction will reinvigorate a new generation to Capote.

November is usually quiet in Holcomb, Kansas, but in 1959, the town is shattered by the quadruple murder of the Clutter family. Suspicion falls on Nancy Clutter's boyfriend, Bobby Rupp, the last one to see them alive.

New Yorker Carly Fleming, new to the small Midwestern town, is an outsider. She tutored Nancy, and (in private, at least) they were close. Carly and Bobby were the only ones who saw that Nancy was always performing, and that she was cracking under the pressure of being Holcomb's golden girl. This secret connected Carly and Bobby. Now that Bobby is an outsider, too, they're bound closer than ever.

Determined to clear Bobby's name, Carly dives into the murder investigation and ends up in trouble with the local authorities. But that's nothing compared to the wrath she faces from Holcomb once the real perpetrators are caught. When her father is appointed to defend the killers of the Clutter family, the entire town labels the Flemings as traitors. Now Carly must fight for what she knows is right.
About the Author
---
Amy Brashear was born in Arkansas but spent her elementary school years in Garden City, Kansas, just six miles from Holcomb. Amy heard about the Clutter family murders from a childhood friend, though it wasn't until she read In Cold Blood that she finally understood their significance. No Saints in Kansas is her debut novel. She is also the author of the forthcoming YA book The Incredible Story of the Making of the Eve of Destruction.
Praise For…
---
An ABA Indie Next Selection

Praise for No Saints in Kansas

"[A] must read . . . carefully researched."
—The New York Post

"Brashear's stunning YA novel is as spectacularly written as it is researched. This is definitely one of the most unique YA novels you'll read this year."
—PASTE Magazine

"Gripping and fast-paced, this meticulously researched historical fiction will reinvigorate a new generation to Capote and tell another side of the Clutter murders."
—The Emporia Gazette

"No Saints in Kansas does more than merely rework In Cold Blood for a younger audience. Brashear herself lived for several years a few miles from Holcomb and has been fascinated by the case and the unanswered questions about it that persist to this day, more than 50 years later. Her understanding of the place runs deep . . . Brashear offers an evenhanded account of the facts, as far as they are known, and a well-rounded portrait of American attitudes in 1959."
—Buffalo News

"A fresh point of view."
—The Tuscaloosa News

"The reader becomes immersed in her sense of place laid out with authenticity and care, and quickly gets a feel for the community." 
—Mystery Scene Magazine

"Highly recommended . . . a meticulous dissection of small town life in the aftermath of an unexpected and unspeakable tragedy."
—New York Journal of Books

"Will appeal to readers struggling with social issues, including bullying, ostracism, and mortality. A good introduction to Capote's famous novel and true crime."
—School Library Journal

"Readers who have never heard of the Clutter murders will get the full story and then some."
—The Bulletin of the Center for Children's Books

Brashear captures the horror that swept through the Midwest following the murder."
—Shirley Mullin, Kids Ink Bookstore

"A gruesome murder, the clues, the investigation, the culprits, the trial—all of these are part of this riveting, fast-paced novel. But intertwined with those are, for newly arrived Carly Fleming, even harder questions. She is indefatigable in her search for the truth, but the truth she searches for is also about her place in this new town, where she is defined as an outsider, and within her own family, which is splitting apart. The unity and urgency of those two searches is searing."
—Gary D. Schmidt, author of Newbery and Printz honor book Lizzie Bright and the Buckminster Boy 

"A very cool mix of history and fiction, of brutal true crime, and slightly less horrific high school life." 
—Steve Sheinkin, Award-winning and bestselling author of Bomb, The Port Chicago 50, and Most Dangerous
Upcoming Events
Event date:

Tue, 03/31/2020 - 10:30am