King Maybe (A Junior Bender Mystery #5) (Hardcover)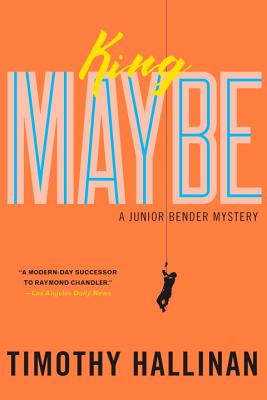 Other Books in Series
This is book number 5 in the A Junior Bender Mystery series.
Staff Reviews
---
Welcome back Junior Bender! The smoothest, classiest, fastest talking (and funniest) burglar is back in action. In this fifth book in the series he's crossed a Hollywood studio executive who happens to dabble in violence and revenge. In order to save his own hide, Junior must commit a series of burglaries that range in difficulty from insane to impossible. In the midst of this he's also trying to keep his estranged daughter from being scammed, placate his ex-wife, and repair his relationship with his girlfriend who may or may not be a murderer. Full of memorable, wisecracking characters, this caper novel is a wild, laugh-out-loud, breathtaking ride.
- Cindy
— From
Cindy's Recs 2
Description
---
Hollywood burgler Junior Bender finds himself caught in a revenge plot epic enough for the silver screen.

Los Angeles's most talented burglar, Junior Bender, is in the middle of stealing one of the world's rarest stamps from a professional killer when his luck suddenly turns sour. It takes an unexpected assist to get him out alive, but his escape sets off a chain reaction of blackmail, strong-arming, and escalating crime. By the time Junior is forced to commit his third burglary of the week—in the impregnable fortress that's home to the ruthless studio mogul called King Maybe—he's beginning to wish he'd just let the killer take a crack at him.
About the Author
---
Timothy Hallinan has been nominated for the Edgar, Nero, Shamus, and Macavity awards. He is the author of seventeen widely praised books, including The Fear Artist, For the Dead, The Hot Countries, Crashed, Little Elvises, The Fame Thief, and Herbie's Game, which won the 2015 Lefty Award for Best Humorous Mystery. After years of working in the television and music industries, he now writes full-time. He divides his time between California and Thailand.
Praise For…
---
Praise for King Maybe

A Seattle Times Best Mystery of 2016
A Booklist Best Crime Novel of 2016

"The tricky plot is plenty funny and packed with colorful characters."
—Marilyn Stasio, The New York Times Book Review

"[Hallinan] proudly carries the banner of the late Donald Westlake, whose books are the gold standard of antic capers. The result—lucky us—is a hoot and a half."
—The Seattle Times

"Hallinan crafts a denser, darker, and more complex novel that doesn't lose any of the series's charm. Hallinan manages to orchestrate the tension masterfully while keeping the humor sharp and biting . . . Smart, refreshing and never dull, King Maybe sees an author at the top of his game and a series in full, magnificent swing."
—Alex Segura, Los Angeles Review of Books

"[Hallinan] is a gifted writer with a knack for blending vivid settings, exciting plots, dynamic characters and clever humor to create captivatingly complex stories. From a lively description of a low-rent hotel room to the insightful development of Junior and Ronnie's relationship, King Maybe is distinctive and refreshingly original. It would probably be fitting to crown Hallinan the caper king."
—Shelf Awareness, Starred Review

"Smart and spritely, full of wry humor."
—Ellery Queen Mystery Magazine

"There was a time when I thought that Lawrence Block's character Bernie Rhodenbarr was the definitive fictional housebreaker, but that title has been surrendered by unanimous decision (mine) to Timothy Hallinan's cat burglar extraordinaire, Junior Bender."
—Bruce Tierney, BookPage

"The curlicuing plot is itself the source of much of the appeal here, which is not to shortchange either the ever-quirky cast of bent but delightful characters or Hallinan's dazzling style . . . Are there too many lovable crooks in contemporary crime fiction? Well, maybe, but one thing's for sure: they're all chasing Junior." 
—Booklist, Starred Review   

"Twists and turns abound . . . A rare man of integrity in a world of tinsel and dust, Junior may steal for a living, but he has scruples and will do anything to protect his loved ones."
—Library Journal, Starred Review

"Hallinan is one of our best, and King Maybe demonstrates why."
—Bookreporter.com

"A breath of fresh air."
—Reviewing the Evidence

"[Junior Bender] walks the line between Dortmunder and Westlake's more hard boiled creation, Parker. King Maybe has made me realize that line is more of a fissure that Hallinan drops into like a literary spelunker, going deeper and deeper with each book. From the looks of things, he has a long way to go before hitting bottom."
—Scott Montgomery, MysteryPeople

"Tinsel Town glitters triumphantly once again . . . guaranteed to entertain all types of mystery fans." 
—Gumshoe Review 

"[Hallinan has] earned a well-deserved reputation for writing smart and heartfelt stories about clever and cunning people who, when presented with two or more bad options, play all sides against one another to get through."
—Jim Tremlett, Schuler Books

"If you have a fondness for cat burglars with hearts of gold (like I do) and mysteries with wonderful stories and characters, I urge you to become acquainted with Junior."
—Kittling Books

"Thanks, Tim Hallinan, for great entertainment and the best of twists and conclusions. And PS—I wish Donald Westlake could be reading your books now."
—Kingdom Books 

"Smart and sardonic . . . An undeniable page-turner."
—Publishers Weekly

"[Fans] will eat up [Junior's] adventures among Hollywood types whose moral senses are even more primitive than his." 
—Kirkus 

"What a romp!"
—Popcorn Reads

"There's no one quite like Junior Bender."
—BookLoons

Praise for the nationally bestselling Junior Bender mysteries

"Bender's quick wit and smart mouth make him a boon companion on this oddball adventure."
—The New York Times Book Review

"A smart, cynical comic mystery . . . The best burglar in Los Angeles."
—Minneapolis Star Tribune

"Donald E. Westlake['s] spirit clearly lives on in Timothy Hallinan . . . Swift, sure-footed and awfully funny."
—The Seattle Times

"Dangerously outrageous."
—Associated Press

"A modern-day successor to Raymond Chandler."
—Los Angeles Daily News