Who Are You, Calvin Bledsoe?: A Novel (Hardcover)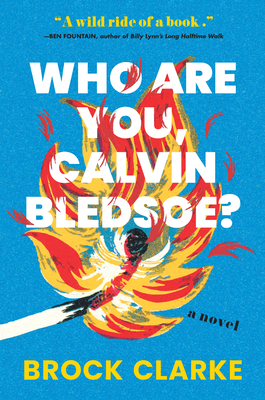 Staff Reviews
---
Calvin Bledsoe lives an unremarkable life in rural Maine until a heretofore-unknown aunt appears at his mother's funeral in this entertaining coming-of-age story told by a middle-aged man. Similar to Graham Greene's Travels with My Aunt, Calvin's flamboyant aunt Beatrice whisks her stodgy nephew to Europe. They become involved with spies, thieves and adulterers, to Calvin's shock and his aunt's equanimity. The trip dusts off Calvin's dull life and reveals truths that seem likely to change the course of the second half of his life. The dialogue is quick and witty, even when dealing with sober subjects like life, death, and betrayal. Readers who enjoyed Andrew Sean Greer's Less will find this novel equally satisfying.
-Cindy
— From
Cindy's Recs 2
Who are you, Calvin Bledsoe? is an outrageously triumphant exercise in the lengths one painfully boring man will go to in order to uncover the truth of his being. Having just buried his world-renowned Calvinist mother, a pellet stove blogger finds himself gobsmacked in the middle of Europe at the request of his Aunt Beatrice, an aunt he previously had no idea existed. What follows is a whirlwind of theft, kidnapping, illegal parking, trysts with a "possibly" undercover Interpol agent, and the unraveling of everything Calvin knows to be true about his mother and himself. Calvin Bledsoe's journey is unexpected, hilarious, and beautifully uplifting. It should not be missed!
-Tianna
— From
Tianna's Recs
September 2019 Indie Next List
---
"Brock Clarke is a genius. His writing is consistently brilliant and stylish, which makes the quiet moments of human understanding even more striking. I LOVE this book — it is unexpected (like all his work — how can that be?), surprising, and profoundly moving. Fans of Jim Shepard and George Saunders will love Clarke and his new book about a middle-aged man whose discovery of a secret aunt (is she a spy? a fake? his mom? crazy?) leads him across Europe in pursuit of... well, he isn't quite sure yet. I laughed out loud, I chortled, I snickered quietly, I gasped. I can see putting this book into the hands of fans of Less by Andrew Sean Greer and Where'd You Go Bernadette — readers who like to be surprised."
— Mary Cotton, Newtonville Books, Newton Centre, MA
Description
---
"A story in which anything and everything can happen, and mostly does. This is a book of many trips—across oceans, back to the past, and, most profoundly, into the infinite deep space of the human heart. Brock Clarke has given us a wonderful novel that bursts with all the meaty stuff of real life." —Ben Fountain, author of Billy Lynn's Long Halftime Walk
 
Calvin Bledsoe's journey begins with the death of his mother. An internationally known theologian and an expert on all things John Calvin, she had been the dominant force in her son's existence, so much so that he never left home—even when he married—and, as a result, never grew up.

At his mother's funeral, Calvin is introduced to his aunt Beatrice, a woman he had not even known existed. Beatrice immediately makes it clear to Calvin that she is now in charge of his life, and the first thing she is going to do is whisk him off to Europe with her for a grand adventure.

As Calvin and his aunt traverse the continent, it becomes apparent that her clandestine behavior is leading him into danger. Facing a menagerie of antiquities thieves, secret agents, religious fanatics, and an ex-wife who is stalking him, Calvin begins to suspect there might be some meaning behind the madness. Maybe he's not the person he thought he was? Perhaps no one is ever who they appear to be? But there's little time for soul-searching, as Calvin first has to figure out why he has been kidnapped, why his aunt has disappeared, and who the hell burned down his house in Maine.

Powered by pitch-perfect dialogue, lovable characters, and surprising optimism, Who Are You, Calvin Bledsoe? is a modern-day take on Graham Greene's classic Travels with My Aunt, a novel about grabbing life, and holding on—wherever it may take you.
About the Author
---
Brock Clarke is an award-winning author of seven previous works of fiction, including the bestselling An Arsonist's Guide to Writers' Homes in New England. He lives in Maine, and teaches at Bowdoin College.
Praise For…
---
"This exuberant comic novel--involving explosions, secret agents, religious fanatics and a hapless narrator dragged around Europe by his long-lost aunt--is also a sly theological exploration of fate and predestination."
—The New York Times Book Review

"A delightful, quasi-liturgical allegory of our times. Following Calvin Bledsoe from Maine through Europe in a tale both fantastical and thoughtful, Clarke takes his readers into his safe--and wacky--hands for an experience that should not be missed. A wonderful read."
—Elizabeth Strout, author of Anything Is Possible

"This is a quirky comic gem of a novel about midlife ennui, about the mysteries of family, and the virtues of wood pellet stoves. Brock Clarke is a one-of-a-kind novelist with a captivating voice and an ability to capture both the profundity and the absurdity of our lives."
—Tom Perrotta, author of Mrs. Fletcher

"Brock Clarke's Who Are You, Calvin Bledsoe? is a wild ride of a book, a story in which anything and everything can happen, and mostly does. This is a book of many trips--across oceans, back to the past, and, most profoundly, into the infinite deep space of the human heart. Brock Clarke has given us a wonderful novel that bursts with all the meaty stuff of real life."
—Ben Fountain, author of Billy Lynn's Long Halftime Walk         

"Joyous, melancholic, and funny . . . Reminiscent of the comedic European travels found in Andrew Sean Greer's Less, this is in many ways a coming-of-age story about a 50-year-old man. Part travelogue across Europe, part caper, part crime thriller, and full of delightfully unexpected turns, Clarke's novel mixes prodigious insight with the playful silliness that marks all of his fiction to date. This superb work displays Clarke's idiosyncratic style in all its glory."
—Booklist

"Command of narrative tone has long been a hallmark of the underheralded Clarke's fiction, and here he sustains a tightrope balance between the matter-of-fact observations of the titular protagonist and the increasingly outlandish adventures he finds himself in . . . a mind-bending experience for the reader. Unquestionably the funniest novel ever written about Calvinism."
—Kirkus Reviews

"Seasoning his comic stew with sly turns of phrase and deadpan humor, Clarke guides the audience toward a touching answer to the question posed by the book's title . . . Clarke is just as interested in the journey as he is in the destination, and in his deft hands, Who Are You, Calvin Bledsoe? is cheeky, absurd, and surprisingly poignant."
—Foreword Reviews
Upcoming Events
Event date:

Tue, 03/31/2020 - 10:30am