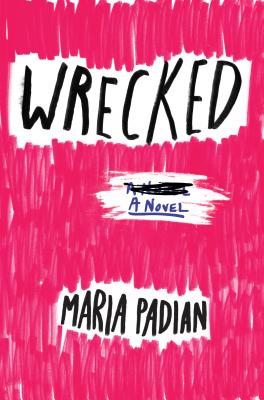 Staff Reviews
---
What was a fun evening for Jordan was a nightmare for Jenny, but everyone knows how stories get stretched. Jenny was really drunk. Jordan never really would have raped her. Enter Haley and Richard, close to the case by circumstance whose budding romance gets sidelined as the truth comes to light. Maria Padian's Wrecked is an honest look at sexual assault on a college campus and just goes to show how one action can ripple out and change everyone's lives.
- Clare
— From
Clare's Recs
Description
---
Everyone on campus has a different version of what happened that night.

Haley saw Jenny return from the party, shell-shocked.

Richard heard Jordan brag about the cute freshman he hooked up with.

When Jenny accuses Jordan of rape, Haley and Richard are pushed to opposite sides of the school's investigation. Now conflicting versions of the story may make bringing the truth to light nearly impossible--especially when reputations, relationships, and whole futures are riding on the verdict.

Wrecked offers a kaleidoscopic account of a sexual assault on a college campus. It will leave you thinking about how memory, identity, and who sits in judgment shape what we all decide to believe about the truth.


  
About the Author
---
Maria Padian has a bachelor's degree from Middlebury College and a master's degree from the University of Virginia. She is a freelance writer, essayist, and author of young adult novels, including Brett McCarthy: Work in Progress, Jersey Tomatoes Are the Best, and Out of Nowhere. Maria lives with her family in Brunswick, Maine. Visit her online at mariapadian.com and find her on Twitter: @mpadian.
Praise For…
---
Fall 16 Kids' Indie Next Pick

"Padian's latest boasts a swift, excellently crafted plot, exceedingly readable prose, and painfully relatable characters. It is especially surprising to find an affectionate involvement as believable as Haley and Richard's in the middle of a story centering on a rape investigation. Particularly relevant for high school seniors and college freshmen"
—Booklist, starred review

"Powerful, suspenseful and illuminating . . . With intriguing, flawed characters and a gripping storyline, Wrecked by Maria Padian offers readers a view of a college sexual assault case that is as engrossing as it is important . . . valuable, riveting." —Shelf Awareness for Readers, starred review

"Rape on college campuses is a massive issue right now (hopefully not forever), and Maria Padian's new novel Wrecked delves into not just the emotional and physical toll it takes on survivors but the bureaucracy and red tape that exists within the structures that are supposed to be stopping it."
—Bustle
 
"Padian excels at showing the messy aftermath of a sexual crime in a college community . . . This is a novel about truth and the damage done—to a community, to a person, and to relationships—when hard truths are hidden . . . Wrecked should be assigned to all incoming freshman, especially fraternity members. It's not enough to have students sit through lectures about sexual assault and rape. They need to learn about it through a story where they see humans instead of statistics, and, as in Wrecked, the very real ripple effects that such a crime can have on an entire campus."
—Portland Press Herald (Portland, Maine)
 
"Outstanding, powerful, and important . . . This is, hands down, one of the best sexual assault reads in YA, and it's a book that high schoolers of all genders should read."
—Kelly Jensen, Book Riot
 
"In the face of recent college rape trials, readers will be rapt and emotionally spent by the end. An important, devastating new perspective on an all-too-timely subject."
—Kirkus Reviews
 
"Revelatory, deeply real, and urgently important."
—Nova Ren Suma, author of The Walls Around Us
 
"This is an important and, unfortunately, timely novel . . . This isn't just a book that all young men and women should read; it's gripping and human enough that many will want to. Shelve and display alongside Laurie Halse Anderson's Speak and Courtney Summers's All the Rage."
—School Library Journal
 
"Padian avoids oversimplifying or stereotyping as she explores one such assault and its aftermath, telling a story that combines the most painful, everyday, and emotionally intimate aspects of college life . . . Padian's expansion of the story to include friends and family lends it visceral realism, allowing readers to imagine themselves in a similar scenario without asking them to envision themselves as either victim or perpetrator."
—Publishers Weekly

"Padian's boldest effort yet . . . a powerful, dramatic story with strong messages."
—Morning Sentinel (Waterville, ME)

"A fast-paced read . . . With down-to-earth characters and a relatable setting, Wrecked hits close to home for many high school and college students."
—The Bowdoin Orient (Bowdoin College, Brunswick, ME)
 
"Padian's characters come beautifully to life in this enthralling and powerful novel. They allow us to step into their shoes and wonder how we would act, what side we would choose and if right and wrong can be defined as sharply as the world wants them to be."
—Middlebury Campus (Middlebury College, VT)

"A refreshing look on a subject many of us are unfortunately all too aware of. It keeps the reader enthralled and curious until the very end . . . This book is an easy read for any college student looking for an enlightening, emotional and relatable story."
—The Royal Purple (University of Wisconsin—Whitewater)
 
 "Chapter after mesmerizing/engaging/compelling chapter. . .  I absolutely could not put down this timely, poignant and thought-provoking novel.  Wrecked should be required reading for every rising college freshman."
—Pinestraw Magazine (Southern Pines, NC)

"Terrific . . . It is a nuanced account with superbly realized, realistic characters, and a compelling story-line. This is a book made to be discussed . . . a great book on an important issue."
—Daily Bulldog (Farmington, ME)