This Is Your Life, Harriet Chance! (Hardcover)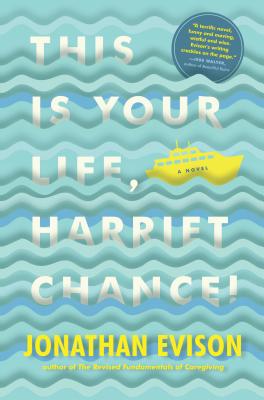 Staff Reviews
---
The aptly named widow Harriet Chance takes an unexpected and out-of-character cruise to Alaska, on which she discovers that her marriage of almost 60 years was not what she thought. Joined by her troubled daughter, and haunted (literally) by her dead husband, Harriet begins to question everything she knew about her life. Moving back and forth through time, presenting the events of her life as if it were a 50's television show, the author peels away the layers of Harriet's life to expose the dreams, decisions, and missed chances that brought her to this point. In turns funny and poignant, this novel is an empathetic look at those opportunities that slip through our fingers during the course of a lifetime.
- Cindy
— From
Cindy's Recs 2
September 2015 Indie Next List
---
"With This Is Your Life, Harriet Chance!, Evison has crafted an instant classic. Recently widowed 78-year-old Harriet embarks on an Alaskan cruise that proves to be the vehicle for her own self-discovery. As one shocking truth after another is revealed about Harriet's life, readers come to love this woman who is anything but perfect, and whose life is anything but ordinary. With an inventive, addictive structure and prose that surges with life, humor, and compassion, This Is Your Life, Harriet Chance! is one to move to the very top of your reading list."
— Rob Dougherty, Clinton Book Shop, Clinton, NJ
Description
---
"Jonathan Evison is a ridiculously gifted storyteller: racing, breathless, and vibrant with his prose, hungry for personal truths, and clearly in love with the world around us all. That compassion and those writerly charms are deeply felt in This Is Your Life, Harriet Chance!, an irresistible, inventive novel full of important ideas about how we live our lives as parents, children, partners, and human beings." —Jami Attenberg, author of The Middlesteins

With Bernard, her husband of fifty-five years, now in the grave, seventy-eight-year-old Harriet Chance impulsively sets sail on an ill-conceived Alaskan cruise that her late husband had planned. But what she hoped would be a voyage leading to a new lease on life becomes a surprising and revelatory journey into Harriet's past.

There, amid the overwhelming buffets and the incessant lounge singers, between the imagined appearances of her late husband and the very real arrival of her estranged daughter midway through the cruise, Harriet is forced to take a long look back, confronting the truth about pivotal events that changed the course of her life. And in the process she discovers that she's been living the better part of that life under entirely false assumptions.

In This Is Your Life, Harriet Chance! Jonathan Evison has crafted a bighearted novel with an endearing heroine at the helm. Through Harriet, he paints a bittersweet portrait of a postmodern everywoman, her story told with great warmth, humanity, and humor. Part dysfunctional love story, part poignant exploration of the mother-daughter relationship, nothing is what it seems in this tale of acceptance, reexamination, and forgiveness.
 
About the Author
---
Jonathan Evison is the author of four previous novels, including All About Lulu, West of Here, The Revised Fundamentals of Caregiving, and This Is Your Life, Harriet Chance! He lives with his wife and family in Washington State.
Praise For…
---
"Intricately structured… Evison resists every neat resolution, every unearned epiphany. And as fanciful as his prose can be…he's not afraid to depict the dark side of aging as it is, and not as we wish it were…. The result is a book that speaks to all of us, whether we're young enough to check Facebook 50 times a day, or old enough only to have a vague idea what the Internet is. The themes Evison presents – disappointment, delusion, redemption – are universal, and he deals with them beautifully in this wonderful novel. This is your life, Harriet Chance, but it's ours, too." —New York Times Book Review 
 
"Evison's rollicking novel is a close-up up of the life of 78-year-old Harriet Chance, whose Alaskan cruise highlights include indulging in endless seafood buffets, acquiring touristy tribal knickknackery, and discovering the secret of her deceased husband's decades-long affair with her best friend." —O, The Oprah Magazine
 
"Openhearted, effervescent . . . Evison handles the jaunty tone with aplomb." —Washington Post
 
"[This Is Your Life, Harriet Chance!] is infused with Evison's characteristic empathy and heart and humor. Its tension emanates from the relationships Harriet has botched and from our changing understanding of who she is and what's at risk. As a writer, [Evison's] got a talent for character, emotion and pacing." —Los Angeles Times

"Thank heaven for surprises, especially of the Jonathan Evison variety . . . Sure to become a book club favourite this fall, This Is Your Life, Harriet Chance! is a pleasurable mix of the crazy escapades, changing relationships and thoughtful reflections that make up a life. It shows us that whatever age we are, the delightful surprises never stop, but neither do the growing pains. It reminds us too that when it comes to forgiveness, often the hardest person to forgive is ourselves."—Toronto Star

"Evison writes with his typical unflinching honesty about a life that is not what it seems . . . poignant reflections on aging, parenting, friendship and marriage constantly surprise with their quiet truthfulness." —The Globe and Mail  
 
 "Slowly, and with admirable, dark precision, Evison lays Harriet bare...With a touch of snark and a lashing of perfectly affected irony, he flenses her to the bone and, somehow, seems kind in doing it. It is Evison's timing—the slow burn and perfect pacing of the reveals — that makes This Is Your Life, Harriet Chance! hang together. And with Harriet Chance — poor, frustrated, flummoxed Harriet — Evison has found his ideal foil."—NPR Books
 
"Jonathan Evison charms with This is Your Life, Harriet Chance!" —Vanity Fair
 
"Bittersweet but buoyant, with a heart-tugging finish."
—Good Housekeeping
"A quirky, fun writing style pulls you through this wonderful tale . . ." —Sunset Magazine
 
"It's hard to imagine a family member of any family who won't see something familiar in Harriet's quest to understand her spouse, her children and herself. And when the expected but still jarring ending unfolds, it's hard to imagine the reader who won't be moved by this lively, lovely work." —Denver Post
 
"This Is Your Life, Harriet Chance! is a terrific novel, funny and moving, wistful and wise. Jonathan Evison's writing crackles on the page." —Jess Walter, author of Beautiful Ruins
 
"A generous and wise tale, told with Evison's trademark verve and charisma, This Is Your Life, Harriet Chance! is a deeply felt and deeply comforting novel." —Patrick Dewitt, author of The Sisters Brothers
 
"[A] treasure of a book . . . This Is Your Life, Harriet Chance! [is] a novel that has it all, humor and pathos, and a main character named Harriet who'll wend her way into your heart . . . You'll root for Harriet, embrace her and empathize with her, a sinewy tough, but sweet natured heroine, if ever there was one. She's a character you'll not soon forget in a novel that's charming from beginning to end." —Washington Missourian

"In every situation, poor Harriet draws the short straw. But This is Your Life, Harriet Chance! is anything but a drag: Evison . . . makes Harriet's sad story sing . . . [Evison's] over-the-top commentary conveys the pathos of Harriet's misadventures with just the right blend of snark and sympathy, and it's tremendously fun to read . . . Harriet's character emerges in fascinating detail, as if from a chrysalis . . . She's much more interesting than we thought. So, for that matter, is Evison's novel . . ." —Commentary
 
"This Is Your Life, Harriet Chance! has all the wonderful snap and sizzle we've come to expect from Jonathan Evison's work, and as much heart as any novel I've read in recent years.  Jonathan packs an entire life--many lives--into this fine book, and does so with the empathy and insight of a writer at the top of his game." —Ben Fountain, author of Billy Lynn's Long Halftime Walk
 
"[T]he book's lesson is more an affirmation than revelation: Life is hard and complicated; everyone has secrets, and even that unassuming old woman you see standing quietly at the bow of the boat has endured drama and betrayal and passion. In the end, the sweetness overrides the sorrows. This Is Your Life, Harriet Chance! is a lively, entertaining read, funny and poignant." —Minneapolis Star Tribune
 
"Jonathan Evison is a ridiculously gifted storyteller: racing, breathless, and vibrant with his prose, hungry for personal truths, and clearly in love with the world around us all. That compassion and those writerly charms are deeply felt in This Is Your Life, Harriet Chance!, an irresistible, inventive novel full of important ideas about how we live our lives as parents, children, partners, and human beings." —Jami Attenberg, author of The Middlesteins
 
"I can't get enough of the work of this Bainbridge Island writer, who has the gift of combining humor and tragedy and making it all wildly entertaining." —Seattle Times
 
"[The] blend of the light and the lacerating is close to seamless in his new novel, This Is Your Life, Harriet Chance! . . . This fast-paced novel is both penetrating and persuasive in the complexities it uncovers in Harriet's tamped-down character and lifetime of compromises." —The Oregonian (Portland, OR)
 
"Once again, Jonathan Evison dazzles. This Is Your Life, Harriet Chance! is as sweet as it is inventive, profound as it is hilarious, unflinching as it is big-hearted.  Step right up, don't be shy!  Take the hand of Evison's delightfully menacing master of ceremonies and let him lead you into the kaleidoscopic journey of your life." —Maria Semple, author of Where'd You Go, Bernadette
 
"Insightful, richly entertaining look at a woman who, very late in the game, finds that life remains full of surprises…Evison writes humanely and with good humor of his characters, who, like the rest of us, muddle through, too often without giving ourselves much of a break. A lovely, forgiving character study that's a pleasure to read." —Kirkus Reviews, starred review
 
"Trust me: this is not schmaltzy or treacly. Rather, This is Your Life, Harriet Chance! is a cheeky, smart, and incisively observed work of literary fiction that fans of Maria Semple, Jami Attenberg, and Jonathan Tropper will adore." —Bustle.com

"Evison is a talented writer that is capable of making the reader think beyond the book with his candid character conversations and dialogues and his thought-provoking subject matter. Through humor and seriousness, Evison will almost force the reader to consume this book in one sitting!"—Portland Book Review
 
"Fun and snappy . . . a breezy page-turner." —Deseret News (Salt Lake City)

"Luckily for readers, there is This is Your Life, Harriet Chance, by Jonathan Evison, to provide a contemplative, funny and sensitive take on the polychromatic journey of life . . . a patchwork of moments, both large and small, that are, in turns, amusing, heartbreaking and recognizable in their universality . . . At its core, Evison's book is an examination of human identity and what that means as a person grows older and begins to entwine and interact with other people . . . [Harriet is faced] with rediscovering her own individuality and with moving beyond the dysfunctional relationship she has had with her adult daughter. Written with both humor and pathos, This is Your Life, Harriet Chance probes the juncture where those two intersect, where the beautiful melancholy of life is the sweetest." —Summit Daily (Vail, Colorado)
 
"Such is the mastery of Evison's storytelling . . . Evison tackles aging characters' laments while also capturing the scope of change in the transition from the 20th to 21st centuries. This Is Your Life, Harriet Chance! gives a nod to present-day woes, ranging from global warming to upside-down mortgages, but doesn't gloss over angst from bygone days . . . Evison succeeds in giving Harriet's life story the satisfying send-off it deserves." —Washington Independent Review of Books
 
"Evison's voice is buoyant and cheeky as he unveils the deep traumas that form Harriet's sense of herself . . . Evison succeeds in crafting a believable and gut-wrenching story, particularly Harriet's relationship with her daughter and their efforts to accept and love one another." —Publishers Weekly
 
"Both uplifting and melancholy, funny and thought-provoking, this entertaining read speaks directly to the importance of acceptance and healing." —Booklist
 
"Novels about postmodern women tend to fall flat or reach too far in their attempts to be poignant. Evison takes a different approach, modeling Harriet after your favorite crazy aunt. She isn't perfect, nor is she a complete hot mess. The result is a relatable, likable, often wine-filled wrecking ball of a woman . . . She's an unlikely heroine, but those are always the most compelling. She is not only everywoman's woman, she is downright delightful. It's a dysfunctional love story with a heap of redemption and forgiveness thrown in . . . Evison's way of storytelling is smooth, inventive, charming and hits the mark for readers of all ages." —Clarion-Ledger (Jackson, Miss.)
 
"Evison's fourth novel is witty, not bland; knowing rather than saccharine sweet; wise instead of clichéd . . . In spite of its honesty—an honesty that, at times, you might even call brutal—Evison's is a bright book, not a dark one. Never weighed down by its topicality or lacking in humor, This Is Your Life, Harriet Chance! puts off a sort of freeing energy, a feeling of peace for its characters and readers. Wit and empathy, easy lyricality and elegant construction—these are Jonathan Evison's strengths as a writer. They're all here. But there's truth here, too; lest we forget we live in the real world, not the kindly-lit soundstage of some American faerie tale." —Electric Literature
 
"Evison alternates between a cheeky narration of Harriet's past and present . . . It echoes the cinematic approach of Evison's previous work, painting a vivid picture that's easy for a reader to immerse him or herself in . . . A book of secrets, This Is Your Life, Harriet Chance! reveals how one or two choices can dramatically alter not only the course of your life, but the lives of many others." —BookPage 
 
"A heart-bursting, wonderful story that will make you want to give everyone in your life a big hug." —Hello Giggles

"This novel works from every angle. . . I laughed, giggled, cried and held Harriet close as the pages of her life opened to me. Then I started over again not ready to let her go. I not only recommend you read this one, I urge you to read it. The life you come to understand may well be your own." —Roanoke Times
"The narration is fresh and effective … Harriet Chance is an out-of-the-ordinary but believable protagonist who, like all of us, has a mixture of victories and disappointments behind her. This is a charming novel about learning how to reckon with the past." —BookBrowse.com
Coverage from NPR
Upcoming Events
Event date:

Mon, 03/02/2020 - 10:30am

Event date:

Mon, 03/09/2020 - 10:30am