The Summer of Letting Go (Hardcover)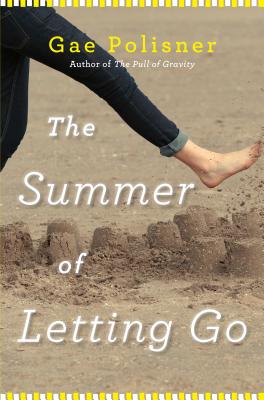 Email or call for price/availability
Staff Reviews
---
Unlike most teenagers, Francesca Schnell doesn't look forward to summer. For her, it is a painful reminder that her brother, Simon, drowned and that it was her fault. However, this summer starts with the earth-shattering discovery of a little boy, Frankie, who looks exactly like her little brother. Of course he isn't Simon, but what if? When Francesca is asked to watch Frankie as a summer job, she is terrified of making the same mistake again. The Summer of Letting Go by Gae Polisner is the story of Francesca's journey to acceptance, even if there are bumps along the way. Honestly, I couldn't wait to finish my homework so I couldn't keep reading!
- Clare
— From
Clare's Recs
Description
---
Just when everything seems to be going wrong, hope—and love—can appear in the most unexpected places.

Summer has begun, the beach beckons—and Francesca Schnell is going nowhere. Four years ago, Francesca's little brother, Simon, drowned, and Francesca's the one who should have been watching. Now Francesca is about to turn sixteen, but guilt keeps her stuck in the past. Meanwhile, her best friend, Lisette, is moving on—most recently with the boy Francesca wants but can't have. At loose ends, Francesca trails her father, who may be having an affair, to the local country club. There she meets four-year-old Frankie Sky, a little boy who bears an almost eerie resemblance to Simon, and Francesca begins to wonder if it's possible Frankie could be his reincarnation. Knowing Frankie leads Francesca to places she thought she'd never dare to go—and it begins to seem possible to forgive herself, grow up, and even fall in love, whether or not she solves the riddle of Frankie Sky. 
About the Author
---
GAE POLISNER is the award-winning author of The Pull of Gravity. She is a family law mediator by trade but a writer by calling. She lives on Long Island with her husband and two sons. When she's not writing, she can be found in a pool or, in warmer weather, in her wet suit in the open waters of Long Island Sound. The Summer of Letting Go is her second novel for teen readers.
Praise For…
---
"The genre of sibling-loss fiction is two books richer… [Francesca] learns from Frankie Sky that it's important to keep on living rather than going through the motions. This is really the emotional heart of the novel… Fran[cesca's] outpouring resonates with real feeling. Here, Polisner gets her subject exactly right." —The New York Times Book Review

"A touching and beautiful story about life's beautiful surprises." —Justine magazine

"The Summer of Letting Go is haunting, heart-lifting, and impossible to put down . . . Francesca Schnell is one of the most authentic young adult characters I've read in a long time." —A. S. King, author of Reality Boy, Ask the Passengers, and Please Ignore Vera Dietz

"With a light, deft hand, Polisner gives Frankie's world touches of humor, gravitas, and teen-centered reality, as well as multifaceted, sympathetic characters who seem plucked from any typical suburban street . . . [The Summer of Letting Go] deserves a spot beside the hammock." —Booklist

"Polisner's delicate handling of such questions raises this novel above the pack of young-adult novels that deal with loss." —Newsday

"Gae Polisner brings joy and sadness to readers every time a page is turned . . . A beautiful novel about unlikely friendship that will put a smile on anyone's face." —TeenReads.com

"A beautiful story of heartbreak and hope." —Daisy Whitney, author of The Mockingbirds and Starry Nights

"A very realistic novel…truly able to capture the emotions of a teenage girl haunted by her past… The novel is great quick-read to read anytime of the year, which makes the soul long for summer and a time for change. I highly recommend to anyone who is interested in coping with tragedy and learning to love at the same time." —Teen Ink

"The prose is gentle but evocative, and Frankie Sky's childlike exuberance and occasional misconceptions add heart and humor . . . [The Summer of Letting Go is] both hopeful and careful--like Francesca herself." —Kirkus Reviews

"The characters of the story are all very well drawn, the dialogue realistic, and the story itself well written, with much for teens to think and talk about." —VOYA

"First-rate realistic fiction with plenty of heart." —School Library Journal
"The genre of sibling-loss fiction is two books richer… [Francesca] learns from Frankie Sky that it's important to keep on living rather than going through the motions. This is really the emotional heart of the novel… Fran[cesca's] outpouring resonates with real feeling. Here, Polisner gets her subject exactly right." —The New York Times Book Review

"The Summer of Letting Go is haunting, heart-lifting, and impossible to put down . . . Francesca Schnell is one of the most authentic young adult characters I've read in a long time." —A. S. King, author of Reality Boy, Ask the Passengers, and Please Ignore Vera Dietz

"Polisner does a great job portraying the inner world of a 16-year-old whose trials have aged her prematurely. With a light, deft hand, Polisner gives Frankie's world touches of humor, gravitas, and teen-centered reality, as well as multifaceted, sympathetic characters who seem plucked from any typical suburban street." —Booklist

"Gae Polisner brings joy and sadness to readers every time a page is turned... a beautiful novel about unlikely friendship that will put a smile on anyone's face." —TeenReads.com

"A beautiful story of heartbreak and hope." —Daisy Whitney, author of The Mockingbirds and Starry Nights

"A very realistic novel…truly able to capture the emotions of a teenage girl haunted by her past… The novel is great quick-read to read anytime of the year, which makes the soul long for summer and a time for change. I highly recommend to anyone who is interested in coping with tragedy and learning to love at the same time." —Teen Ink

"The prose is gentle but evocative, and Frankie Sky's childlike exuberance and occasional misconceptions add heart and humor . . . [The Summer of Letting Go is] both hopeful and careful--like Francesca herself." —Kirkus Reviews

"The characters of the story are all very well drawn, the dialogue realistic, and the story itself well written, with much for teens to think and talk about." —VOYA

"First-rate realistic fiction with plenty of heart." —School Library Journal