A Brief History of Everyone Who Ever Lived: The Human Story Retold Through Our Genes (Paperback)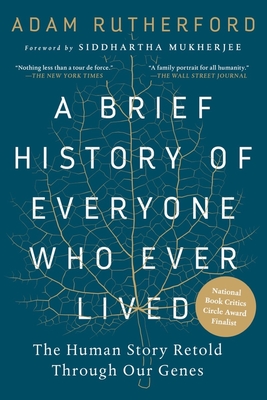 $18.95
Email or call for price/availability
Description
---
National Book Critics Circle Award—2017 Nonfiction Finalist

"Nothing less than a tour de force—a heady amalgam of science, history, a little bit of anthropology and plenty of nuanced, captivating storytelling."—The New York Times Book Review, Editor's Choice

A National Geographic Best Book of 2017

In our unique genomes, every one of us carries the story of our species—births, deaths, disease, war, famine, migration, and a lot of sex. But those stories have always been locked away—until now. Who are our ancestors? Where did they come from? Geneticists have suddenly become historians, and the hard evidence in our DNA has blown the lid off what we thought we knew. Acclaimed science writer Adam Rutherford explains exactly how genomics is completely rewriting the human story—from 100,000 years ago to the present.
About the Author
---
Adam Rutherford is a science writer and broadcaster. He studied genetics at University College London, and during his PhD on the developing eye, he was part of a team that identified the first genetic cause of a form of childhood blindness. He has written and presented many award-winning series and programs for the BBC, including the flagship weekly Radio 4 program Inside Science, The Cell for BBC Four, and Playing God (on the rise of synthetic biology) for the leading science series Horizon, as well as writing for the science pages of the Guardian. His first book, Creation, on the origin of life and synthetic biology, was published in 2013 to outstanding reviews and was short-listed for the Wellcome Trust Prize.

Siddhartha Mukherjee is the author of The Gene and the Pulitzer Prize–winning The Emperor of All Maladies. He is an assistant professor of medicine at Columbia University and a cancer physician and researcher.
Praise For…
---
A National Bestseller
A National Geographic Best Book of 2017
An Amazon Best Book of 2017
2017 Foreword INDIES Gold Winner
Winner of the 2018 Thomas Bonner Book Prize
A New York Public Library Book of the Day

"A family portrait for all humanity . . . This enjoyable book has a great deal to say about our genetic code—or, more precisely, about how our knowledge of genetics is misused and misconstrued. . . . [Rutherford] proves an enthusiastic guide and a good storyteller."—The Wall Street Journal

"An effervescent work, brimming with tales and confounding ideas carried in the 'epic poem in our cells.' "—Guardian

"Rutherford raises significant questions and explains complex topics well, engaging readers with humor and smooth prose."—Publishers Weekly, starred review

"A sweeping new view of the human evolution story, using the latest science of DNA as the central guide . . . . Recommended."—Scientific American

"Rutherford unpeels the science with elegance."—Nature

"A shining example of science writing at its best . . . will change the way you think about human evolution."—Newsday

"Adam Rutherford's book is well-written, stimulating, and entertaining. What's more important, he consistently gets it right."—Richard Dawkins

"One of my big obsessions as a reporter is our expanding understanding of our genetic history, thanks to incredible advances like sequencing Neanderthal genomes. Rutherford, a British geneticist and journalist, presents a great survey of this fast-moving field."—Carl Zimmer

"Genetics is opening up the past as never before—Adam Rutherford puts the genes in genealogy brilliantly."—Matt Ridley

"Adam Rutherford's A Brief History of Everyone Who Ever Lived is the book we need."—PZ Myers

"[Rutherford's] head-on, humane approach to such charged and misunderstood topics as intelligence and race make this an indispensable contribution to the popular science genre."—Apple's iBooks Best Book of September 2017

"Provides a good survey of the science of genomics and how it's changing the story of human evolution."—Forbes

"An enthusiastic history of mankind in which DNA plays a far greater role than the traditional 'bones and stones' approach, followed by a hopeful if cautionary account of what the recent revolution in genomics foretells . . . Often quirky but thoughtful—solid popular science."—Kirkus Reviews

"A Brief History of Everyone Who Ever Lived is equal parts informative, engaging, and frequently surprising—a must-read for fans of big-picture popular science."
—Jennifer Ouellette, author of Me, Myself, and Why: Searching for the Science of Self

"Rutherford manages to reveal fresh (and controversial) assessments of human history and dispel long-held beliefs with clarity, enthusiasm and humor."—Shelf Awareness

"A rollercoaster tour of human history and evolution . . . Rutherford is a bold, confident storyteller."—Genome

"Magisterial, informative, and delightful."—Peter Frankopan

"Rutherford is a gifted storyteller; he interweaves layperson's genetics with the personal histories of scientists, explorers, and historical figures to create an extraordinarily readable book."—Choice