Infinite Ground (Hardcover)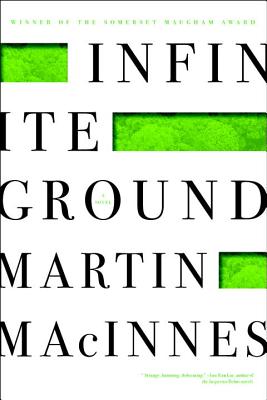 Staff Reviews
---
Infinite Ground is a highly original and confounding mystery. One night in a Latin American country a young man, Carlos, vanishes from a restaurant. No one sees him leave, and there are no traces of him anywhere. The detective hired to find him becomes absorbed with reports of Carlos's increasingly odd behavior before his disappearance. He supplants Carlos in his business and private life, believing that will help to find him, but when that doesn't advance the case he follows Carlos's trail deep into the tropical rainforest. There, solitary and obsessed, he is consumed by the wilderness around him, causing him to question his very identity and purpose. MacInnes blurs the line between reality and fantasy in his hallucinatory, compulsively readable debut novel.
- Cindy
— From
Cindy's Recs 2
Description
---
"Stunning—a totally original, surreal mystery shot through with hints of the best of César Aira, Vladimir Nabokov, Angela Carter, and Julio Cortázar. Smart, clever, and honest. I doubt you've read anything quite like it." —Jeff VanderMeer, author of The Southern Reach trilogy

On a sweltering summer night at a restaurant in an unnamed Latin American city, a man at a family dinner gets up from the table to go to the restroom . . . and never comes back. He was acting normal, say family members. None of the waiters or other customers saw him leave.

A semi-retired detective takes the case, but what should be a routine investigation becomes something strange, intangible, even sinister. The corporation for which the missing man worked seems to be a front for something else; the staff describes their colleague as having suffered alarming, shifting physical symptoms; a forensic scientist examining his office uncovers evidence of curious microorganisms.

As the detective relives and retraces the man's footsteps, the trail leads him away from the city sprawl and deep into the country's rainforest interior . . . where, amidst the overwhelming horrors and wonders of the natural world, a chilling police procedural explodes into a dislocating investigation into the nature of reality.
About the Author
---
Martin MacInnes was born in Scotland. He has an MA from the University of York, has read at international science and literature festivals, and is the winner of a Scottish Book Trust New Writers Award and the 2014 Manchester Fiction Prize. He lives in Edinburgh. Infinite Ground is his first novel.
Praise For…
---
BEST OF THE YEAR in The Guardian, The Irish Times, The Herald, The Scotland on Sunday, and more
 
"An electrifying piece of work: strange, terrifying, riveting, and written with scintillating intelligence. In its thinking about the porosity between the human and the non-human, it stands shoulder to shoulder with Ballard, Lem, VanderMeer, Tom McCarthy." —Neel Mukherjee, author of The Lives of Others
 
"Weird, wonderful, totally indefinable . . .  If not the Booker, then surely the Goldsmiths beckons."  —Justine Jordan, THE GUARDIAN

"Stunning—a totally original, surreal mystery shot through with hints of the best of César Aira, Vladimir Nabokov, Angela Carter, and Julio Cortázar. Smart, clever, and honest. I doubt you've read anything quite like it." —Jeff VanderMeer, author of The Southern Reach trilogy
 
"A novel of intelligence, grace, cunning and warped imagination, one that melds and sometimes clashes styles and influences to create something original and unsettling. It is a bravura performance, and one that announces Martin MacInnes as one of our most exciting new voices." —Stuart Evers, author of Your Father Sends his Love
 
"Labyrinthine, beautifully written and teeming with ideas about fiction and reality that linger long in the mind . . . A frighteningly good debut novel." —Lee Rourke, author of Vulgar Things
 
"An impressive and finely textured debut . . . This is fiction as a metaphorical labyrinth of the mind." —THE GUARDIAN
 
"A talent of the first rank . . . We want to be informed and entertained, I might also say, provoked and enlarged, and Martin MacInnes delivers on all fronts with writing of genuine bravura and originality." —Christopher Potter, author of You are Here and How to Make a Human Being
 
"Strange, haunting, dislocating." —Ian Rankin

"This is the work of a most singular and inventive mind, matched by writing with real flair and clarity. It is a book alive with ideas and cock-eyed intelligence, brimming with passages of genuine brilliance. Infinite Ground does that magical thing that only the very best novels do: it makes you see the world afresh. Dazzling stuff." —Graeme Macrae Burnet, author of His Bloody Project
 
"A surreal crime mystery at one level and at another a profoundly serious exploration of the fragility and isolation of modern life." —Saltire Literary Awards

 "[A] brilliant and unpredictable novel… the story reads like out of Kafka, refined by Jorge Luis Borges. There are echoes too of J.G. Ballard's The Drowned World… unputdownable once you get into it." -LIBRARY JOURNAL, Starred Review

"[A] mind-bending debut... MacInnes skillfully creates an atmosphere of lowering menace...in a narrative that aims to unsettle and provoke. Vividly suggestive and filled with haunting images..." —KIRKUS REVIEW

"Invigorating… MacInnes's vision is consistently involving and mesmerizing… the novel successfully infuses the detective story with the experimental energy of writers like Ben Marcus and Tom McCarthy." —PUBLISHERS WEEKLY

"Highly original… a hallucinatory, existential mystery. MacInnes, in his debut novel, writes with savage precision of transformation, substitution and the question of what is true and untrue." —SHELF AWARENESS

"MacInnes creates rich patterns, themes and repetitions that make the book feel like its own self-contained ecosystem."—SAN ANTONIO CURRENT

"The novel also has moments of exquisite and estranging beauty, [Martin MacInnes] has earned comparisons to a number of writers... There are echoes of J.G. Ballard, Clarice Lispector, César Aira, and Borges resonating through these pages, but MacInnes manages to keep these echoes muffled so that his voice, one of the most promising in contemporary fiction, rings clear and true above his influences.... a book for this moment."—BOMB Magazine

"This is much more than a book with multiple endings (or even multiple worlds); this is an impressive exploration of porosity."—FULL-STOP

"Infinite Ground beguiled me. It's a tropical fever dream, a detective novel turned on its head, a wending into a new heart of darkness that brings to mind so many writers (Aira, Ballard, Angela Carter) but manages through sheer perverse originality to stand shoulder-to-shoulder with its influences." —LIT HUB

"A remarkably haunting and experimental debut." —READ IT FORWARD

"Brain-vaporizing… [MacInnes] constructs a puzzling terrain for his fertile imagination to explore." —THE CULTURE TRIP

"Wiley and multivalent… Infinite Ground by Martin MacInnes, deploys a modernist mystery against a setting of 21st corporatism and Amazonia."—ENTROPY Magazine

"Brimming with strong, startling ideas . . . A curious and often remarkable book." —LITERARY REVIEW

"Complex, literary, and full of postmodern tropes and intellectual games...MacInnes constructs a novel about the minutiae of our lives, and what happens when the symbols that we hold onto as real begin to reveal themselves as otherwise...Martin MacInnes' debut is impressive… A stellar, challenging, and puzzling read from a great new writer."—CrimeFictionLover.com