Trainwreck: The Women We Love to Hate, Mock, and Fear . . . and Why (Hardcover)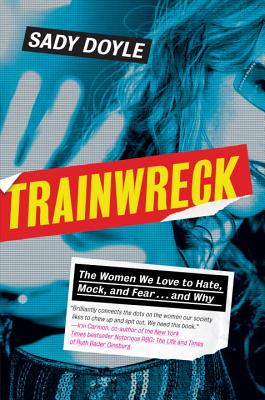 Staff Reviews
---
Sady Doyle is outraged, and urgently argues that we should be too! A trainwreck is a woman who spectacularly, publicly, epically fails. Doyle lays out her case that society's trainwreck narrative includes a "bad girl" who ultimately must suffer and endure some type of humiliation, creating a cautionary cultural tale for other women who might be tempted to be too outrageous, too passionate, too... much. Doyle holds up a mirror to show the voyeuristic quality almost everyone has toward women who misbehave. This book is intelligent, provocative, infuriating, and compelling - often at the same time. You'll finish it with a more nuanced way to look at those who have been labeled " a trainwreck."
- Cindy
— From
Cindy's Recs 2
October 2016 Indie Next List
---
"At its best, pop culture criticism forces us to reconsider a familiar product by placing it in a new context and, in doing so, imbuing it with new meaning. Trainwreck is just that. Doyle effectively and entertainingly litigates her case: that Western culture's fascination with 'fallen' female starlets --aka trainwrecks -- is simply a modern form of the patriarchal silencing and marginalization of women that has been going for centuries. With sly humor and lively prose, Doyle systematically punches through all the familiar straw-man arguments and convincingly illustrates that the 'harmless fun' of Internet clickbait and TMZ gossip are merely modern forms of public shaming. A must-read."
— Matt Nixon (M), The Booksellers at Laurelwood, Memphis, TN
Description
---
She's everywhere once you start looking for her: the trainwreck. 
 
She's Britney Spears shaving her head, Whitney Houston saying, "crack is whack," and Amy Winehouse, dying in front of millions. But the trainwreck is also as old (and as meaningful) as feminism itself. 

From Mary Wollstonecraft—who, for decades after her death, was more famous for her illegitimate child and suicide attempts than for A Vindication of the Rights of Woman—to Charlotte Brontë, Billie Holiday, Sylvia Plath, and even Hillary Clinton, Sady Doyle's Trainwreck dissects a centuries-old phenomenon and asks what it means now, in a time when we have unprecedented access to celebrities and civilians alike, and when women are pushing harder than ever against the boundaries of what it means to "behave."
 
Where did these women come from? What are their crimes? And what does it mean for the rest of us? For an age when any form of self-expression can be the one that ends you, Sady Doyle's book is as fierce and intelligent as it is funny and compassionate—an essential, timely, feminist anatomy of the female trainwreck.
About the Author
---
Sady Doyle founded the blog Tiger Beatdown in 2008. Her work has appeared in In These Times, The Guardian, Elle.com, The Atlantic, Slate, Buzzfeed, Rookie, and lots of other places around the Internet. She won the first-ever Women's Media Center Social Media award by popular vote in 2011 and lives in Brooklyn, New York. Trainwreck is her first book.
Praise For…
---
"Smart ... compelling ... persuasive ... Doyle reminds us that we shouldn't be so quick to judge women in terms of degrading stereotypes or unrealistic expectations."—New York Times Book Review

"Fantastic...Trainwreck will very likely join the feminist canon."—The Atlantic

"Fiercely brilliant, must-read...Doyle has dug deeply into the garbage that the media peddles about women...Doyle's book moves the needle."—Elle

"Provocative, persuasive."—Vogue

"To miss Trainwreck would be a mistake...Brilliantly snarky and smart, Trainwreck deserves a place on every savvy woman's bookshelf."—Bust Magazine

"A deeply researched account of our culture's misogynistic obsession with trainwrecks...A convincing, compulsively readable polemic, Trainwreck hinges on the argument that normalizing hatred toward famous women sets a precedent for hating any woman: If you build it, the trolls will come."—The Portland Mercury

"A dazzling compendium of iconic feminist figures...The transhistorical connections between women are delightful, and Doyle showcases the breadth and depth of her knowledge as she moves with ease from Tara Reid to Hillary Clinton to Britney Spears to Marie Antoinette...However, where Trainwreck truly illuminates its readers is in its social and psychological reflections about origins of the narrative."—Salon

"Smart, funny, and fearless."—The Boston Globe

"In Sady Doyle's sharp new book...she examines the particular pleasure our society has taken, for centuries, in tearing down publicly visible women...Illuminating.—The Huffington Post

"A ruthlessly funny, smart, and relentlessly on-point takedown of modern misogyny….Doyle's debut book places her on the A-list of contemporary feminist writers."—Publishers Weekly starred review

"Doyle shows the way women in general have been, and very often still are, tried for their very womanness, devoured for their flaws, and respected only once they've been reduced to smoldering ash. High-speed and immediately readable, Doyle's poignant take on the concept of the trainwreck, and its relation to feminism, will provoke much thought and discussion."—Booklist starred review
 
"Some people take a scalpel to the heart of media culture; Sady Doyle brings a bone saw, a melon baller, and a machete. Trainwreck is a blistering indictment of how history has normalized sexism as entertainment, defining—and destroying—the women we claim to love." —Andi Zeisler, author of We Were Feminists Once

"Sady Doyle's wise, funny, bleak-when-it-needs-to-be voice has long been indispensable. With Trainwreck, she brilliantly connects the dots on the women our society likes to chew up and spit out. We need this book." —Irin Carmon, co-author of the New York Times bestseller Notorious RBG: The Life and Times of Ruth Bader Ginsburg

"Sady Doyle is audaciously funny and relentlessly fearless. I am amazed by her ability to hold contentious but vital feminist lines long after the rest of us have fled the war to hide under the covers. The supposed 'trainwrecks' of history (and the future) couldn't hope for a more clear-eyed, steadfast champion." —Lindy West, author of Shrill

"Sady Doyle is a wonder. She writes personally about the political and politically about the personal in a way that makes both worth reading. She's also incisive, surprising, and funny as hell." —Clay Shirky, author of Here Comes Everybody

"Sady Doyle is more than a writer, she's a force of nature—a mostly-benevolent one, like a cleansing forest fire that makes way for new growth. Her clear-eyed criticism, finely tuned prose, and always-questioning outlook combine to make hers one of the most necessary voices of our time. Plus she is very funny." —Emily Gould, author of Friendship
 
"Sady Doyle is simply one of the smartest, funniest, most humane writers working today. In a time of too many takes, I always look forward to hers. If you agree with her, reading her work is cathartic; and if you don't, take cover." —Kate Harding, author of Asking for It
Upcoming Events
Event date:

Mon, 03/02/2020 - 10:30am

Event date:

Mon, 03/09/2020 - 10:30am