How to Grow a Baby: A Science-Based Guide to Nurturing New Life, from Pregnancy to Childbirth and Beyond (Paperback)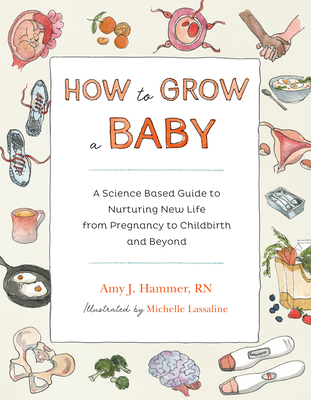 Description
---
Written by a nurse, this holistic guide for pregnancy and the postpartum experience provides foundational knowledge and intuitive wisdom to help new mothers support the optimal health of their baby and their own bodies.

Get the answers to the big questions about pregnancy:
  •  What kinds of foods should you eat and how do you prepare your body for labor and birth?
  •  How does movement impact pelvic health and the baby's position in the womb?
  •  How does the endocrine system and your brain change throughout pregnancy?
  •  How does the microbiome influence your and your baby's health?

Packed with practical information and helpful infographics, Amy J. Hammer helps you create the optimal environment for growing a baby and navigating the major transitions in a pregnancy—including nurturing pelvic floor health, the fetal and parental microbiome, and the science behind the stages of pregnancy from conception to postpartum.

By providing vital and often ignored information about reproductive science, movement, and nourishment, this book empowers parents to make informed and personal choices about their pregnancy, birth, and beyond.
About the Author
---
AMY J. HAMMER believes in humble methods and solid tools that help readers celebrate and cultivate glorious flavors and meaningful lives. Her work focuses on reproductive health, nourishing food, movement, and the environment. She is fascinated by ecology and her writing explores the relationships between humans and their environments and the impact of this relationship on overall health. Her background in teaching yoga and movement, journalism, environmental studies, and as a registered nurse give her a unique and dynamic approach to health and wellness. Amy lives in the Great Basin Desert with her family, including one husband, two children, one brother named Bob, two cats, and ten chickens. In this arid landscape, they cultivate a thriving garden and forge meaningful connections to the land and their community. When she's not writing, Amy enjoys doing all of the things she writes about: moving her body, gardening, making food, playing outside with her family, and living life with deep pleasure and always, a sense of humor.


MICHELLE LASSALINE is an illustrator and fine artist. In addition to painting and drawing, her interdisciplinary art practice includes sewing and textiles, papier-mâché sculpture, and performance art. Michelle's work is in the collections of Isle Royale National Park, the White River Valley Museum, the City of Reno, and the Oats Park Art Center. She was a 2020 recipient of the Elizabeth Greenshields Foundation Grant, and has received grants from the City of Seattle, Artist Trust, 4Culture, and the Nevada Arts Council. She is currently pursuing her Master of Fine Arts degree at the Maine College of Art. Michelle was born and raised in Carson City, Nevada, spent the formative years of her art practice in Reno, then moved to the Pacific Northwest where she now lives on an island in the Puget Sound.
Praise For…
---
"This is a rich and comprehensive resource for new parents on how to create a healthy and holistic environment from conception to birth for your growing baby. I wish I had read this fascinating book when I was going through my pregnancies!"– Angela Hanscom, Author of Balanced & Barefoot, Founder of TimberNook 
 
"How to Grow a Baby is a wonderful guide for pregnancy. We happily share it with all our clients now and are thankful there is such a well-rounded holistic guide available. It's truly a gem of a book!"–Morgan Miller CPM LDM LM Midwife at Soft Corner Midwifery
 
"How to Grow a Baby is one of the best modern preparing-for-parenting resources I've seen in a long time. Amy has struck the perfect balance of artistry, science, and storytelling to create a book that will help all families start right where they are on their parenting journey. I love that she created space to speak about the importance of processing and sharing your birth story, listening to your body as you heal during the postpartum season, and how you can be gentle with yourself and others as you navigate the rhythms of new parenthood. The 4th trimester is often overlooked, but not in this book. I'm excited to offer this amazing resource to midwifery clients here in Puerto Rico!"–Anjelica Malone, MSM, CLEC, CPM, Midwife
 
"How To Grow a Baby is a beautiful and truly holistic touchstone for any birthing person on the journey from conception to parenthood. It was a trusted companion during my evolution into motherhood and it is a pleasure to share the wisdom in this book with others who are navigating this incredible path."–Lizzy Moran, Certified Hormone Health Coach, RYT 200, Founder of Well Women, LLC
 
"In a time when much of the advice aimed at new parents is either driven by fear or informed by outdated studies, How to Grow A Baby is a refreshing alternative—an honest and reassuring read that pulls equally from modern science, personal experience, and the time-honored practices of cultures around the world. Reading this book is like having a knowledgeable friend guide you with humor and aplomb through the changes, challenges, and joys of parenthood."–Krista Langlois, journalist and Outside magazine contributor 
 
"Engaging, intelligent, illuminating, and entertaining, this book provides a wealth of practical information for readers embarking on the exciting but often intimidating journey of pregnancy and childbirth. Expertly braiding candid personal narrative with reliable science and seasoning her stories with humor and genuine insight, Amy Hammer is the most supportive and companionable guide imaginable. Anyone interested in walking a healthy path through the physiological, emotional, and psychological landscape of pregnancy will find this work indispensable. How to Grow a Baby is a spectacular example of popular science writing at its very best."–Michael P. Branch, author of Raising Wild
 
"Amy's beautiful book for mothers not only focuses on body literacy and understanding exactly what's happening through each stage of motherhood, but it also does something mothers truly need. Rather than following the common formula in today's literary culture of putting pressure on mothers to buy into a specific point of view, this book presents the information in a way that empowers women to make informed decisions of their own and follow their intuition. As a postpartum doula I find this book to be a must for every mother's bookshelf."–Rachael Hollinger of NOURIS(her)
 
"This book is like having a heartful chat about all things pregnancy with your experienced, well-versed, super-smart friend any time you want to."—Katy Bowman, author of Grow Wild: The Whole-Child, Whole-Family, Nature-Rich Guide to Moving More