AFTER THE FIRST FULL MOON IN APRIL: A SOURCEBOOK OF HERBAL MEDICINE FROM A CALIFORNIA INDIAN ELDER (Paperback)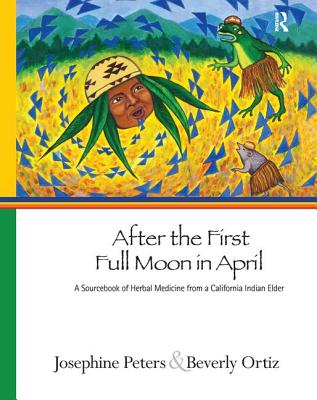 Email or call for price/availability
Description
---
In this extraordinary book Josephine Peters, a respected northern California Indian elder and Native healer, shares her vast, lifelong cultural and plant knowledge. The book begins with Josephine's personal and tribal history and gathering ethics. Josephine then instructs the reader in medicinal and plant food preparations and offers an illustrated catalog of the uses and doses of over 160 plants. At a time of the commercialization of traditional ecological knowledge, Peters presents her rich tradition on her own terms, and according to her spiritual convictions about how her knowledge should be shared. This volume is essential for anyone working in ethnobotany, ethnomedicine, environmental anthropology, Native American studies, and Western and California culture and history.
About the Author
---
Josephine Peters (Karuk, Shasta, Avenake) was an esteemed elder, cultural leader, and Indian herbalist and medicine woman. She led many prominent Native cultural initiatives in California and because of her renown as a healer was invited to conferences and universities around the world. She was also an accomplished basket weaver and artist who taught, lectured, demonstrated, and exhibited in countless forums, including University of California Riverside, Humboldt State University, the Heard Museum, the Smithsonian Folklike Festival, and the San Diego Museum of Man. She passed away in October, 2011. Beverly Ortiz, Ph.D., is a Lecturer in the anthropology department at California State University East Bay, Contributing Editor to News from Native California, ethnographic consultant and park naturalist.
Praise For…
---
"This book is an important addition to Native American herbal medicine that will be used by faculty, students, and in extended education."
—Rollin C. Richmond, President, Humboldt State University
"...a unique and highly prized addition to personal, professional, community, and academic library collections in the diverse fields of Ethnobotany, Ethnomedicine, Environmental Anthropology, Native American Studies, and California History."

—James A. Cox, Midwest Book Review
"[Peters's] herbal knowledge extends beyond medicine to food, basket making, technology in general, firewood, aesthetics, myths, and all of life. She shares her knowledge and thoughts with expert help from Ortiz, a leader in the California Native scholarly world. Peters's knowledge is highly eclectic, drawing not only on all the groups around her but also on southern Californian Native plant knowledge, Mexican traditions, and even Chinese herbal medicine (via some Chinese neighbors in northwestern California). This book is extremely valuable for showing the full extent of the knowledge of one such healer and for anyone interested in herbal medicine and food, Native Californian traditions, or a read about a fascinating individual. Summing up:
Highly recommended."
— CHOICE