Jeff Herman's Guide to Book Publishers, Editors & Literary Agents, 29th Edition: Who They Are, What They Want, How to Win Them Over (Paperback)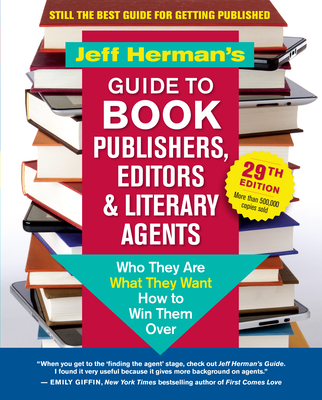 $34.95

Usually Ships in 1-5 Days
Description
---
If you want to get published, read this book

Jeff Herman's Guide unmasks nonsense, clears confusion, and unlocks secret doorways to success for new and veteran writers This highly respected resource is used by publishing insiders everywhere and has been read by millions all over the world. Countless writers have turned to this book to figure out how to decipher the hidden codes to getting published. It reveals: - tools to discern and exploit the rapidly changing publishing environment
- the crucial differences between independent houses and the "Big 5" publishers
- hard truths about self-publishing
- names, interests, and contact information of hundreds of agents and editors
- how writers unwittingly disqualify themselves from the consideration they deserve, and how to optimize chances with agents
- critical thinking skills for outside-the-box publishing strategies
- the nuts and bolts of superior query letters and proposals
- how to spot and avoid ever-more-prevalent scams
- the value of "book doctors" and when to consider hiring them
- what to do -- and not do -- once you've got an editor or publisher interested Herman's book remains the go-to guide for everything anyone ever wanted to know about book publishing. Comprehensive index lists dozens of subjects and categories to help you find the perfect publisher or agent.
About the Author
---
Jeff Herman, a successful literary agent, has sold more than a thousand books to dozens of publishers and, since 1990, has mentored millions of writers through this guidebook. JeffHerman.com