Rodney Smith: A Leap of Faith (Hardcover)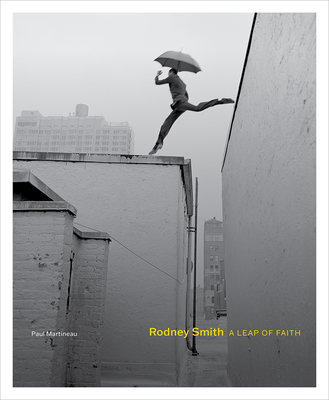 List Price: $65.00
Our Price: $58.50
(Save: $6.50 10%)
Usually Ships in 1-5 Days
Description
---
Elegant, charming, and stunningly beautiful, Rodney Smith's fashion photography is a delightful revelation.
 
"I would hope that I am one of a kind." —Rodney Smith
 
Mystery and manners, romance and fun—the sophisticated compositions and stylish characters in the extraordinary pictures of fashion photographer Rodney Smith (1947–2016) exist in a timeless world of his imagination. Born in New York City, Smith started out as a photo-essayist, turned to portrait photography, and found his niche, and greatest success, in fashion photography. Inspired by W. Eugene Smith, taught by Walker Evans, and devoted to the techniques of Ansel Adams, Smith was driven by the dual ideals of technical mastery and pure beauty.
 
This lavish volume features nearly two hundred reproductions of Smith's images—many that have never before been published—and weaves together a biocritical essay by Getty Museum curator Paul Martineau and a technical assessment of Smith's production by the Center for Creative Photography's chief curator, Rebecca A. Senf. It maps Smith's creative trajectory—including his introduction to photography, early personal projects, teaching, commissioned pieces, and career in fashion—and provides insight into his personal life and character, contextualizing his work and creative tendencies within his privileged but lonely upbringing and complex emotional and psychological makeup. Rodney Smith is the definitive record of the life's work and worldview of a truly original artist.
About the Author
---
Paul Martineau is curator in the Department of Photographs at the J. Paul Getty Museum.
Praise For…
---
"I've been a fan of Rodney Smith's work for years. With his ability to find something interesting in the ordinary, Smith's new book is a delightful romp through a world where the mundane becomes magical, the impossible becomes possible and the absurd becomes normal. I appreciate Smith's simplicity and instinct for beauty, coupled with a dash of surrealism and humor. If you're looking for a book of photos that will make you see the world in a new light, look no further."
—Elliott Erwitt, photographer
"Rodney Smith's lifework stands out for its expression of joy, humor, and wistfulness, and it serves as a reminder of the ways in which both fashion photography and fashion itself are in dialogue with art historical discourses. This comprehensive survey of Smith's career illuminates not only how his playful embrace of experimentation and extraordinary technical mastery of photography resulted in imaginative, timeless images but also how these images broaden our understanding of fashion photography as a collaborative and expressive art form."
—Michal Raz-Russo
"Prominent fashion photographer Rodney Smith's (1947-2016) imaginative and whimsical images from a forty-five-year career are thoughtfully curated into
Rodney Smith: A Leap of Faith
. This title is the definitive record of the life's work of this truly original artist and educator."
— AllAboutPhoto.com
"The project and the Getty acquisition trace a creative trajectory that has made fantasy and elegance a true photographic strand."
— Tommaso Berra
"The book is a well-rounded look at Smith's creative and technical genius."
— Jessica Stewart
"This book is a lovely homage to the memory of a brilliant and sensitive photographer."
— Bondo Wyszpolski
"Rodney's images are at once timeless and startlingly fresh."
— Graydon Carter with Nathan King
"
Rodney Smith: A Leap of Faith
is a celebration of the late photographer's life and career."
— Hannah Rooke
"
Rodney Smith: A Leap of Faith
details the photographer's trajectory, which took him from street photography to corporate photography to the fashion imagery that he's most well-known for."
— Jessica Stewart
"A radiant retrospective of his work."
— Elin Spring
"This title is the definitive record of the life's work of this truly original artist and educator."
— The Eye of Photography
"Quietly stunning new book from Getty Publications."
— Max Hirshfeld
"A deeply personal and definitive record of Smith's life's work."
— Irene Rawlings