Carnivorous Plants of the United States and Canada (Paperback)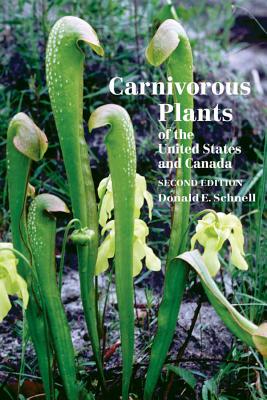 $39.95

Usually Ships in 1-5 Days
Description
---
In this greatly expanded and revised edition of his classic treatment, Donald Schnell examines in detail the 45 species and numerous hybrids of carnivorous plants that grow in the U.S. and Canada. Information on each species includes an identifying description, the preferred habitat, the range in which it can be found, and the season for flowering and trapping, making this book a useful field guide as well as a fascinating source of leisure reading.

This book is only available through print on demand. All interior art is black and white.
About the Author
---
Donald E. Schnell is a pathologist and a dedicated naturalist. His fieldwork on carnivorous plants spans over forty years; he has published over thirty papers in botanical journals as well as many popular articles on his favorite subjects. He was a founding coeditor (with J. A. Mazrimas) of the Carnivorous Plant Newsletter and is a member of several botanical societies. Dr. Schnell continues to avidly pursue his interest in the carnivorous plants of the continent, traveling and photographing in the company of his wife, Brenda. He lives and works in Pulaski, Virginia.
Praise For…
---
"In this splendid addition to the botanical literature, pathologist and dedicated naturalist Schnell provides valuable new information based on his more than 40 years of fieldwork. . . . Many maps, drawings, and 200 truly excellent color photographs, virtually all by the author, contribute greatly to the wealth of textual information and therefore to the usefulness and importance of this book. Highly recommended for every library's collection of botanical materials for both scientists and hobbyists." —Choice

"Experienced carnivorous plant enthusiasts and interested beginners alike will find all the information they need for selecting and growing carnivorous plants successfully." —American Gardener

"If you want to explore the botany, ecology, and horticulture of a fascinating subset of North America's magnificent flora, this book is a must." —Horticulture

"Experienced carnivorous plant enthusiasts and interested beginners alike will find all the information they need for selecting and growing carnivorous plants successfully." —American Gardener

"This expanded second edition of Carnivorous Plants of the U.S. and Canada is a 'must' for any reference librarian which specializes in botany or nature." —Bookwatch

"This book can be appreciated by people of all interest levels and expertise." —American Reference Books Annual

"I highly recommend this book to all persons interested in carnivorous plants." —Plant Science Bulletin

"A wonderful field guide incorporating a wealth of information from Schnell's 40 years of field work. . . . [this] book is one I would recommend for hobbyists interested in growing these plants, as well as anyone who would like to know how these fascinating plants exist in nature." —NYBG's Plant Talk

"This is a most interesting book filled with beautiful, detailed pictures of carnivorous plants and maps of their location." —E-Streams

"This book is an excellent reference. . . . Of interest to botanists and researchers, as well as serious hobbyists." —Northeastern Naturalist

"A sound and useful source of information on distribution, ecology, and taxonomy of the carnivorous plants." —Plant Science Bulletin

"An invaluable addition to the bookshelf and field backpack." —Quarterly Review of Biology