Armando Y La Escuela de Lona Azul (Paperback)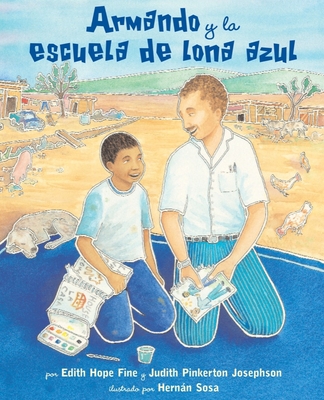 $12.95
Email or call for price/availability
Description
---
Lasting Connection Title, Book Links
Choice, Cooperative Children's Book Center (CCBC)
Editor's Favorites, The Bloomsbury Review
Skipping Stones Honor Award, Skipping Stones Magazine
In Spanish. The story of a young Mexican boy living in a colonia (trash dump community) who takes the first steps toward realizing his dream of getting an education.
Buh-beep Buh-beep A truck horn sounds through Armando's colonia, his neighborhood, near the city dump. Se or David is back, setting up school on a blue tarp spread on the ground. Oh how Armando longs to go to this school, but he knows he must help his father pick through trash in the dump for things his family can use, recycle, or sell.
When Armando's parents decide at last to let him spend afternoons at Se or David's school, Armando is overjoyed. He'll learn to read and write. He'll learn numbers. Best of all, he'll draw pictures. And one momentous day Armando's love of drawing helps bring an almost unimaginable treasure to the children of the colonia.
Translated from Armando and the Blue Tarp School, Armando y la escuala de lona azul is a testament to the pursuit of dreams and the power of one person to make a difference in the lives of others.