Baseball as a Road to God: Seeing Beyond the Game (Hardcover)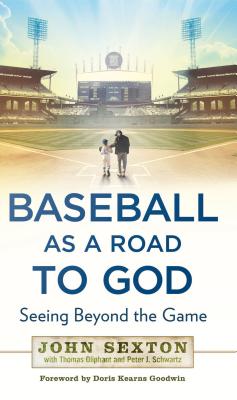 Staff Reviews
---
What do baseball and religion have in common? More than you'd think. N.Y.U. president Sexton has written a provocative and engaging series of essays that connect the two through explorations of faith, doubt, conversion, miracles, and more. Illuminated by his encyclopedic baseball knowledge, his insights into various faith traditions, and his ability to make long-ago games and players live again, the book will delight both fans and skeptics.
- Banna
— From
Banna's Recs
Description
---
A love letter to America's most beloved sport and an exploration of the deeper dimensions it reveals
For more than a decade, New York University President John Sexton has used baseball to illustrate the elements of a spiritual life in a wildly popular course at NYU. Using some of the great works of baseball fiction as well as the actual game's fantastic moments, its legendary characters, and its routine rituals from the long-sought triumph of the 1955 Brooklyn Dodgers, to the heroic achievements of players like the saintly Christy Mathewson and the sinful Ty Cobb, to the loving intimacy of a game of catch between a father and son Sexton teaches that through the game we can touch the spiritual dimension of life.
"Baseball as a Road to God "is about the elements of our lives that lie beyond what can be captured in words alone ineffable truths that we know by experience rather than by logic or analysis. Applying tothe secular activity of baseball a form of inquiry usually reserved for the study of religion, Sexton reveals a surprising amount of common ground between the game and what we all recognize as religion: sacred places and time, faith and doubt, blessings and curses, and more.
In thought-provoking, beautifully rendered prose, this book elegantly demonstrates that baseball is more than a game, or even a national pastime: It can be a road to a deeper and more meaningful life.
About the Author
---
John Sexton is the fifteenth President of New York University; prior to being designated as the university's president in 2001, he served as Dean of the NYU School of Law for 14 years. President Sexton is past Chair of the American Council on Education, the New York Academy of Sciences and the Commission on Independent Colleges and Universities of New York. He is a Fellow of the American Academy of Arts and Sciences, a member of the Council on Foreign Relations, and has served as the Chairman of the Board of the Federal Reserve Bank of New York. He received a Ph.D. in History of American Religion from Fordham University, a J.D. magna cum laude from Harvard Law School and has 10 honorary doctorates, including one from the oldest Catholic University in the world, Katholieke Universiteit Leuven. In addition to his executive duties as President of NYU, he teaches four full courses each academic year, making him one of the only university presidents to teach a full faculty schedule.Thomas Oliphant was a columnist for "The Boston Globe "for more than forty years and is a "New York Times "bestselling author. He has been part of the "Baseball as a Road to God" seminar for years. He lives in Washington, D.C.Peter J. Schwartz is a "Bloomberg News" contributor, former reporter at "Forbes" and legal fellow at NYU. He was the first student ever enrolled in the "Baseball as a Road to God" seminar. He lives in New York City.

"
Praise For…
---
Praise for Baseball as a Road to God

"In the church of baseball, John Sexton is one of the preeminent theologians."
—Bill Moyers in an interview with John Sexton on Bill Moyers Journal
 
"This book takes the reader on a remarkable spiritual journey, using the secular sport of baseball to explore subjects ordinarily associated with religion—prayers, altars, sacred space, faith, doubt, conversion, miracles, blessings, curses, saints and sinners. There is magic in these pages."
—Doris Kerns Goodwin, from the foreword
 
" . . .a thought-provoking proposition for zealots and skeptics alike."
—Publishers Weekly
 
"An elegant little meditation on life and the afterlife, well worth reading . . ."
—Kirkus Reviews

"John Sexton has written beautifully about the magic of baseball: its near irresistible appeal, its legends, its breathtaking moments of drama, its heroes and villians. He has also written with great insight about the intense-felt character of religious perception. And he has—dare I say it?—woven the two together miraculously."
—Ronald Dworkin, author of Law's Empire and the recipient of philosophy's prestigious Holberg International Memorial Prize

"Baseball as a Road to God is both a wonderful collection of delightful baseball stories that allows the reader to relive the moments of joy, despair, anxiety, and inspiration, and a meditation demonstrating that baseball is rife with the profound and complex elements that constitute religion. The stories reflect a love of baseball and call upon us all to live slow and notice, illustrating the availability of a joyful, spiritual life."
—Governor Mario Cuomo

"Baseball as a Road to God illuminates baseball as you've never experienced or thought about it before. John Sexton has given us nine 'innings' of lively stories and insights that take our national pastime far, far beyond the playing field. He has pitched a perfect game!"
—Arthur R. Miller, professor of law and resident scholar at Good Morning America for more than two decades

"John Sexton's book, Baseball as a Road to God, provides a thoughtful and intriguing examination of the connection between baseball and religion. In this wonderful book, John navigates in clear language the complex questions linking faith and America's favorite pastime. Using his parlance, this book is a home run."
—Rachel Robinson, founder of the Jackie Robinson Foundation
Upcoming Events
No upcoming events available