Container Gardening Complete: Creative Projects for Growing Vegetables and Flowers in Small Spaces (Hardcover)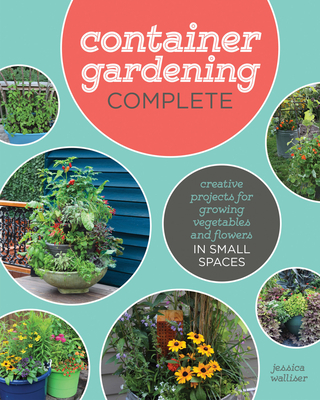 Description
---
Container Gardening Complete has everything you need to know to successfully garden in a small space, including step-by-step directions, photographs, and information on more than 125 plants.

The ideal book for urban gardeners, indoor gardeners, and vegetable gardeners, Container Gardening Complete is a thorough visual guide that will get you growing quickly! Whether you are growing vegetables, fruits, or flowers on an apartment balcony; creating a small vegetable garden for personal use; or decorating steps and walkways, this hard working book is your go-to resource.

The methods described in this book are foolproof and easy to follow, with step-by-step directions and photographs, scalable projects for differing needs, and many great ideas for upscaled containers from things you have around your home. You'll get to know the ins and outs of gardening in a small space, from the importance of drainage, irrigation, and other watering concerns to ornamental combinations of plants, and the very best vegetables, fruits, and non-edibles for container gardening.
About the Author
---
Jessica Walliser co-hosts The Organic Gardeners, an award-winning program on KDKA Radio in Pittsburgh, Pennsylvania. She is a former contributing editor for Organic Gardening magazine and a regular contributor to Fine Gardening, Urban Farm, and Hobby Farms magazines. Walliser also serves on the editorial advisory board of The American Horticultural Society.
 
Her two weekly gardening columns for the Pittsburgh Tribune-Review have been enjoyed by readers for over nine years. Jessica's fourth book, Attracting Beneficial Bugs to the Garden: A Natural Approach to Pest Control, was awarded the American Horticultural Society's 2014 Book Award. It was also named one of the Top 12 Gardening Books by Martha Stewart Living magazine in March of 2015.
 
She is also the author of the Amazon bestseller Good Bug, Bad Bug: Who's Who, What They Do, and How to Manage Them Organically and blogs weekly for both SavvyGardening.com and HobbyFarms.com.
Praise For…
---
"I was happy to see that the author had summed up the beauty and magic of container gardening."
 —Community Table @ Parade.com

In addition to hundreds of photographs, the book shares foolproof directions, designs and projects for inspiration.—Michigan Gardener