Great Expectation: A Father's Diary (Sightline Books) (Hardcover)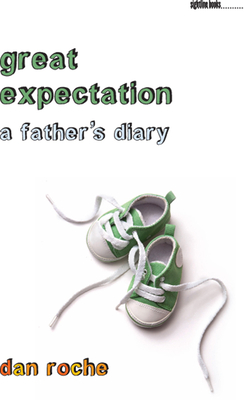 Description
---
In Great Expectation, Dan Roche gives a man's perspective on what it means to start and expand a family relatively later in life. Through a series of diary entries in turns humorous, angst ridden, and full of hope and joy, Roche describes his own thoughts and concerns during the nine months of his wife's pregnancy.

With five years of parenting his irrepressible daughter Maeve under his belt, Roche, already forty-five years old, and his wife, Maura, face the prospect of another arrival and the myriad of emotions that come with a second child. From revelling in the joys of pregnancy such as Maura's delight at "having cleavage" and being able to eat whatever she desires; to assuaging the parental anxieties of choosing the right obstetrician, correcting the mistakes one made with the first child, and sending children to college in the future; to navigating the unforeseen, experiencing the unexpected death of a parent, and feeling trepidation toward the thought of having a son, Roche records his emotions with unusual candidness and intimacy.

Reflecting on day-to-day events and their significance in his family's life together, Roche wonders what he is getting himself into and how much deeper he can immerse himself into parenting. Together, he and his wife face the bittersweet intersections of death and new life, menace and hopefulness. With sincerity and a mature wit, Great Expectation stands as a wise recounting of nine months' time, with all of its chaos and charms, and offers a fresh perspective for first-time and veteran parents alike.


About the Author
---
Dan Roche is an assistant professor in the Department of English at Le Moyne College, in Syracuse, New York. He is also the author of Love's Labors: A Memoir of Marriage and Divorce. His essays have appeared in the North American Review, Under the Sun, the Journal, and sportsjones.
Praise For…
---
"Dan Roche has perfectly captured the unique joys and heartaches of being a second-time dad. Serious without being somber, reflective but not sentimental, and with an ever-present dry wit, Great Expectation is a must-read for new and veteran dads alike."—Jason Avant, founder and managing editor, DadCentric.com

"Whether you are expecting, have expected or don't know what to expect, Roche welcomes you into to the fold with the kind of candor, humor and vulnerability usually reserved for family.  This book expands the 'labor' of childbirth into a 9-month journey—and beyond—offering a refreshing play-by-play from the oft-overlooked father's perspective. While cycles of life swirl around him, Roche treads deftly down the one-way path to parenthood, interpreting all the obvious, and not so obvious, signposts with humor and sensitivity."—Jenifer Marshall Lippincott, author, 7 Things Your Teenager Won't Tell You (And How to Talk About Them Anyway)



"I loved spending time with Dan Roche and his family—and what an important time it was as they faced life and death with courage, humor, and grace. He takes us right into their house—the kitchen, bedrooms, and backyard—to remind us again of the importance of each day we are given. His prose is as beautiful as it is efficient. This is a man who thinks clearly and in metaphors, and he has given us a wonderful book about loss and arrival, about the beginning, middle, and end of life. Now we have a father who has written, as Anne Lamott did in Operating Instructions and Louise Erdrich in The Blue Jay's Dance, about the coming of a child. Mothers and children but especially fathers will thank him."—Elizabeth Stuckey-French, author, Mermaids on the Moon

"In his insightful and funny account of a father waiting for the birth of his second child, Dan Roche has written an honest and touching exploration of a husband's feelings and thoughts during his wife's pregnancy. Roche tells of many lighthearted and humorous moments while still poignantly describing the ups and downs of life, particularly in the context of the pregnancy. Women should buy a copy of this book for their husbands because it should be required reading for them: Roche is the voice of silent fathers everywhere."—Sharon O'Donnell, author, House of Testosterone: One Mom's Survival in a Household of Males