Things No One Will Tell Fat Girls: A Handbook for Unapologetic Living (Paperback)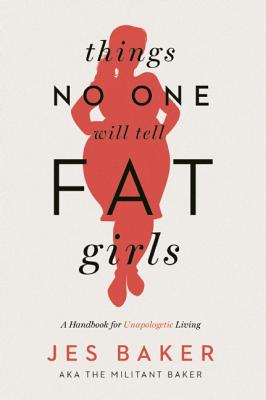 $16.99
Email or call for price/availability
Staff Reviews
---
Let's face it; body image is a huge issue. We are constantly bombarded with the message that we need to fit an unattainable mold of perfection. Jes Baker tears down this fallacy and lays it out plain and simple; you don't need to change to love your body. Her witty yet factual writing will get you to laugh and feel as though you've made a friend. I wish everyone would read this book because Things No One Will Tell Fat Girls has a message for everyone who has ever been uncomfortable in their body.
- Clare
— From
Clare's Recs
Description
---
Things No One Will Tell Fat Girls is a manifesto and call to arms for women of all sizes and ages. With smart and spirited eloquence, veteran blogger Jes Baker calls on women to be proud of their bodies, fight against fat-shaming, and embrace a body-positive worldview to change public perceptions and help women maintain mental health.

With the same straightforward tone that catapulted her to national attention when she wrote a public letter addressing the sexist comments of Abercrombie & Fitch's CEO, Jes shares personal experiences along with in-depth research in a way that is approachable, digestible, and empowering. Featuring notable guest authors, Things No One Will Tell Fat Girls is an invitation for all women to reject fat prejudice, learn to love their bodies, and join the most progressive, and life-changing revolution there is: the movement to change the world by loving their bodies.
About the Author
---
Jes Baker is a positive, progressive, and magnificently irreverent force to be reckoned with in the realm of self-love advocacy and mental health. She believes in the importance of body autonomy, TYPING IN ALL CAPS, strong coffee, and even stronger language.

Jes is internationally recognized for her writing on her blog, The Militant Baker and for the "Attractive and Fat" campaign. Her extensive body advocacy work has continued to garner attention from hundreds of national and international media networks.

When not blogging, Jes spends her time speaking at universities, taking pictures in her underwear, writing for online publications, working with plus size clothing companies, attempting to convince her cats that they like to wear bow ties and trying to beat her best time when playing The Quiet Game. Jes's record is currently a respectable 15 seconds.

Learn more about Jes at TheMilitantBaker.com.