When I Look to the Sky: A Collection of Quotes, Poems, and Prayers for Loss, Grief, and Healing (Little Book. Big Idea.) (Paperback)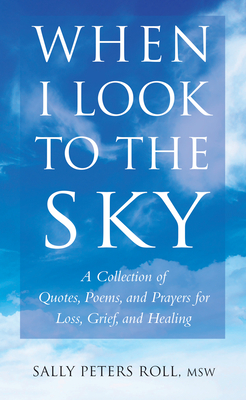 Description
---
"Our sorrows and wounds are healed only when we touch them with compassion."
—Buddha

The loss of a loved one is one of the most difficult things a person can endure, and it is all too easy to lose sight of ourselves in the experience of grief. Yet it is in these times of trouble, when comfort is most needed, that it seems hardest to find.

When I Look to the Sky is a collection of thoughts, prayers, and poems, carefully selected to provide those who grieve with much-needed strength and support in their darkest moments. Serving as a source of both emotional support and personal guidance, When I Look to the Sky helps put things in perspective, allowing each of us to come to terms with loss in our own way, and in our own time.

When I Look to the Sky mixes hope with introspection, sorrow with beauty, and loss with love. Its timeless quotes and captivating verses belong in the hands of anyone who looks to the sky for answers.
About the Author
---
Sally Peters Roll, MSW, LSW, graduated with honors from Indiana University in 2006 with a Master's Degree in Social Work and specializes in several areas of treatment, including grief and loss, abuse and neglect, and other issues involving domestic violence, substance abuse, and chronic mental health issues. She has worked with abused and neglected children, traumatized adults, and families in crisis. After the untimely death of her son, Sally focused on her own healing and the healing of her family. She has since returned to work and is currently working part-time for a not-for-profit agency. Passionate about helping others to experience true healing, Sally continues to work diligently to live life fully, completely, and joyfully.