The Quickening: Creation and Community at the Ends of the Earth (Hardcover)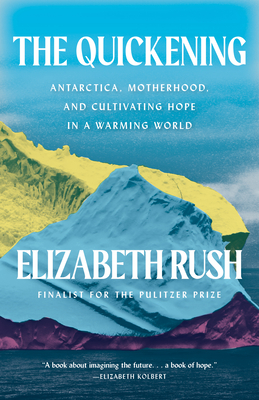 Staff Reviews
---
Rush's personal thoughts, observations and actual participation give you a front row seat as she takes you on an incredible journey heading towards Thwaites Glacier in Antarctica. Joined by scientists, students, the media and of course, the crew of the research vessel the Palmer, the author presents a true collaboration necessary for the success of this important study of glacial climate change that affects us all. Collaboration: a word we should all be thinking about… and using. Paralleling her observations on board are Rush's intimate thoughts on her own pregnancy. The Quickening reads like a production in four acts with all the crucial characters on a moving stage, presented in their own voice. This vital chronicle just might make you more aware of our changing world.
- MINDY
— From
Mindy's Recs
August 2023 Indie Next List
---
"In The Quickening, Elizabeth Rush shares accounts of climate change on a journey to Antarctica with a crew from all over the world. A beautiful, compelling, hopeful work that will help us understand how climate change shapes the world and us."
— Lisa Valentino, Ink Fish Books, Warren, RI
Description
---
A NPR Best Book of 2023
A Shelf Awareness Best Nonfiction Book of 2023
An August 2023 Indie Next Pick, selected by booksellers
A Vogue Most Anticipated Book of 2023
A WBUR Summer Reading Recommendation
A Next Big Idea Club's August 2023 Must-Read BookAn astonishing, vital book about Antarctica, climate change, and motherhood from the author of Rising, finalist for the Pulitzer Prize in General Nonfiction.
In 2019, fifty-seven scientists and crew set out onboard the Nathaniel B. Palmer. Their destination: Thwaites Glacier. Their goal: to learn as much as possible about this mysterious place, never before visited by humans, and believed to be both rapidly deteriorating and capable of making a catastrophic impact on global sea-level rise.In The Quickening, Elizabeth Rush documents their voyage, offering the sublime--seeing an iceberg for the first time; the staggering waves of the Drake Passage; the torqued, unfamiliar contours of Thwaites--alongside the workaday moments of this groundbreaking expedition. A ping-pong tournament at sea. Long hours in the lab. All the effort that goes into caring for and protecting human life in a place that is inhospitable to it. Along the way, she takes readers on a personal journey around a more intimate question: What does it mean to bring a child into the world at this time of radical change?What emerges is a new kind of Antarctica story, one preoccupied not with flag planting but with the collective and challenging work of imagining a better future. With understanding the language of a continent where humans have only been present for two centuries. With the contributions and concerns of women, who were largely excluded from voyages until the last few decades, and of crew members of color, whose labor has often gone unrecognized. The Quickening teems with their voices--with the colorful stories and personalities of Rush's shipmates--in a thrilling chorus.Urgent and brave, absorbing and vulnerable, The Quickening is another essential book from Elizabeth Rush.
About the Author
---
Elizabeth Rush is the author of The Quickening: Creation and Community at the Ends of the Earth and Rising: Dispatches from the New American Shore, which was a finalist for the Pulitzer Prize. Rush's work has appeared in a wide range of publications from the New York Times to Orion and Guernica. She is the recipient of fellowships from the National Science Foundation, National Geographic, the Alfred P. Sloan Foundation, the Howard Foundation, the Andrew Mellon Foundation and the Metcalf Institute. She lives with her husband and son in Providence, Rhode Island, where she teaches creative nonfiction at Brown University.