Single Jewish Male Seeking Soul Mate (Paperback)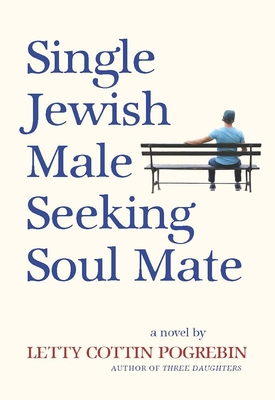 $15.95
Usually Ships in 1-5 Days
Staff Reviews
---
On the eve of Zach's bar mitzvah, his parents, Holocaust survivors, make him promise he'll one day marry a Jew and help replace the six million dead. He grows up and marries a Jew — who leaves him for another woman. He falls in love again, this time with Cleo, a brilliant black activist, daughter of a Baptist pastor, who, to his enormous discomfort, collects and displays racist memorabilia. An improbably couple, but a surprisingly good, challenging fit. What to do about his promise? His commitment to Judaism? His love for Cleo? This provocative book examines Zach's and Cleo's conflicting commitments and agonizing choices from every angle.
- Banna
— From
Banna's New Recs
Description
---
Feminist icon Letty Cottin Pogrebin's second novel is the story of Zach Levy, the left-leaning son of Holocaust survivors who promises his mother on her deathbed that he will marry within the tribe and raise Jewish children. When he falls for Cleo Scott, an African American activist grappling with her own inherited trauma, he must reconcile his old vow to the family he loves with the present reality of the woman who may be his soul mate. A New York love story complicated by the legacies and modern tensions of Jewish American and African American history, Single Jewish Male Seeking Soul Mate explores what happens when the heart runs counter to politics, history, and the compelling weight of tradition.
About the Author
---
Letty Cottin Pogrebin is an author, activist, and national lecturer. She is a leading figure in Jewish and feminist activism. A founding editor and writer for Ms. Magazine, Pogrebin is also the author of eleven books, including the memoir Getting Over Getting Older (1996), the novel Three Daughters (2003), and the groundbreaking How to Be a Friend to a Friend Who's Sick (2013). She is also the editor for the anthology Stories for Free Children, and co-creator of Free to Be... You and Me and Free to Be... A Family. Her articles, op-eds, and columns have been published frequently in a wide variety of magazines and publications, including the New York Times, Harpers Bazaar, and the Ladies Home Journal. A leader in many social justice causes, Pogrebin has served as the President of the Authors Guild, Chair of the Board of Americans for Peace Now, and is the co-founder of various organizations focusing on topics such as women's issues and Middle Eastern politics. She currently serves on the board in numerous organizations, including Americans for Peace Now, the Ms. Foundation for Education & Communication, and Brandeis University Women's and Gender Studies Program.
Upcoming Events
No upcoming events available