The Chants of Angels: Gregorian Chant (CD-Audio)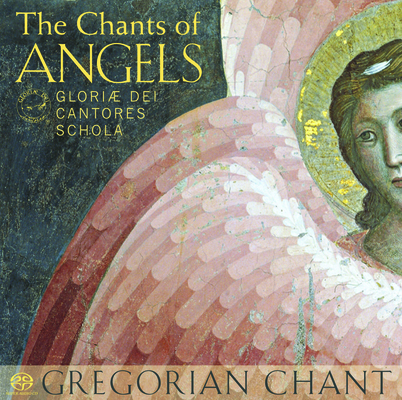 $18.99
Email or call for price
Description
---
Gloriae Dei Cantores Schola presents The Chants of Angels. Using the ancient melodies and texts of the early church, each Gregorian chant depicts a new aspect or story of these heavenly guardians, guides and friends, from the most intimate plea to our own guardian angels, to the great announcement made to the Virgin Mary by the Archangel Gabriel. For those who are new to Gregorian chant and for seasoned scholars, The Chants of Angels allows listeners to simply close their eyes, and be surrounded by these songs of prayer and comfort — just as they are surrounded by angels.
About the Author
---
Gloriæ Dei Cantores Schola is dedicated to the singing and study of Gregorian chant. Its expertise and experience come from daily chanting of the Liturgy of the Hours as well as the Ordinary and Proper of the Mass at the Church of the Transfiguration in Orleans, MA. The Schola also conducts chant workshops and performs in concert with Gloriæ Dei Cantores. Years of study with Dr. Mary Berry, CBE, founder of the Schola Gregoriana in Cambridge, England, and the monks of St. Peter's Abbey in Solesmes, France, also contribute to the Schola's passion for Gregorian chant as a vibrant and living form of sung prayer. Gloriæ Dei Cantores Schola has been critically acclaimed in both Europe and the United States for its proper regard for rhythmic flexibility and its sensitivity to both musical and textural phrase.

Gloriae Dei Cantores (Singers to the Glory of God) holds a passionate dedication to the faithful representation of spiritual and musical authenticity in the choral arts. Sharing its vision of inspiration and hope, the choir has touched the hearts of audiences in twenty-four countries in Europe and Asia, as well as extensive tours and concert series in the United States. The choir's catalog of more than fifty recordings showcases an expansive repertoire, encompassing both masterworks and rarely performed musical treasures from Gregorian chant to the twenty-first century. Richard K. Pugsley and Gloriae Dei Cantores have garnered high praise for bringing lesser- known, yet fully deserving composers and their works to light. The choir makes its home at the Church of the Transfiguration in Orleans, Massachusetts, where it sings worship services throughout the year.
Praise For…
---
"While I have always approved the schola's chant recordings, [this] disc attains a new height of excellence, the best chant singing of any American choir."
—Fanfare

"I am so happy that the Cantores have embraced audiophile surround sound as it adds a whole new dimension to their already generally superb recorded legacy. . . . The voices on this recording infiltrate the room, flooding it with an inescapable beauty that envelops the ears and transports the senses. . . . a living and vibrant faith, and one hears this in every syllable of the Cantores' singing. . . .The full texts and translations, along with little blurbs to guide us along the journey, are tasteful in the extreme and colorfully done in a premium presentation effort."
—Steven Ritter, Audiophile Audition