Kiyo Sato: From a WWII Japanese Internment Camp to a Life of Service (Library Binding)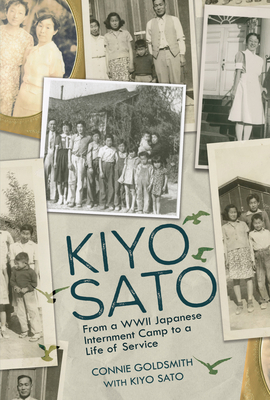 $37.32
Email or call for price/availability
Description
---
"Our camp, they tell us, is now to be called a 'relocation center' and not a 'concentration camp.' We are internees, not prisoners. Here's the truth: I am now a non-alien, stripped of my constitutional rights. I am a prisoner in a concentration camp in my own country. I sleep on a canvas cot under which is a suitcase with my life's belongings: a change of clothes, underwear, a notebook and pencil. Why?"--Kiyo Sato
In 1941 Kiyo Sato and her eight younger siblings lived with their parents on a small farm near Sacramento, California, where they grew strawberries, nuts, and other crops. Kiyo had started college the year before when she was eighteen, and her eldest brother, Seiji, would soon join the US Army. The younger children attended school and worked on the farm after class and on Saturday. On Sunday, they went to church. The Satos were an ordinary American family. Until they weren't.
On December 7, 1941, Japan bombed the US naval base at Pearl Harbor, Hawaii. The next day, US president Franklin Roosevelt declared war on Japan and the United States officially entered World War II. Soon after, in February and March 1942, Roosevelt signed two executive orders which paved the way for the military to round up all Japanese Americans living on the West Coast and incarcerate them in isolated internment camps for the duration of the war. Kiyo and her family were among the nearly 120,000 internees.
In this moving account, Sato and Goldsmith tell the story of the internment years, describing why the internment happened and how it impacted Kiyo and her family. They also discuss the ways in which Kiyo has used her experience to educate other Americans about their history, to promote inclusion, and to fight against similar injustices. Hers is a powerful, relevant, and inspiring story to tell on the 75th anniversary of the end of World War II.