Donna Has Left the Building (Hardcover)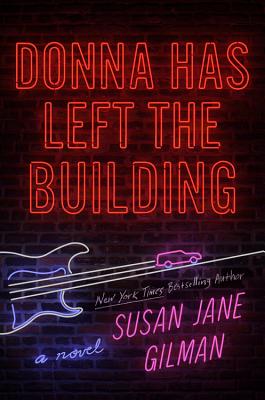 Staff Reviews
---
Don't be fooled by the breezy tone of the book's opening. Donna, 45, is a Subaru-driving, smart-alecky suburban mother of two teens. She demonstrates and sells high-end kitchenware. When she comes home early one day to find her husband . . . well, you have to read it. Her response? Her past as a pink-haired, punk rocking rebel takes over; she embarks on a consistently startling solo road trip that ultimately – after mishap upon mishap – takes her halfway around the world. The focus sharpens and the tone deepens. This flawed but fascinating character is my new best friend, and I'm delighted to share her with you.
-Banna
— From
Banna's New Recs
Description
---
From the beloved, New York Times-bestselling author of Hypocrite in a Pouffy White Dress comes a hilarious, timely, and big-hearted new novel about rebuilding life in the face of disaster.
Forty-five-year-old Donna Koczynski is an ex-punk rocker, a recovering alcoholic, and the mother of two teenagers whose suburban existence detonates when she comes home early from a sales conference in Las Vegas to the surprise of a lifetime. As her world implodes, she sets off on an epic road trip to reclaim everything she believes she's sacrificed since her wild youth: Great friendship, passionate love, and her art. But as she careens across the U.S. from Detroit to New York to Memphis to Nashville, nothing turns out as she imagines. Ultimately, she finds herself resurrected on the other side of the globe, on a remote island embroiled in a crisis far bigger than her own.
Irresistibly funny, whip-smart, and surprisingly moving, DONNA HAS LEFT THE BUILDING spins an unforgettable tale about what it means to be brave -- and to truly love -- in a tumultuous world.
About the Author
---
Susan Jane Gilman is the bestselling author of Hypocrite in a Pouffy White Dress, Kiss My Tiara, Undress Me in the Temple of Heaven, and the novel, The Ice Cream Queen of Orchard Street. She has provided commentary for NPR and written for the New York Times, Los Angeles Times, and Ms. Magazine, among others. Visit her at SusanJaneGilman.com.
Praise For…
---

p.p1 {margin: 0.0px 0.0px 0.0px 0.0px; font: 14.0px 'Times New Roman'; color: #000000}



An Oprah Magazine Summer Reading Pick


p.p1 {margin: 0.0px 0.0px 0.0px 0.0px; font: 12.0px 'Times New Roman'}



"Hilarious, heartfelt and breathless."— p.p1 {margin: 0.0px 0.0px 0.0px 0.0px; font: 12.0px 'Times New Roman'} Chatelaine, 2019's Best Books for Summer Reading


p.p1 {margin: 0.0px 0.0px 0.0px 0.0px; font: 13.0px 'Times New Roman'}
span.s1 {font-kerning: none}



"With her riotous and tender second novel, Gilman delivers her own windmill-tilting sojourn---with a woman at the helm."— p.p1 {margin: 0.0px 0.0px 0.0px 0.0px; font: 13.0px 'Times New Roman'} span.s1 {font-kerning: none} Oprah Magazine, Best Books of the Summer 2019

"Following a tragicomic domestic revelation, suburban mom and recovering alcoholic Donna throws off the mantle of predictability to pursue a midlife crisis for the ages....An unforeseen turn in the road elevates her journey far above the navel-gazing lost weekend it might have been. Gilman channels the best of Jennifer Weiner, especially Best Friends Forever, but the spiritual sibling of this novel is ironically the masterpiece of Weiner's nemesis: Jeffrey Eugenides's Middlesex. The symmetry of Donna's setting with that of Middlesex will link them for years to come. VERDICT Literary fiction readers, chick lit fans, suburbanites, mothers, daughters, addicts (recovering and otherwise), immigrants, people with dreams achieved and abandoned-all kinds of readers will love this book. A must-have."—Library Journal


p.p1 {margin: 0.0px 0.0px 0.0px 0.0px; font: 13.0px 'Times New Roman'}
span.s1 {font-kerning: none}



"In her new equally generous, hilarious work of fiction, a 45-year-old "bad Jewish girl," recovering alcoholic, and flamed-out punk rocker leaves her dentist husband and his dominatrix and narrates her road trip, and a final sharp twist in the novel provides it with a special meaning."— p.p1 {margin: 0.0px 0.0px 0.0px 0.0px; font: 13.0px 'Times New Roman'} span.s1 {font-kerning: none} The National Book Review


p.p1 {margin: 0.0px 0.0px 0.0px 0.0px; font: 13.0px 'Times New Roman'}
span.s1 {font-kerning: none}



"Epic "— p.p1 {margin: 0.0px 0.0px 0.0px 0.0px; font: 13.0px 'Times New Roman'} span.s1 {font: 14.7px Times; font-kerning: none; color: #000000} span.s2 {font-kerning: none} New York Post, Required Reading


p.p1 {margin: 0.0px 0.0px 0.0px 0.0px; font: 12.0px 'Times New Roman'}



"[A] witty romp....Donna is reliably irreverent and her travels follow a moving evolution to renewed confidence as she comes to terms with mistakes and regrets. Fans of Jonathan Tropper will love this."— p.p1 {margin: 0.0px 0.0px 0.0px 0.0px; font: 12.0px 'Times New Roman'} Publishers Weekly


p.p1 {margin: 0.0px 0.0px 0.0px 0.0px; font: 12.0px 'Times New Roman'}



"Thanks to Gilman's characteristic wit and charm, her latest novel is a hilariously over-the-top, devastating yet relatable tale of one woman's descent into and back from a personal hell [...] Gilman's writing is razor-sharp and propulsive as her protagonist maintains her wry humor about her situation while probing underlying questions about self-identity, friendship, love, and memory with sensitivity and grace."— p.p1 {margin: 0.0px 0.0px 0.0px 0.0px; font: 12.0px 'Times New Roman'} Booklist

"Refreshing [and] surprising...A larger-than-life story about a woman who makes drastic decisions in an attempt to get back on track."—Kirkus


p.p1 {margin: 0.0px 0.0px 0.0px 0.0px; font: 13.0px 'Times New Roman'}
span.s1 {font-kerning: none}



"In a novel with quirky characters, hilarious misadventures and kinky sex, the unexpected denouement of Donna Has Left the Building is a gritty, realistic depiction of a true crisis, and a tender story of family love."— p.p1 {margin: 0.0px 0.0px 0.0px 0.0px; font: 13.0px 'Times New Roman'} span.s1 {font-kerning: none} Shelf Awareness

"What I cherish about Susan Jane Gilman's writing is how light the touch is, and how deeply it cuts. Like the flawed heroine of this engrossing and incisive -- politically, domestically, psychologically -- story of an ordinary American life confronted by extraordinary need in the world beyond our borders, Gilman rises to a new level of urgency, empathy, pathos, and, simply, beauty, in her storytelling."—Boris Fishman, author of Don't Let My Baby Do Rodeo

"This big hearted novel is intimate and riveting and keeps the reader engrossed from beginning to end! It takes those classic stories usually told about men-the midlife crisis, the epic quest and turns them inside-out with a smart, edgy, woman at the helm who discovers a greater sense of purpose in the world. A love story in the greatest sense. Brilliant, scathing, powerful, insanely funny. Read it!"—April Sinclair, author of Coffee Will Make You Black


p.p1 {margin: 0.0px 0.0px 0.0px 0.0px; line-height: 18.0px; font: 13.0px 'Times New Roman'}
span.s1 {font-kerning: none}



"You'll laugh out loud and also be moved by this tale of motherhood, love, art, and an epic cross-country road trip."— p.p1 {margin: 0.0px 0.0px 0.0px 0.0px; line-height: 18.0px; font: 13.0px 'Times New Roman'} span.s1 {font-kerning: none} 29 Secrets, Summer 2019 Reading List


p.p1 {margin: 0.0px 0.0px 0.0px 0.0px; font: 13.0px 'Times New Roman'; color: #000000}
span.s1 {font-kerning: none}



"Donna is frank and funny in the way we want our girlfriends to be. . . While she is self-absorbed for much of the novel, she eventually comes around, realizing that real happiness is found outside yourself."— p.p1 {margin: 0.0px 0.0px 0.0px 0.0px; font: 13.0px 'Times New Roman'; color: #000000} span.s1 {font-kerning: none} HealthCentral
Upcoming Events
Event date:

Tue, 02/25/2020 - 10:30am

Event date:

Mon, 03/02/2020 - 10:30am

Event date:

Mon, 03/09/2020 - 10:30am