The Sun Sets in Singapore: A Today Show Read With Jenna Book Club Pick (Hardcover)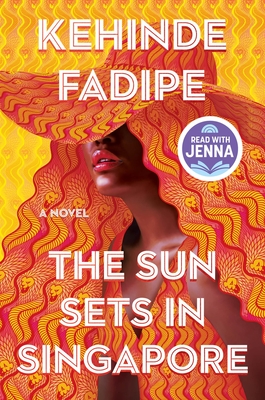 List Price: $29.00
Our Price: $26.10
(Save: $2.90 10%)
Description
---
Basking in Singapore's nonstop sunshine, Dara, Amaka, and Lillian are living the glamorous expat dream—until a mysterious (not to mention handsome) new arrival infiltrates their tight-knit community and ruins everything: "Wanderlust-inducing" (Lola Akinmade Åkerström, international bestselling author).

 A Today Show #ReadWithJenna Book Club Pick

"Dazzling . . . I loved this story about friendship, who we lean on, female ambition, and what defines us." —Jenna Bush Hager
 
The Lion City has gone by many names and is famous for many things—its decadent street food, its world-class shopping, its lush gardens that burst with tropical blooms. But paradise is always hiding a snake.
 
For Dara, a workaholic lawyer from the UK, Singapore is opportunity. Every day, brokering deals for her firm's wealthy clientele, she gets closer to her ultimate goal: making partner. For Amaka, a sharp-tongued banker from Nigeria, Singapore is extravagance. Gucci, Prada, Hermès—she loves nothing more than to luxuriate in the major department stores that call her name on Orchard Road. And for Lillian, a former pianist turned "trailing spouse" from the U.S., Singapore is reinvention. In a stunning apartment with 360° views, the island seems to glitter as far as the eye can see.
 
But complications are looming in the form of an enigmatic stranger, whose presence exposes cracks in Singapore's beguiling façade. Dara's ambitions mean she has no life outside the firm, and her insecurities are threatening to derail the promotion she's spent the last six years striving for. Amaka is desperate to escape the chaos she left behind at home and hiding a spiraling shopping addiction that's endangering her very sense of self. And while Lillian's life may be the envy of outsiders, a new obsession is imperiling everything—and everyone—around her.
 
In The Sun Sets in Singapore, Kehinde Fadipe captures the richness of this metropolis through the eyes of three tenacious women, who are about to learn that unfinished history can follow you anywhere, no matter how far you run from home.
About the Author
---
Kehinde Fadipe is a Royal Academy of Dramatic Art trained actress with stage and screen credits including Misfits (E4), Of Mary (Lesata Productions), and Ruined (Almeida Theatre). She began her writing career in the Royal Court Theatre's Young Writer's Program while studying English at UCL and has previously written and produced a short film, Spirit Children, starring Pippa Bennett Warner and Jenny Jules, which was screened in two international short film festivals. The Sun Sets in Singapore is her first novel. She continues to write both fiction and screenplays.
Praise For…
---
"Charming, sweet, funny, and emotional . . . The opportunity to experience something completely new makes
The Sun Sets in Singapore
worth picking up and discussing at your own book club."—
Associated Press
"Unlike anything I've ever read. Slick, agile, and utterly engrossing, this spectacular debut features a set of protagonists so rarely portrayed: Black women expats."—
Taiye Selasi, Author of Ghana Must Go
"In 
The Sun Sets in Singapore,
 Kehinde Fadipe expertly weaves the stories of three Nigerian expats seeking to write their futures in the luxe, moneyed world of Singapore, only to have their lives disrupted by the arrival of a handsome newcomer. The interloper's impact is both unexpected and rewarding, deepening our understanding of this trio of remarkable women as they learn to confront the scars of their pasts and reexamine what truly matters to them. A compelling story of ambition, identity, and friendship, this dynamic debut novel is a must-read for every book club."—
Kirthana Ramisetti, author of GMA Book Club pick Dava Shastri's Last Day
"A gripping portrayal of the highs and lows of living and working in a foreign country within a small community. [Fadipe] creates complex characters whose motives continually keep the reader in suspense, while also addressing wider issues of workplace dynamics, misogyny, and the discrimination Nigerians face around the world. A perfect recommendation for fans of Nikki May's
Wahala
(2022) and Lolá Ákínmádé Âkerström's
In Every Mirror She's Black
(2021)."—
Booklist
"With a vibrant host of characters set against the lush, wanderlust-inducing backdrop of Southeast Asia, Fadipe's energetic, technicolor prose sucks you into the maddening worlds of Dara, Amaka, and Lillian, and spits you out with more grace, more empathy, and more understanding. A rich celebration of the nuanced complexities of Black womanhood and friendship."—
Lola Akinmade Åkerström, international bestselling author of In Every Mirror She's Black
"A satisfying blend of drama, glamour, and friendship—a stunning and impressive story with bold characters worth loving and rooting for."—
Jane Igharo, author of Where We End & Begin
"[A] striking debut . . . Fadipe casts a studied eye on Singapore's small but thriving African expatriate community while weaving a cautionary fable about how all that glitters may not be gold . . . Shrewd observations on identity, classism, and racism give the novel an emotional edge . . . Savor the local settings and depictions of high society."—
Publishers Weekly
"Sizzles off the page. I couldn't put it down."—
Alice Clark Platts, author of The Cove
"Considered and thoughtful writing meets page-flicking drama . . . The vivid storytelling is a masterclass in exploring the impact a new person can uniquely have on each of us, based on our pain points, pasts, and passions. I felt like I had been listening in to years of these characters' therapy sessions; thanks to the richness of their inner lives as told throughout the chapters. This book is made for living next to SPF and sunglasses in a summertime basket bag."
—
Giselle La Pompe Moore, author of Take It In
"Alternating among the perspectives of the three women, Fadipe showcases her rich talent for illustrating Singapore's social and economic landscape as well as the emotional complexities that motivate each character. A lovely exploration of the phase of self-discovery between early adulthood and middle age."—
Kirkus
"Vividly depicted and compelling . . . A tumultuous journey through betrayal, heartache, and the healing power of finally being honest with those around you, and with yourself. An engaging read that may just prompt some wanderlust!"—
Charlene Carr, author of Hold My Girl
"[
The Sun Sets in Singapore
] is going to make your summer sizzle! This page-turner is so unique and immersive, you won't be moving for a while!"—
Buki Papillon, author of An Ordinary Wonder