Girl, Unframed (Hardcover)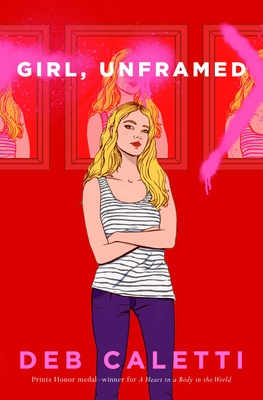 $18.99
Email or call for price/availability
Staff Reviews
---
Sydney is about to spend the summer of any teenager's dream - in a mansion with her famous mother - but for her, it's the stuff of nightmares. Lila isn't exactly motherly and her new boyfriend, Jake, strengthens the premonition Syd has that something horrific is coming. Not only does Syd have Jake to contend with, but all the other men who treat her like nothing more than the priceless art Jake "collects." Then, enter Nicco, the swoon-worthy boy that sweeps Sydney off her feet and gives her fleeting chances to forget about the turmoil at home. Deb Caletti gives us a fantastic read that grapples with the conflicting emotions and confusion that comes with being ogled as a beautiful young woman when you're still a bit of a kid.
-Clare
— From
Clare's Recs
Description
---
A teen girl's summer with her mother turns sinister in this gripping thriller about the insidious dangers of unwanted attention, from Printz Honor medal–winning and National Book Award finalist author Deb Caletti—perfect for fans of Courtney Summers's Sadie.

Sydney Reilly has a bad feeling about going home to San Francisco before she even gets on the plane. How could she not? Her mother is Lila Shore—the Lila Shore—a film star who prizes her beauty and male attention above all else…certainly above her daughter.

But Sydney's worries multiply when she discovers that Lila is involved with the dangerous Jake, an art dealer with shady connections. Jake loves all beautiful objects, and Sydney can feel his eyes on her whenever he's around. And he's not the only one. Sydney is starting to attract attention—good and bad—wherever she goes: from sweet, handsome Nicco Ricci, from the unsettling construction worker next door, and even from Lila. Behaviors that once seemed like misunderstandings begin to feel like threats as the summer grows longer and hotter.

It's unnerving, how beauty is complicated, and objects have histories, and you can be looked at without ever being seen. But real danger, crimes of passion, the kind of stuff where someone gets killed—it only mostly happens in the movies, Sydney is sure. Until the night something life-changing happens on the stairs that lead to the beach. A thrilling night that goes suddenly very wrong. When loyalties are called into question. And when Sydney learns a terrible truth: beautiful objects can break.
About the Author
---
Deb Caletti is the award-winning and critically acclaimed author of over sixteen books for adults and young adults, including Honey, Baby, Sweetheart, a finalist for the National Book Award; A Heart in a Body in the World, a Michael L. Printz Honor Book; Girl, Unframed; and One Great Lie. Her books have also won the Josette Frank Award for Fiction, the Washington State Book Award, and numerous other state awards and honors, and she was a finalist for the PEN USA Award. She lives with her family in Seattle.
Praise For…
---
Caletti is at the top of her game in this fully dimensional mystery... With a subtle, believable twist that encapsulates this particular mother/daughter relationship, Caletti delivers the near impossible: a page-turner grounded in thoughtful feminism. There are so many beautiful small touches, from the multiple meanings of the title to the sweet rituals Syd and Nicco develop to the importance of therapy to recover from trauma. Name recognition aside, this is a title deserving wide promotion and discussion.
— Booklist, starred review

Syd's story outlines important, uncomfortable experiences many girls face without either flinching or offering a picture-perfect ending... A frank, engrossing examination of the ways society complicates young women's burgeoning sexuality.
— Kirkus Reviews, starred review

Caletti (A Heart in a Body in the World) offers a riveting, meticulously plotted mystery with plenty of drama alongside an exploration of objectification and the male gaze. San Francisco's sandy beaches, unusual structures, and mysterious caves reflect Sydney's feelings of loneliness, eeriness, and passion, and her eventual sense of power.
— Publishers Weekly, starred review

The plot is clearly inspired by the 1958 killing of Lana Turner's abusive boyfriend by her daughter (Lila is also embarking on a role in Peyton Place, just as Turner did), but even readers unfamiliar with that saga will catch the clear danger and the ramping up of tension here (chapters even open with references to evidence as "exhibits"). Caletti uses the Turner incident as the scaffold for a gimlet-eyed examination of the vulnerability of women and, especially, teen girls in the contemporary world; of their objectification and agency and shame. She's unerring in her depiction of the microaggressions Syd experiences, the family's long history of domestic abuse, and of Jake himself, whose combination of likability, off-kilterness, and menace makes him plausible and plausibly difficult to leave for multiple reasons. This would partner superbly with Romanoff's Look (BCCB 3/20) for an exploration of the world's crippling scrutiny of and expectations for young women.
— BCCB, starred review

Caletti's novel is a brilliant coming-of-age story wrapped in a page-turning thriller. The atmospheric San Francisco setting enhances the overall moodiness, anxiety, and restlessness of a young woman moving from girlhood to adulthood and finding herself under the male gaze for the first time. Sydney's understanding of herself and her place in the world is upended as she deals with best friends, first boyfriends, sexual harassment, and domestic abuse. Caletti's sharp, complex, well-drawn character will compel and delight readers. VERDICT Ultimately hopeful, this is one for fans of realistic contemporary dramas, with a side of mystery, and excellent writing throughout.
— School Library Journal, starred review