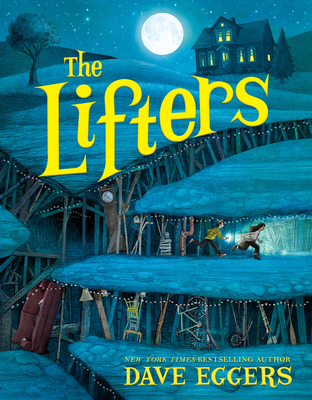 $17.99
Email or call for price/availability
Staff Reviews
---
Gran is in a tough spot. He wants to make his parents happy but he really hates that they have to move. He loved his old life and his new school is weird! No one talks to him or even notices that he's there. When one girl notices him, peculiar things start to happen. Buildings all over town are sinking into the Earth and it seems like this girl knows why. Gran follows her after school one day and sees a dangerous secret – a secret that could get him seriously hurt. She wants Gran to stay away but he may be the only one who can save the town. Dave Eggers delivers an exciting adventure starring a colorful cast of characters. Read it and join the Lifters!
- Clare
— From
Clare's Recs
Description
---
Journey to an underground world where adventure awaits and heroes are made in this middle grade novel from the bestselling, Pulitzer-nominated author of The Monk of Mokha and Her Right Foot.

When Gran and his family move to Carousel, he has no idea that the town is built atop a secret. Little does he suspect, as he walks his sister to school or casually eats a banana, that mysterious forces lurk mere inches beneath his feet, tearing up the earth like mini-hurricanes and causing the town to slowly but surely sink.

When Gran's friend, the difficult-to-impress Catalina Catalan, presses a silver handle into a hillside and opens a doorway to underground, he knows that she is extraordinary and brave, and that he will have no choice but to follow wherever she leads. With luck on their side, and some discarded hockey sticks for good measure, Gran and Catalina might just find a way to lift their town--and the known world--out of danger.

In The Lifters, critically acclaimed author Dave Eggers establishes himself as a storyteller who can entertain and inspire readers of any age.

"This book is a ripper, full of all the good stuff: adventure, mystery, and lots of great jokes." - Mac Barnett, Caldecott Honor-winning author of Extra Yarn

"Full of surprises, magic, and heart." - Rebecca Stead, Newbery Award-winning author of When You Reach Me

"[A] cozy contemporary novel about lifting spirits and rebuilding community through teamwork and imagination." --Publishers Weekly

"A heart-gladdening work of allegorical genius." --The Guardian

"A warm and rewarding read . . .Eggers skillfully handles the trope of the kids who save the town, with plenty of humorous adult cluelessness but an equal measure of compassion." --The Bulletin of the Center for Children's Books

"Original . . . and always intriguing. . . . Eggers's story moves along briskly thanks to mounting suspense and bite-size chapters." --Booklist

A Junior Library Guild selection
About the Author
---
Dave Eggers grew up near Chicago and graduated from the University of Illinois at Urbana-Champaign. He is the founder of McSweeney's, an independent publishing house in San Francisco that produces books, a quarterly journal of new writing (McSweeney's Quarterly Concern), and a monthly magazine, The Believer. McSweeney's publishes Voice of Witness, a nonprofit book series that uses oral history to illuminate human rights crises around the world. In 2002, he co-founded 826 Valencia, a nonprofit youth writing and tutoring center in San Francisco's Mission District. Sister centers have since opened in seven other American cities under the umbrella of 826 National, and like-minded centers have opened in Dublin, London, Copenhagen, Stockholm, and Birmingham, Alabama, among other locations. Eggers's work has been nominated for the National Book Award, the Pulitzer Prize, and the National Book Critics Circle Award, and has won the Dayton Literary Peace Prize, France's Prix Médicis, Germany's Albatross Prize, the National Magazine Award, and the American Book Award. Eggers lives in Northern California with his family. His novels include The Circle, A Hologram for the King, and Heroes of the Frontier.
Praise For…
---
"This book is a ripper, full of all the good stuff: adventure, mystery, and lots of great jokes." 
—Mac Barnett, Caldecott Honor–winning author of Extra Yarn

"Full of surprises, magic, and heart." --Rebecca Stead, Newbery Award-winning author of When You Reach Me

"A heart-gladdening work of allegorical genius . . . brilliantly rendering the bewildering stupidity of the adult world as seen by children." —The Guardian

"Eggers performs a marvelous sleight of hand, producing a first-rate middle grade adventure that doubles as a political parable for our times." —The Buffalo News

"[A] cozy contemporary novel about lifting spirits and rebuilding community through teamwork and imagination." —Publishers Weekly

"A warm and rewarding read . . .Eggers skillfully handles the trope of the kids who save the town, with plenty of humorous adult cluelessness but an equal measure of compassion." —The Bulletin of the Center for Children's Books

"Original . . . and always intriguing. . . . Eggers's story moves along briskly thanks to mounting suspense and bite-size chapters." —Booklist

"A whimsical, fantastical story with elements of realism. . . . This atmospheric story's detailed plot moves quickly, and all the characters experience growth." —School Library Journal 
Coverage from NPR