Morningside Heights: A Novel (Hardcover)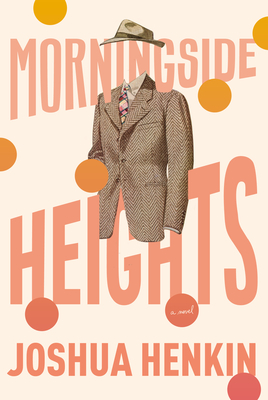 $26.95
Email or call for price/availability
Staff Reviews
---
Morningside Heights is a fast-paced, yet deeply intimate novel about Pru Steiner, who moved to NYC to change the world. What her plan didn't account for was that her world could be changed by Spence Robin, her graduate school professor. What follows is a tender love story spanning more than 30 years. Joshua Henkin has written a captivating cast of characters that propel the story forward, largely because there's a little bit of each character inside the reader; the pragmatic Pru, the witty Spence, the traveling Arlo, and the competitive Sarah, to name a few. Beyond the characters, Morningside Heights is a story of how love is tested and how our relationships are what get us through.
-Clare
— From
Clare's Recs
When Pru Steiner, fresh out of Yale, marries Spence Robin, her slightly older (and somewhat famous) English professor, she has no crystal ball to tell her that thirty years later she will be a caretaker to this once-vibrant intellectual, now weakened by early- onset dementia. Morningside Heights tells the story of Pru navigating the uncharted waters of a marriage now defined by illness. Their daughter Sarah is away in medical school, while Spence's son Arlo, from his first marriage, runs a bio-tech start-up and may offer the key to his father's health. Finally, and confusingly, there is Walter, a man who makes Pru feel like she's part of the world again. Henkin presents a clear-eyed and ultimately affectionate story of the ties that bind families together.
-Cindy
— From
Cindy's Recs
June 2021 Indie Next List
---
"I loved this book! The writing is beautiful, and the character development is phenomenal. I was moved by all of the characters in the story, but quirky Arlo stands out as a favorite. I also shed a few tears, so this book has it all. It's a winner with so much heart! I highly recommend it."
— Sarah Fox, Titcomb's Bookshop, East Sandwich, MA
Description
---
A New York Times Book Review Editors' Choice Book • When Ohio-born Pru Steiner arrives in New York in 1976, she follows in a long tradition of young people determined to take the city by storm. But when she falls in love with and marries Spence Robin, her hotshot young Shakespeare professor, her life takes a turn she couldn't have anticipated.
 
Thirty years later, something is wrong with Spence. The Great Man can't concentrate; he falls asleep reading The New York Review of Books. With their daughter, Sarah, away at medical school, Pru must struggle on her own to care for him. One day, feeling especially isolated, Pru meets a man, and the possibility of new romance blooms. Meanwhile, Spence's estranged son from his first marriage has come back into their lives. Arlo, a wealthy entrepreneur who invests in biotech, may be his father's last, best hope.

Morningside Heights is a sweeping and compassionate novel about a marriage surviving hardship. It's about the love between women and men, and children and parents; about the things we give up in the face of adversity; and about how to survive when life turns out differently from what we thought we signed up for.
About the Author
---
JOSHUA HENKIN is the author of the novels Swimming Across the Hudson (a Los Angeles Times Notable Book), Matrimony (a New York Times Notable Book), and The World Without You (winner of the 2012 Edward Lewis Wallant Award for American Jewish Fiction and a finalist for the 2012 National Jewish Book Award). He lives in Brooklyn, New York, and directs the MFA program in Fiction Writing at Brooklyn College.
Praise For…
---
A New York Times Book Review Editors' Choice Book • Best Fiction of the Year - Chicago Tribune • One of Newsweek's Most Highly Anticipated New Books • 38 Novels You Need to Read this Summer - Lit Hub • One of Good Morning America's 27 Books for June • The Millions Most Anticipated • Best Book of the Year - Bookmarks Magazine • Top Jewish Pop Cultural Stories - Jewish Telegraphic Agency • One of Alma's Favorite Books for Summer

"An intimate portrait of a marriage . . . A literary examination of love in later life, Morningside Heights highlights the complexities of monogamy, family, and love."
—Zibby Owens, Good Morning America

"[Henkin's] story of a brilliant Shakespearean and his wife—once his student—radiates a tenderness for the city that we, his intended readers, can best appreciate—perhaps now most of all, as we ask our city to return to us . . . Henkin is a fine writer with a wry fondness for his characters, but like any New Yorker he knows how to keep a safe distance. The specific letting-go that all New Yorkers must master if we don't wish to be crippled by nostalgia—especially now, if we do hope to see our city's resurgence—is particularly nuanced when a city neighborhood is also a college town, but Henkin more than meets this challenge."
—Jean Hanff Korelitz, The New York Times Book Review

"Henkin has explored the exigencies of marriage and families (especially recombined families) through unflinching yet kind depictions of the ways we live now . . . His thoughtful new novel, Morningside Heights, proves no exception . . . Notably and satisfyingly, much of "Morningside" takes place against a New York City that is clearly beloved to its author. Henkin tours a wealth of landmarks and neighborhoods with authority and affection . . . Quietly told, the story nonetheless pulses with insistence: Attention must be paid. This subtle urgency opens our own awareness, lens-like, upon the implied human task, larger than any single calamity—that of attending to relentless change, loss, finitude." 
—Joan Frank, The Washington Post

"Joshua Henkin is an emotionally generous, deft, witty, and deeply intelligent writer, and his new novel displays these qualities in spades." 
—Priscilla Gillman, The Boston Globe

"[Morningside Heights] is generous, wise, and wry enough to avoid sentimentality . . . Astonishingly, Henkin transforms what could be a mighty grim work of fiction into a melancholy and tender one enriched by the viewpoints of a constellation of chcaracters." 
—Elizabeth Taylor, The National Book Review

"Nuanced and sensitive . . . a deeply human portrait of deterioration."  
—Emily Temple, Lit Hub

"The task of writing the story of a family dealing with the devastating impact of early-onset Alzheimer's—without veering into sentimentality, or collapsing beneath the weight of melancholy—isn't an easy one. But Joshua Henkin's Morningside Heights manages to tell the story of Pru and her husband Spence, once a great Shakespearean scholar and professor, with such deep humanity and kindness that I forgave him for also having managed to write a page-turner (though it still feels slightly unfair to be able to do both). The novel is a portrait of a family in all its complexity and an exploration of care work—both paid and unpaid—the latter of which makes it feel especially timely."
—Lit Hub

"What a glorious book Morningside Heights is, all held together by the amazing character of Spence.  I just loved it to pieces." 
—Elizabeth Strout

"In the sheer pleasure of reading Joshua Henkin's new novel—of following its swift narrative movements, getting to know its all-too-human characters, inhabiting its detail-perfect settings, its relentlessly accurate portrayals—of marriage and parenthood and siblinghood—we can almost forget, for moments on end, that its subject is one of the most painful imaginable: the loss of a self, of a marriage, of a shared life. But the real magic of Morningside Heights is the way it lifts us up, reminding us that ordinary people undertake extraordinary acts of survival every day."
—Julie Orringer

"What does it really mean: in sickness and in health, till death do us part? Morningside Heights knows the answer. In this tender, wise, and unflinching novel, Joshua Henkin traces the bittersweet arc of a lifelong love, with all its joy and pain." 
—Tom Perrotta

"You know a novel is good when the thought of leaving the world it creates and the people who live there fills you with sadness and a profound sense of loss.  Joshua Henkin's Morningside Heights is just such a novel."
—Richard Russo

"Reading Morningside Heights is an emotional experience. How much can befall a marriage, and what extraordinary demands must sometimes be met for loved ones to endure. But it is a delightful read as well, because the people here are such thoroughly engaging company. So much that happens in this book is unexpected that it reads at the pace of a suspense novel, but its greatest achievement is to make us feel that we are in the presence of real people, living out their joys and sorrows and making their way in the real world."
—Sigrid Nunez

"Poignant . . . The book intimately explores both the ravages of [Alzheimer's] and its impact on family members and other caregivers . . . And it finds some relief from despair in the redemptive power of love . . . Touching and tenderly depicted."
—Julia M. Klein, The Forward

"Painfully authentic . . . Henkin tells his story simply and deftly, with a narrative economy that conceals much close observation and human understanding."
—Adam Kirsch, The Jewish Review of Books

"A propulsive, literary page-turner . . . Morningside Heights is not only a study in craft, but a testament to the resiliency of the human spirit . . . Morningside Heights reads like an ode to New York as it maps a narrative of loss, and asks us to consider what it means to live and love, where our faith lies, and what we leave behind." 
—Sara Lippman, Vol. 1 Brooklyn

"A moving look at how families cope with unforeseen events and how relationships evolve."
—Jewish Book Council

"With its impeccable plotting, well-drawn characters, and balanced deployment of wit and feeling, Morningside Heights offers all the pleasures promised by Henkin's rigorous narrative attention—in aggregate:  a pleasure of precision."
—The Brooklyn Review

"A family drama filled with compelling characters . . . The essence of the novel is universal, particularly its deft yet raw depictions of what it's like to live, day by day, minute by minute, with an utterly cruel disease . . . Morningside Heights is a courageous novel, and a moving one."
—Abigail Pickus, Hadassah Magazine

"A beautifully written novel . . . Morningside Heights is incredible."
—Emily Burack, Alma

"Morningside Heights is a lovely novel, and a moving meditation on how the act of loving a specific person changes us. When Pru Steiner's marriage to Spence Robin is tragically cut short, she has to take stock of who she has become in the intervening years. Henkin has written a beautifully nuanced story that I was unable to put down."
—Ann Napolitano, author of DEAR EDWARD
 
"Henkin has managed to inject humor as well as pathos into a searing portrait of a family in crisis. . . . Morningside Heights is beautifully written, and nothing mars the undeniable power of this poignant and very intelligent novel."
—Rita D. Jacobs, World Literature Today

"Morningside Heights is a lovely and bittersweet ode to the challenges of partnership and parenting, as well as a fond tribute to New York City. It is an especially worthwhile exploration of memory and identity, and the spaces where the two intersect."
—Sarah Rachel Egelman, Bookreporter

"Henkin brilliantly conveys the complexities of a New York City family in this humane, compulsively readable tale . . . In 2006, Shakespeare scholar Spence Robin, 57, is diagnosed with early-onset Alzheimer's, and his wife, Pru Steiner, is forced to return his book advance . . . [Henkin] shows how Spence was a wunderkind in Columbia's English department, making the tragedy of his illness particularly poignant . . . Equally well handled is Pru's transformation from wife and lover to caretaker—wrenching changes that Henkin conveys without dissolving into sentimentality or cliché, but rather leaving readers with a kernel of hope. This is a stunning achievement." 
—Publishers Weekly (starred review)
 
"A superstar literature professor is struck down in his prime in the cruelest possible way . . . Henkin specializes in melancholy stories about complicated families, and this one is a real heartbreaker. His portrait of Pru is nuanced and sensitive, following her into one of the darkest places a spouse can go and hitting the notes just right . . . Caring for a spouse with Alzheimer′s is an ever more common heartbreak, illuminated by this tender portrait of a marriage."
—Kirkus Reviews

"Henkin explores with great tenderness the many, many challenges of losing a loved one to Alzheimer′s . . . It's impossible not to be moved . . . Despite this, Morningside Heights is not, ultimately, a sad novel.  Henkin imbues it with a sense of hope, a kind of appreciation for the mundane moments that make up a life . . . In Henkin's masterful hands, this story of everyday events becomes bigger than the sum of its parts, a novel that explores what it means—and what it takes—to love another person, and to be loved in return."
—Kerry McHugh, Shelf Awareness

"Henkin traces the complications of a complicated disease with insight, honesty and humanity, in a style that is as readable as it is consummately literate."
—Library Journal

"A moving, heart-wrenching account of a family's connections as they face a slow-moving goodbye."
—Booklist