Chonkers Wall Calendar 2023: Irresistible Photos of Snozzy, Chonky Floofers Paired with Relaxation-Themed Quotes (Calendar)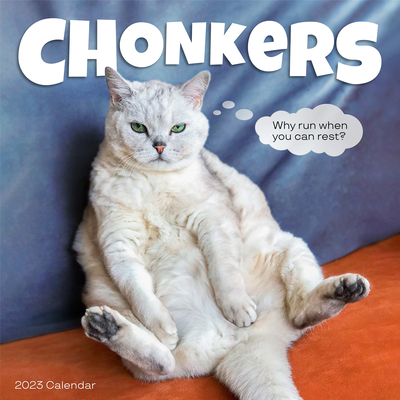 Email or call for price/availability
Out of Print
(This book cannot be returned.)
Description
---
For anyone who appreciates a life of leisure.

What, you may ask, is a "chonker"? Well, if you're one of the few who hasn't seen the memes, hashtags, photos, or "Heckin' Chonker" t-shirts and other goodies, it's a cat that's a tad on the chunky side, to put it politely. A cat that truly enjoys its leisure, its overly indulgent pet parents, and, most of all, a full dinner bowl (perhaps multiple times a day). A year of irresistibly and adorably plus-size goofy cats, like the chunky gray fellow becoming one with a purple couch or that fluffy long-haired diva splayed out on the carpet without a care in the world (and virtually no discernible boundary between body, fur, and rug). Along with each kitty is a thought bubble expressing just what it may be thinking: "Time you enjoy wasting is not wasted time."—Marthe Troly-Curtin.
Printed on responsibly sourced paper.